Sarah Otilia Ann Carver, Hagerstown, Maryland, 1833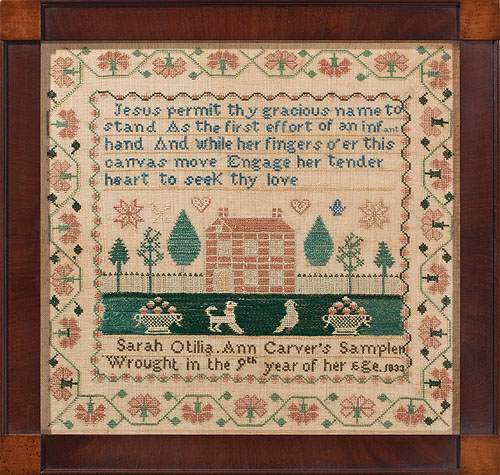 sold
The needlework of Maryland has been the subject of much scholarly research for the past several years. The resulting exhibition at the Maryland Historical Society and accompanying book by Dr. Gloria S. Allen, an outstanding resource entitled A Maryland Sampling: Girlhood Embroidery 1738-1860 (Maryland Historical Society, 2007), indicate the extraordinary body of samplers produced there while also documenting the relative rarity of work from this state.
This praiseworthy sampler, with its robust brick house, animated garden scene and classic verse, was worked by 8-year-old Sarah Otilia Ann Carver and is a recent discovery that contributes nicely to the field of Maryland samplers. In regard to Sarah's sampler, Dr. Allen states, "The fact that there are so few samplers from western Maryland makes this Carver sampler a true rarity. Samplers from Frederick County will generally include a stepped ground and this flat sweep of lawn is distinctive and appealing." Dr. Allen further noted the appealing composition and vibrant color, as well as the pristine condition of the sampler. Successful results of the research into the identity of the samplermaker further add to the interest of this splendid sampler.
Born in Hagerstown on March 9, 1825 Sarah Otilia Ann Carver was the daughter of a farmer, Daniel Carver and his wife Amelia. Her birth is recorded in Maryland vital records with use of this full and unusual name. Daniel Carver was born in 1796 and died in 1872, according to his gravestone at Rose Hill Cemetery in Hagerstown. Sarah was likely their oldest child and her siblings included Maria, Elizabeth, John, Rebecca and Agnes. On June 4, 1846, Sarah married another Hagerstown native, Christian Charles Fechtig. His grandfather, Christian Ludwig Fechtig (1759-1834) was a well-regarded potter, tavern-keeper and overseer of the almshouse, whose early residency in Hagerstown, after his emigration from Germany, is noted in a published history of Washington County. Sadly, Sarah's husband died just a few months after they married and then Sarah gave birth to a son, Christian Charles Fechtig, in 1847. The 1850 census shows the family of Daniel and Amelia Carver residing next to Sarah Fechtig age 25 and her son C.C., age 3.
At some point prior to 1860, Sarah married John A. Byers, an older, prosperous farmer and they remained in Hagerstown. Twenty years later the Byers family household included Sarah's mother Amelia, a widow, and Sarah's youngest sister, Agnes Carver.
This sampler was worked in silk on linen and is in excellent condition. It has been conservation mounted and is in a mahogany and maple cornerblock frame.
This sampler is from our archives and has been sold.