Clarissa Emerson, Lancaster, Massachusetts, 1822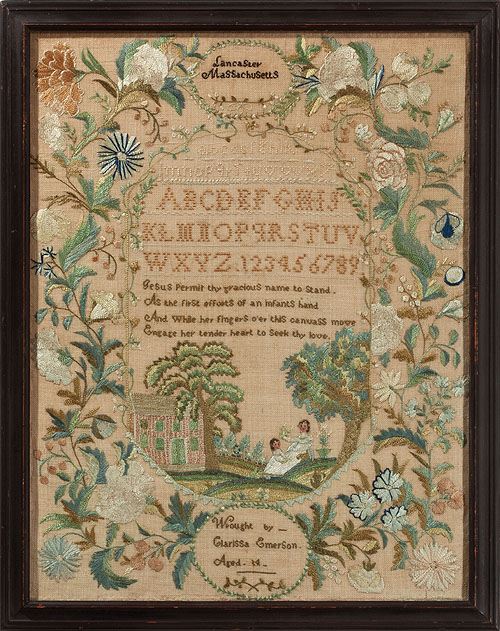 sold
This large and visually commanding sampler was made by Clarissa Emerson, age 14, circa 1822 in Lancaster, Massachusetts. Illustrated on a full page in the classic and seminal book, American Samplers, (The Massachusetts Society of The Colonial Dames of America, 1921) by Ethel Stanwood Bolton and Eva Johnston Coe, as plate XLIX, Clarissa's sampler is considered an icon within the world of early 19th century Massachusetts samplers. The composition of this sampler is outstanding with a splendid, naturalistic border of richly colored, big-blossomed flowers, leaves and berries framing a compelling scene of two young ladies, each holding a sprig of flowers, sitting on a hillside near a fine brick house. Clarissa demonstrated great skill in the needle arts, but it is also interesting that she used paint applied to the linen for the faces of the two figures. The significance and appeal of this sampler cannot be overstated.
Born on July 31, 1808, Clarissa lived in the town of Lancaster, which is west and north of Boston. Her Emerson ancestors settled Ipswich, Massachusettsin 1636. Clarissa's parents were Elias and Phebe (Hayward) Emerson who married in 1790 in Reading, Massachusetts. Elias (1759-1835) served in the Revolutionary war in 1778 and again in 1780. They became the parents of twelve children, with Clarissa as their youngest. Her sampler descended with family notations and was exhibited in 1920, just prior to its publication in American Samplers.
The sampler is in excellent condition, worked in silk and paint on linen. It has been conservation mounted into its original molded and painted frame.
This sampler is from our archives and has been sold.