Elizabeth Newsam Massachusetts, 1753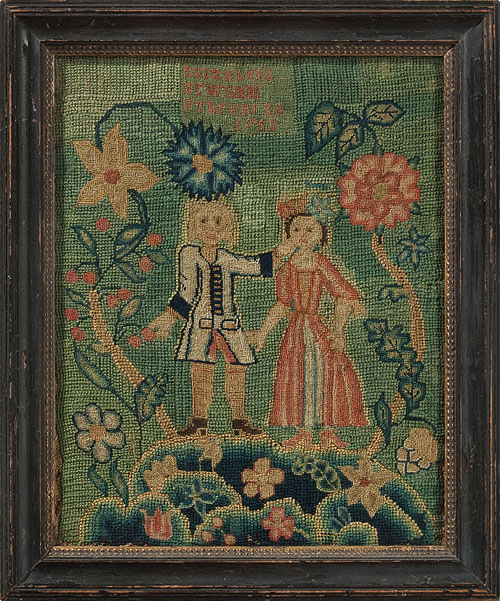 sold
One of our favorite pieces in the collection of Historic Deerfield is a compelling little canvaswork picture made by Mary Upelbe in 1767. It is a great privilege to now offer an equally extraordinary piece, a closely related example which portrays precisely the same couple in the same pose, on hillocks of flowers with huge blossoming plants growing up the sides. Historic Deerfield's example came with a provenance indicating it was from the Appelby family of Newburyport, Massachusettsand these two pieces have a clear association with mid 18th century Boston canvaswork pictures. Ladies in vertically striped red dresses and the specific handling of certain flower blossoms would support this connection. Mary Upelbe's work is illustrated on page 255 in The Antiques Treasury of Furniture and Other Decorative Arts at Winterthur, Williamsburg, Sturbridge, Ford Museum, Cooperstown, Deerfield and Shelburne, edited by Alice Winchester (E.P. Dutton, 1959).
Signed in the fully-worked green sky, "Elizabeth Newsam February 6 1753," this highly significant example offers the finest of mid 18th century folk art. Worked in silk and wool on linen canvas, it is in excellent condition. It has been conservation mounted into a period frame.
This sampler is from our archives and has been sold.