Sarah Aldwin,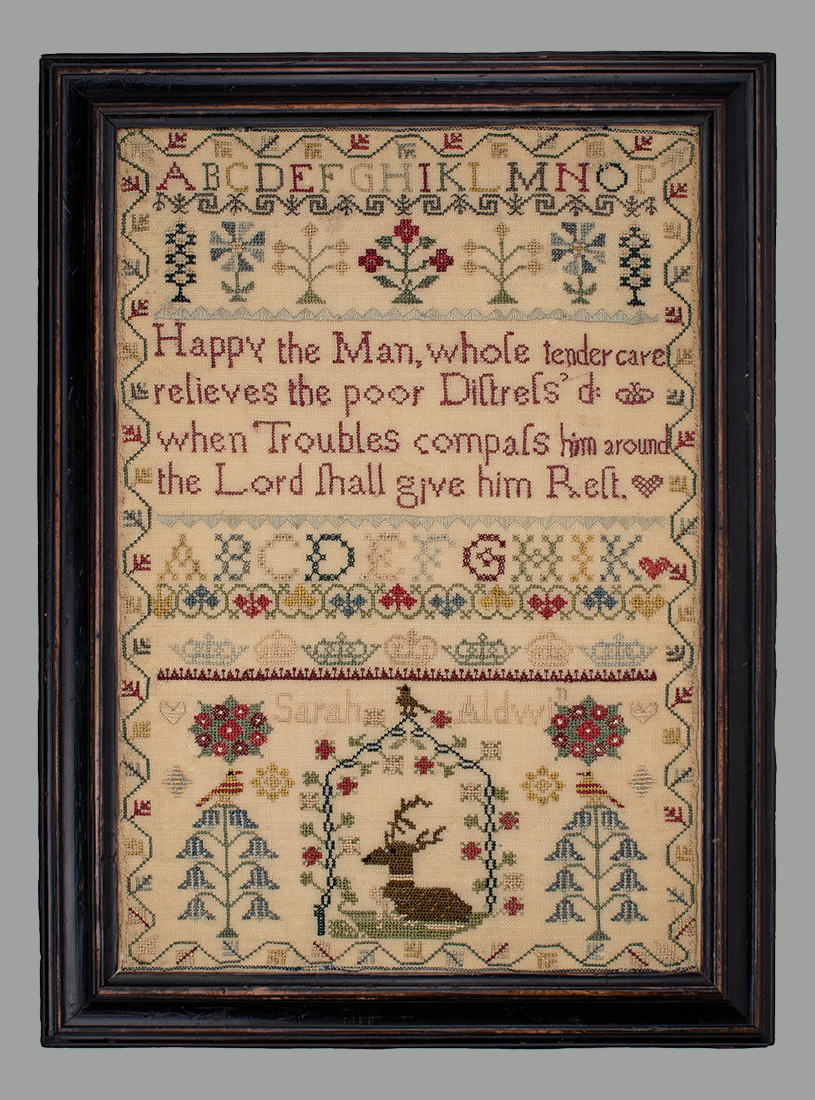 sampler size: 12½" x 8½" •
framed size: 15" x 11" •
price:
$2800
A particularly beautifully made sampler, this depicts a  stag or hart - a European male red deer with large antlers, much like the American elk - as the focal point of the pictorial register. This imagery, known as "Hart Resting," was widely used for centuries as a symbolic depiction of Christ, representing gentleness, purity and pride. 
In 1604, a volume of sampler and embroidery patterns entitled Newes Modelbuch In Kupffer Gemacht (School-House for the Needle), by Johann Simbacher was published in Nurnberg and his design of a needlework stag became very popular, appearing on samplers throughout northern Europe, England and ultimately America for centuries. 
On this sampler, the hart is inside a pergola with flowers growing around it and a little bird at the top. Handsome bellflower plants and striped birds contribute nicely to the scene, along with the large stylized flower medallions. 
Sarah's  excellent verse, "Happy the Man whose tender care relieves the poor Distress'd / when Troubles compass him around the Lord shall give him Rest," was stitched with great care. It was published as early as 1721 in Nahum Tate and Nicholas Brady's A New Version of the Psalms of David, Fitted to the Tunes Used in Churches. 
The sampler was stitched in silk on wool and is in excellent condition. It has been conservation mounted and is in a molded and painted frame.