Orpah Alger,
Great Coggeshall,
Essex, England, 1824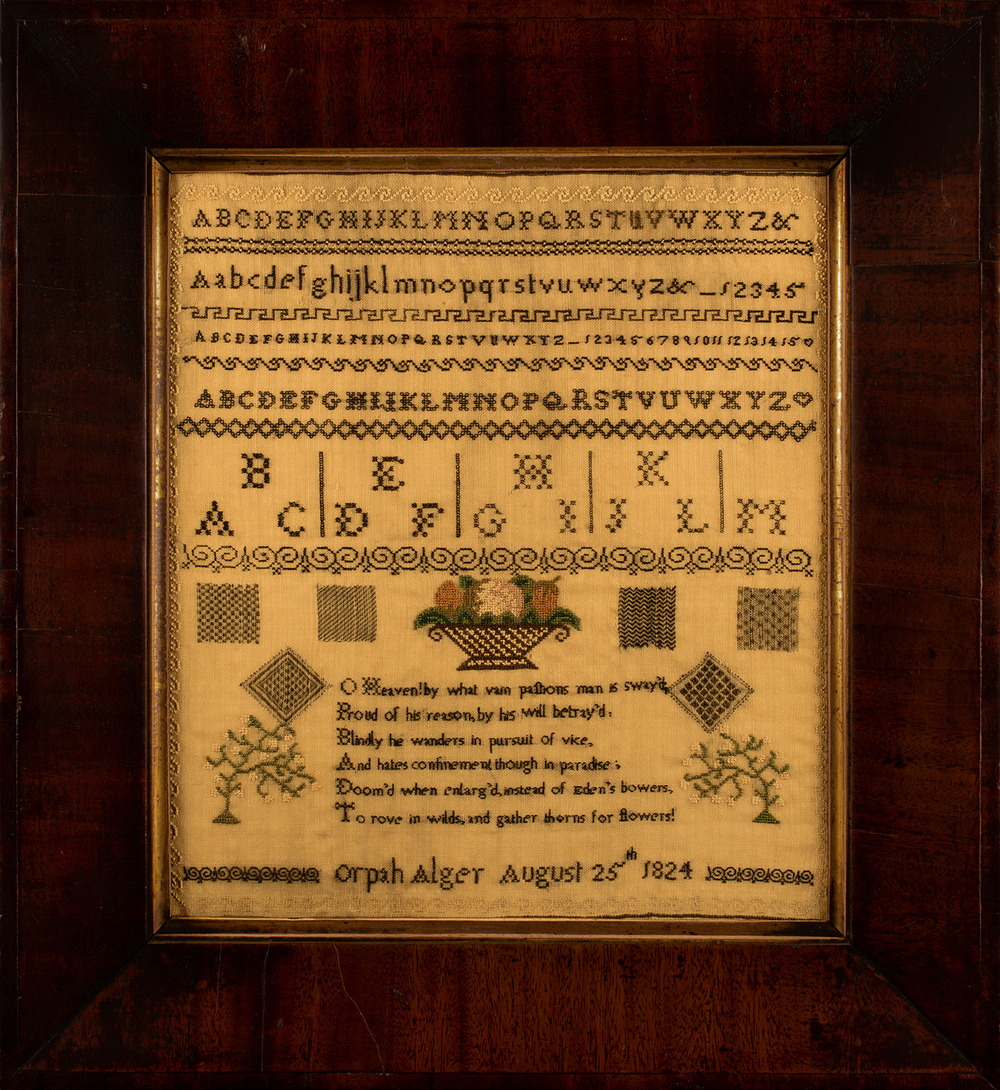 sampler size: 12" x 10¾" •
framed size: 17½" x 16" •
sold
We find it especially appealing when it turns out a samplermaker spent her adult life as a needleworker! Orpah Alger was ten years old when she made this sampler which features six finely worked surface darned squares, an indication of her early aptitude. Orpah was born on April 4, 1814, in Great Coggeshall, Essex, England, the daughter of John and Phoebe (Smith) Alger.
We turned to the website of the Coggeshall Museum and learned that beginning around 1812, a Belgian family, Monsieur Drago and his daughters, came to the town and introduced a certain form of highly skilled needlework – Tambour Lace. Coggeshall, also known as Great Coggeshall, became the center of tambour lace making, and this lasted throughout the 19th century. Tambour Lace, which also became known as Coggeshall Lace. We find examples of tambour stitching incorporated into samplers in the late 18th and early 19th centuries.
The Great Coggeshall tambour workers were hired by designers and dealers and their product was highly sought-after, incorporated into clothing sold in London and throughout the world. By 1841 there were 247 tambour makers living and working around Coggeshall.
Orpah was one of these, as stated in the 1841 census. Orpah along with both of her parents and several siblings were lace manufacturers; she remained a professional in this field for at least 20 years. The 1863 Great Coggeshall City Directory lists John Alger as a Lace Worker on Church Street, the center of this industry. At age 47, Orpah married William Joyce and after his death in 1870 she married Robert Prior. Together they worked as upholsterers, a related occupation. She died in 1884. 
Her sampler is a fine and classic one, with alphabets, a verse, a basket of fruit and sprigs of flowering plants. The surface darning squares set it apart, and a photo of the back of the sampler, taken prior to mounting, are an indication of the skill that this technique requires. 
The sampler was worked in silk on wool and is in excellent condition. It has been conservation mounted and remains in its fine, original mahogany frame with a gilt liner.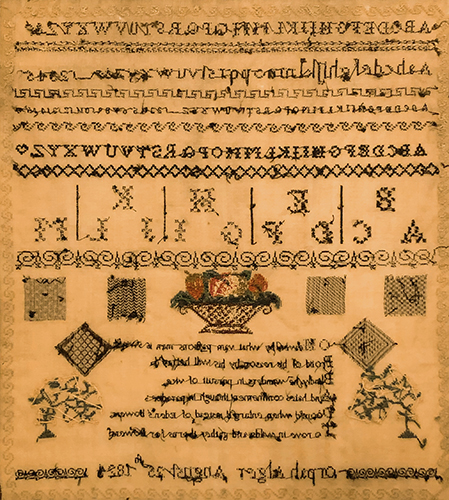 Image of reverse