Mary Ann Wilder,
Rindge, Cheshire County, New Hampshire, 1817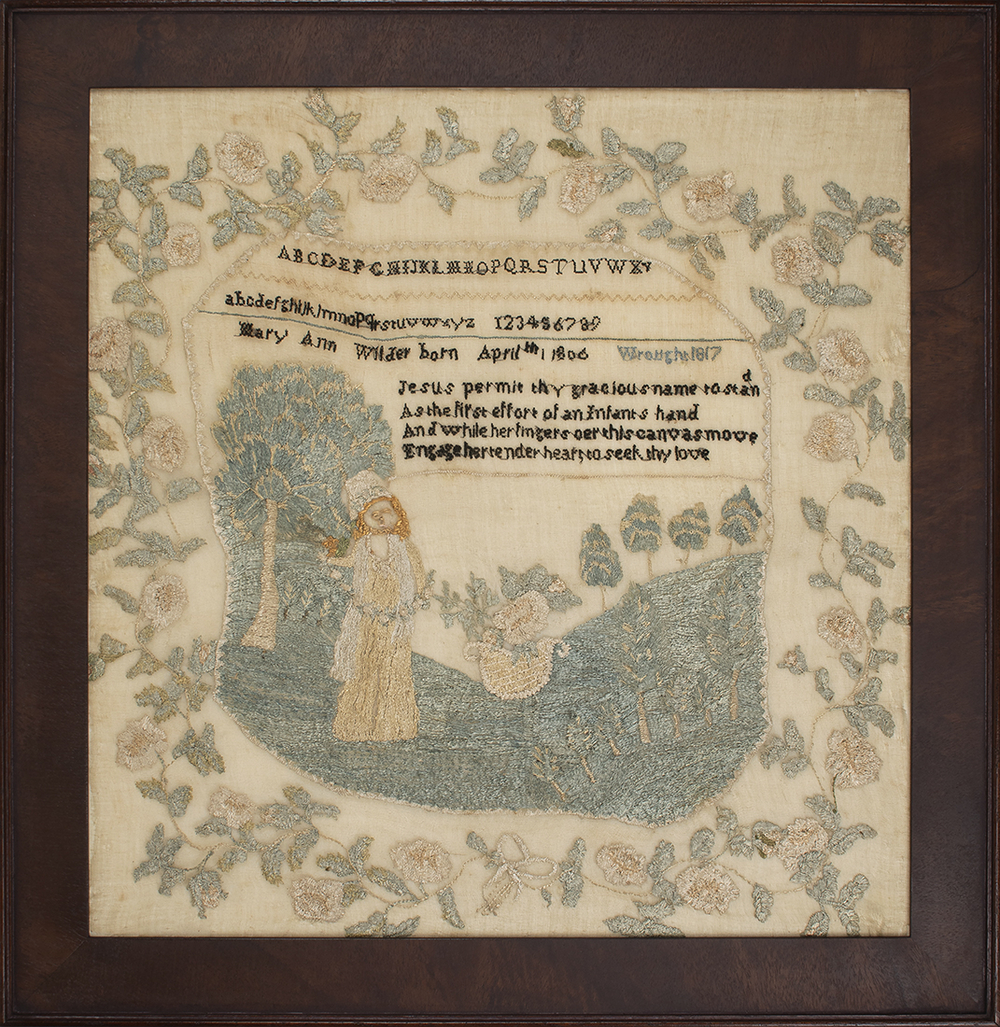 sampler size: 15¾" x 15¼" •
framed size: 19" x 18½" •
sold
There are a handful of exceptional samplers known that were made in New Hampshire, just near the border with Massachusetts, between 1817 and 1821. They all feature a highly appealing central scene of a lady holding a garland of flowers on a grassy lawn with lush trees and a basket of flowers. We are  delighted to offer a fine sampler from this group signed, "Mary Ann Wilder born April th 1 1806 Wrought 1817." The needlework on these samplers is extremely fine, rendering great delicacy to the samplers. 
Betty Ring included this group, calling it the "Pictorial Samplers of Southern New Hampshire," in Girlhood Embroidery American Samplers & Pictorial Needlework 1650 - 1850, vol I (Knopf, New York, 1993). Mary Ann Wilder's sampler is mentioned specifically in this section. The samplermakers may have attended school in Jaffrey, the town just north of Rindge, and boarded there while at the school. 
Much information about the Wilder family is published in History of the Town of Rindge, New Hampshire 1736 – 1874 by Ezra Stearns (Boston, 1875). This branch of the family in America began with Thomas Wilder (1618-1667) who arrived in 1638 along with his widowed mother, Martha Wilder, settling in Massachusetts. We noted with interest that the husband of Laura Ingalls Wilder, renowned author,  shared this same Wilder ancestor. 
Samuel Locke Wilder (1778-1863), Mary Ann's father, removed to Rindge, New Hampshire, when he was 16 years old, working at the store owned by his brother, Josiah. According to the published town history, Samuel became, "an influential citizen and was active in municipal and state affairs. He was a Justice of the Peace from 1816 until his death, he was Town Clerk from 1808 to 1823, state representative, 1815-1823, 28, 29, 38 and 39. He was a delegate to the Walpole Convention that elected Daniel Webster to represent New Hampshire in the famous Hartford Convention." 
Samuel married Anna Sherwin in Rindge in 1797 and Mary Ann was born April 1, 1806, the fourth child of their nine children. In February of 1829, she married Rev. Albert B. Camp, who attended and graduated from Yale College in 1822. He was pastor of the Congregational Church of Ashby, Massachusetts. They had one child, a daughter; sadly, Mary Ann died in December 1830. She is buried in Meeting House Cemetery in Rindge. Additional information is contained in the file that accompanies the sampler.
The sampler was worked in silk on very fine linen and is in excellent condition with some very minor weakness to the linen. It has been conservation mounted and is in a mahogany frame.