Lucinda M. Esser,
Kutztown, Berks County, Pennsylvania, 1840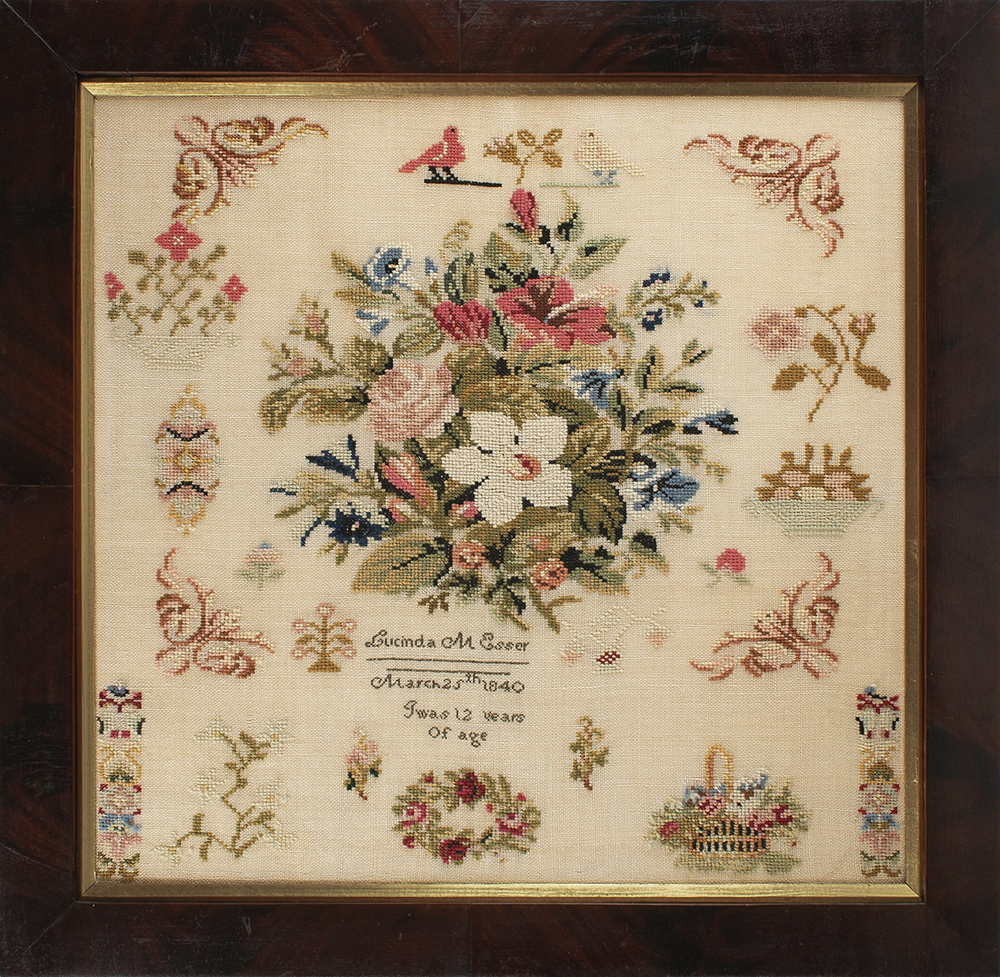 sampler size: 19¾" x 20¼" •
framed size: 24½" x 25" •
sold
Many excellent samplers were made by Pennsylvania German girls of Berks County in the 1830s and 40s. Using merino wool and Berlin work patterns, the samplers exhibit the exuberance found in the best of Pennsylvania German arts. This sampler was made by Lucinda Esser and finished on March 25th, 1840. She stated on it, "I was 12 years of age." An outstanding floral bouquet dominates the center with little birds, flower baskets, arrangements of fruit corner elements, a wreath and various other motifs adding greatly to the composition. 
Lucinda was from one of the prominent early Pennsylvania German families of Kutztown, which is located about 22 miles west and south of Allentown. She was the daughter of Samuel Esser (1794-1865) and Hannah (Oberbeck) Esser (1798-1845). Her grandfather, Jacob Beiber Esser (1758-1845), was a Revolutionary War veteran and a cabinetmaker. 
Notably, an outstanding sampler was made by Lucinda's younger sister, Jane Catherine Esser (1833-1897), in 1841, while attending the school of Mrs. Elizabeth Mason in Kutztown. This was in the Betty Ring collection and was exhibited and published as such. 
Many generations of the Esser family owned and operated the Kutztown Journal and Patriot newspapers. Sadly, Lucinda died in October, 1849. Her parents named their next child Lucinda, as a namesake.
The sampler was worked in wool and silk on linen and is in excellent condition. It has been conservation mounted and is in its fine, original mahogany frame.