K.S., Friesland,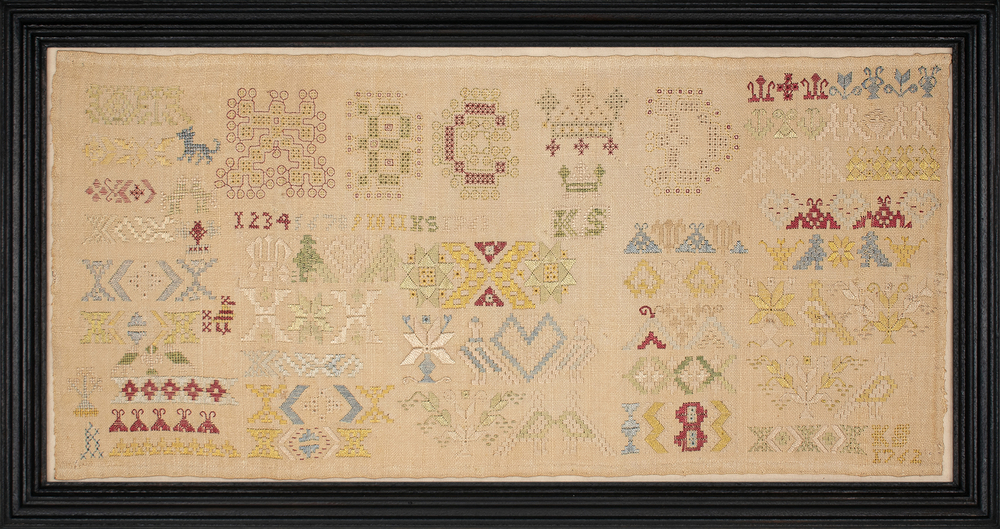 sampler size: 8¾" x 18¾" •
framed size: 11" x 21" •
sold
The samplers of Friesland, a province in northwest Holland, are distinctive and highly regarded for the decorative needlework used to execute a wonderful assortment of intricate patterns and motifs that appear on samplers made in that area over a long period of time. Called merklappen or lettermerklap in Dutch, the samplers can include out-sized highly decorative lettering stitched in the classic Friesian style. 
Friesian samplermakers rarely signed their work with their names, using instead their initials. In this case, the initials, K.S., appear under a crown and after the little numerals of the date, 1763. This sampler features many motifs and patterns that would have been embroidered onto household textiles and clothing for both men and women. Included as well are little birds, animals, stars and hearts. 
Letter Voor Letter by Gieneke Arnolli and Rosalie Sloof (Fries Museum, Leeuwarden) is an excellent resource for more information about these samplers. While written mostly in Dutch, it is well illustrated. 
Worked in silk on linen, the sampler is in excellent condition. It has been conservation mounted and is in a molded and painted frame.