Hannah Winchell,
Family Register, Topsham, Maine, 1822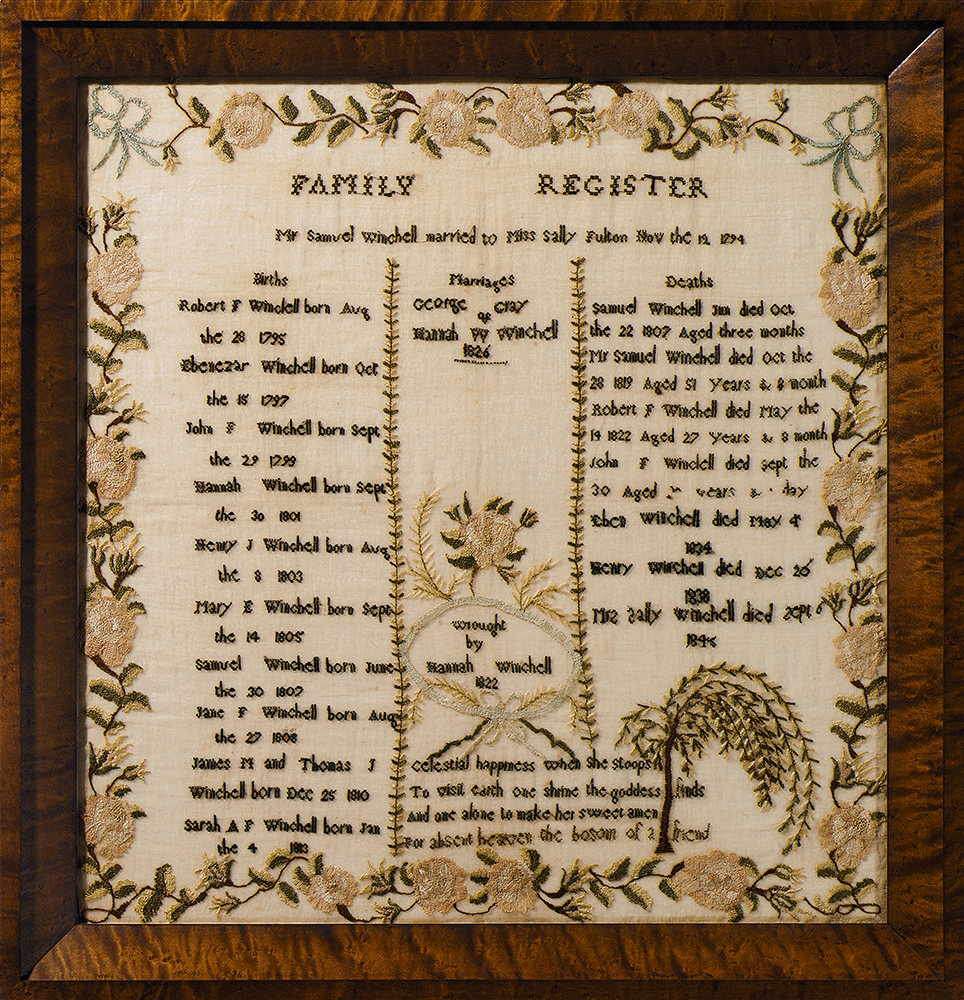 sampler size: 23" x 22" •
framed size: 27" x 26" •
sold
This is an outstanding Family Register sampler; it's quite large and features extremely fine and delicate needlework. Notably, this was exhibited and published by the DAR Museum in Washington, DC in 1989 as part of their groundbreaking exhibit, Family Record: Genealogical Watercolors and Needlework. It appears as figure 90 in Gloria Seaman Allen's accompanying book of the same name.
The samplermaker, Hannah Winchell, was born on September 30, 1801, the ninth of eleven children of Samuel and Sally (Fulton) Winchell. The Winchell family lived in Topsham and Harpswell, coastal towns of southern Maine, throughout the eighteenth and early nineteenth centuries. Samuel was a fifth-generation descendant of Robert Winchell, who arrived in America in 1635, settling in Hartford, Connecticut. Hannah's great grandfather Samuel Winchell, was a man of considerable wealth and influence in Harpswell and Topsham, owning part of a vast mill in the area. Much information is included in The Winchell Genealogy: The Ancestry and Children of Those Born to the Winchell Name in America Since 1635, by Newton H. Winchell and Alexander N. Winchell (Minneapolis, MN, 1917) and photocopies are included in the file that accompanies the sampler. 
Hannah Winchell worked this sampler when she was 21, in 1822, recording her family births and, later, adding information about her own marriage and subsequent family deaths. In 1826, she married Capt. George Gray of Bowdoinham and they became the parents of a son, George Gray. Sadly, Capt. Gray died eleven months after their wedding. Hannah died at age 85, in 1887, and is buried at First Parish Cemetery in Topsham.
This sampler is notable for its impressive size as well as its extreme delicacy, a winning combination. The linen is very fine which makes it that much more difficult for a needleworker to accomplish her fine lettering and decorative motifs.  The large flowers on delicate vines, looped blue bowknots, graceful willow tree and letter-perfect inscriptions were accomplished in cross-stitch, French knots, satin stitch and eyelet stitch. 
Worked in silk on linen, this antique sampler is in excellent condition. It has been conservation mounted into a bird's eye maple frame.