Ford – Davis Family Register,
Windsor, Berkshire County,
Massachusetts, circa 1830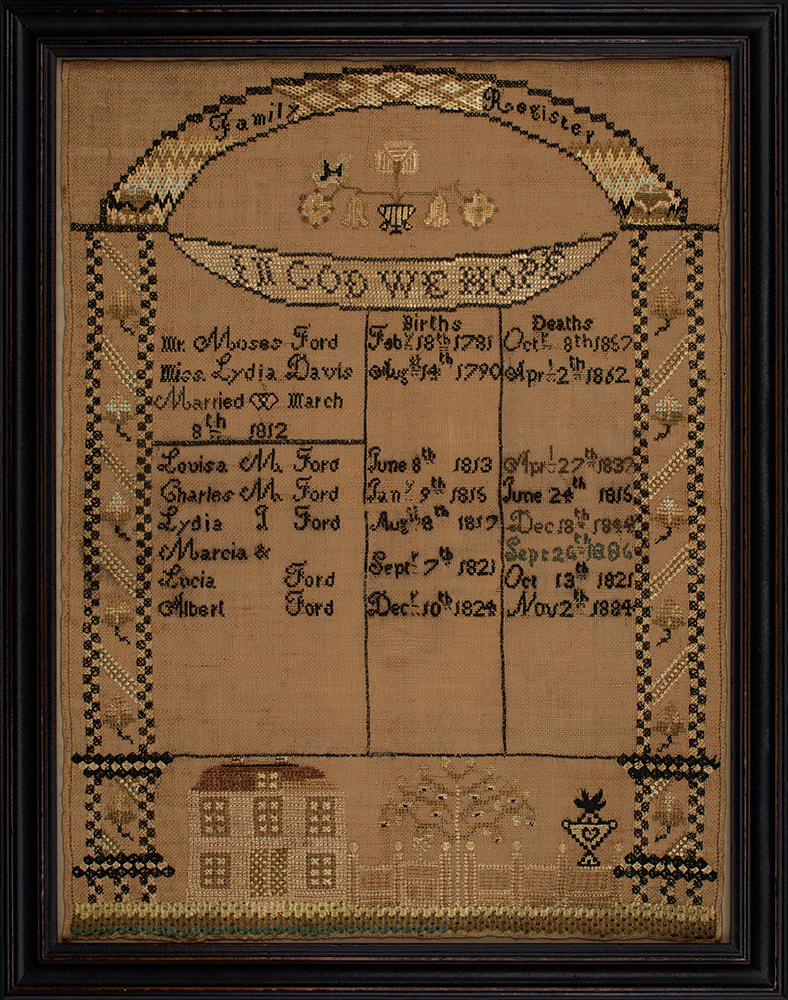 sampler size: 17½" x 13¼" •
framed size: 19¾" x 15½" •
sold
Family record and register samplers served a purpose not unlike inscriptions in the family bible; they recorded and preserved important information regarding the cohesive family unit, which had taken on a heightened significance in the new republic. An important exhibition of these samplers, presented in 1989 at the DAR Museum in Washington, DC, documented the origin and great variety of this form. Curator Dr. Gloria Seaman Allen, in the accompanying catalogue, Family Record: Genealogical Watercolors and Needlework, states that the family record sampler was, most certainly, an American invention.
The maker of this fine family register sampler was one of the daughters of Moses Ford and Lydia Davis; she used an excellent composition of checkerboard, neoclassical columns connected by an arch and a banner proclaiming, "In God We Hope." A scene of what is most likely the family house with fences and a tree grounds the bottom of the sampler wonderfully. The lawn was worked in queen's- stitch, a technique that indicates that the samplermaker was highly skilled. 
The Ford and Davis families are both well researched, with their histories extensively published. The Descendants of Andrew Ford of Weymouth, Massachusetts (Capital City Press, 1968) and Samuel Davis of Oxford, Mass and Joseph Davis of Dudley, Mass. And Their Descendants (George L. Davis, 1884) trace both families from the 1630s onward in New England. Extensive photocopies accompany the sampler. 
Moses and Lydia were married on March 8, 1812 - linked hearts mark this date on the sampler. Stitched on the sampler is a complete record of all births and deaths, some of these added in later. Their daughters were Louisa, Lydia, Marcia and Lucia. The samplermaker may have been Marcia (born in 1821 with her twin sister, Lucia), as she lived in Pittsfield and Southampton later in her life and the sampler was framed in Holyoke circa 1900.
The sampler was worked in silk on linen and is in excellent condition. It has been conservation mounted and is in a molded and black painted frame.