Catharine Brenneman,
Lancaster County, Pennsylvania, 1836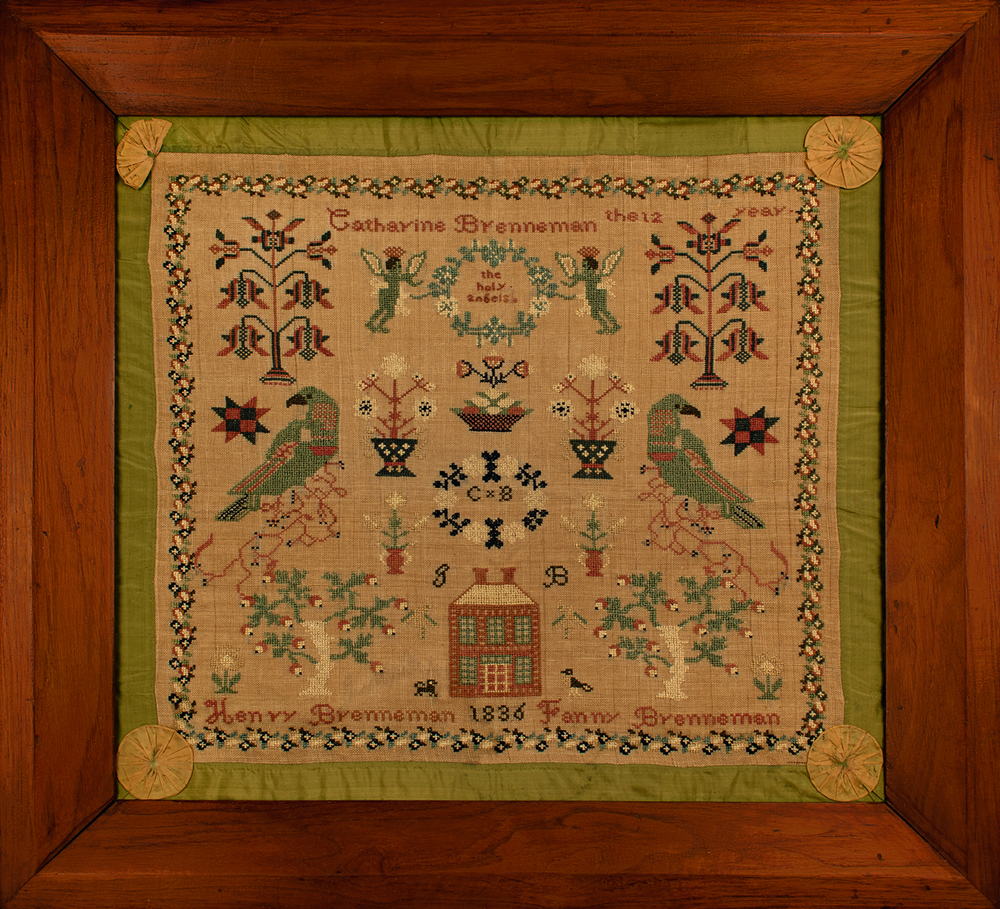 sampler size, including ribbon: 18½" x 20¼" •
framed size: 24½" x 25¾" •
sold
An excellent Pennsylvania German sampler with outstanding pictorial composition, motifs, and strong color, this features a fine house, a large pair of parrots and a pair of angles flanking a cartouche, among many other motifs. The maker, Catharine Brenneman, named her parents on the sampler and the fact that she was in her 12th year. The initials above the house, JB, may be those of her teacher. Quite fortunately, the sampler retains its original green silk ribbon and corner rosettes. 
Catharine was born on August 22, 1824, in Stumptown, Lancaster County, to Mennonites, Henry and Fanny (Weyland) Brenneman. Her emigrant ancestor was Melchior Brenneman (1665-1737) who was born in Switzerland. When she was fourteen years old, two years after she made this sampler, Catharine and her parents removed to Perry County, Indiana. Commemorative Biographical Record of Prominent and Representative Men of Indianapolis and Vicinity: Containing Biographical Sketches of Business and Professional Men and of Many of the Early Settled Families (J. H. Beers, Chicago, 1908) published much information about the Brenneman family, stating, "they were among the early settlers who braved terrors of the wilderness in order to build up the great commonwealth as it now stands."
In 1848, Catherine married Eli Heiny (1822-1918), about whom much was written in the above book as well. He was, "one of the prosperous and highly respected residents of Perry Township, Marion County, Ind." In 1889, he was elected to the Indiana Legislature and served in other public positions. Catharine and Eli had seven children, all sons. Catharine died in 1903 at age 78 and is buried in Round Hill Cemetery, along with family members. 
The sampler was worked in silk in linen, with silk ribbon and rosettes. It is in excellent condition and has been conservation mounted into its fine, original beveled frame.