Amalia Burkhart,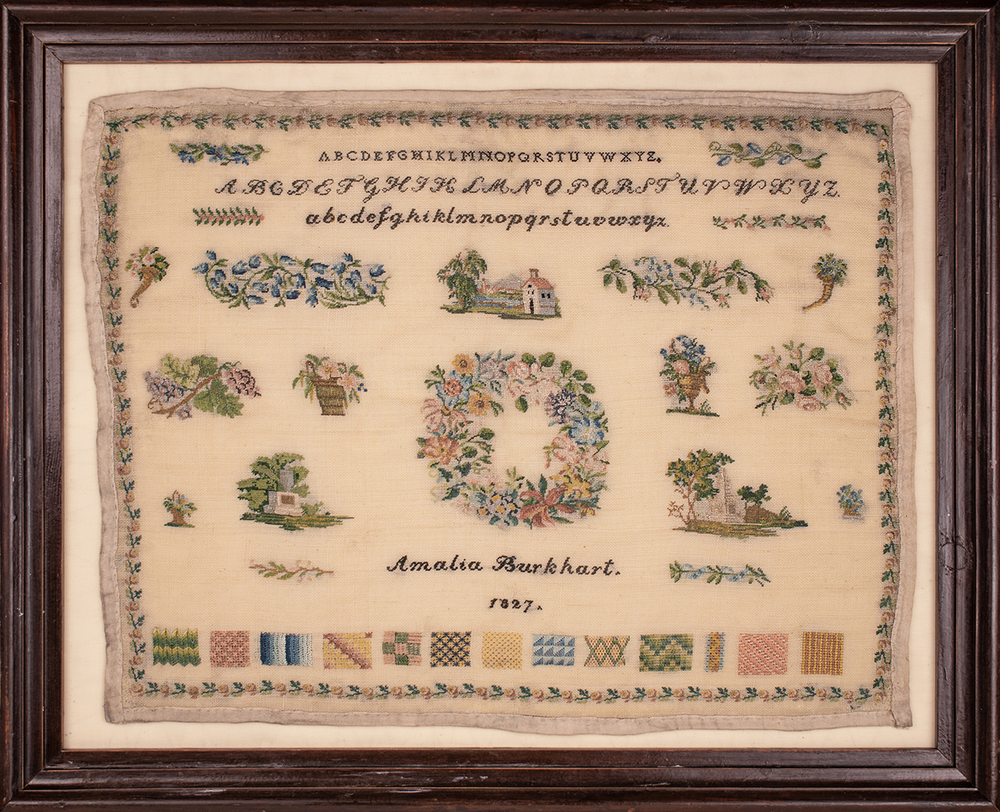 sampler size: 12½" x 16" •
framed size: 15¾" 19½" •
sold
During the Biedermeier period (1815-1848) applied arts flourished as a means of celebrating the joys of domestic life. Many embroidery patterns were produced in northern Europe, and these often echoed the motifs found on other Biedermeier decorative arts, emphasizing beauty, harmony and nature. This fine sampler, worked in 1827 by Amalia Burkhart, is a praiseworthy example of this period, with many very finely worked vignettes, floral sprays, scripted lettering and a splendid central wreath. These are almost identical to patterns distributed in the period by the Nowotny firm of Vienna and discussed in books by Raffaella Serena published in the 1990s. 
Amalia further displayed her skill with thirteen intricately stitched pattern-darned blocks; this type of work had long been popular in Germany and other countries in northern Europe. The composition, motifs and delicacy of stitches render this an unusually appealing sampler.
Worked in silk on wool with its original silk binding, the sampler is in excellent condition with some very minor areas where the wool ground has been secured as a part of the conservation mounting. It is in a molded frame.