Mary B. Gove, Under the Instruction of Phebe H. Chase, Weare, New Hampshire, 1827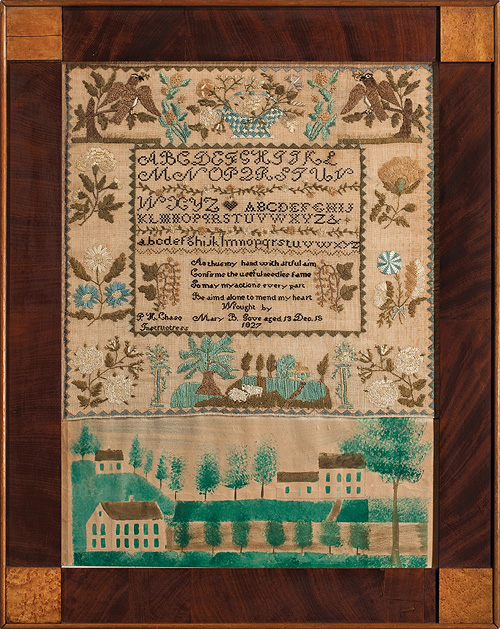 sold
A great rarity, this excellent, large sampler is combined with a watercolor painting, a splendid folk art townscape by the same maker. Mary Breed Gove, a 13-year-old from Weare, New Hampshire created this highly successful work, which offers enormous visual appeal. This was in the collection of Theodore H. Kapnek, and is published as figure 98 in A Gallery of American Samplers: The Theodore H. Kapnek Collection (Dutton, 1978) by Glee Krueger, one of the most important pieces in his extensive collection. It was also published, as figure 215, in Small Folk: A Celebration of Childhood in America (Dutton, 1980) by Sandra Brandt and Elissa Cullman, who too noted its importance. The paint was applied free-hand as well as sponge-decorated, typical of the period.
While the watercolor adds greatly to the significance of this piece, the pictorial elements and the overall composition of the sampler render it a highly desirable example on its own. One cannot fail to admire the large birds in the upper corners, the little landscape with fat sheep nestled between neo-classical columns topped by pots of flowers, the many large flowering branches and a finely worded poem regarding Mary's hand with "artful aim" and her "useful needle."
Weare is small town located 15 miles southwest of Concord, and described in The New England Gazetteer (Boston, 1839) as one populated by "industrious and wealthy husbandmen." Mary was born in December of 1814 to Moses Gove (published family histories refer to Moses as a "very ingenious and useful man") and Sarah (Chase) Gove. They were Friends and members of the Weare Monthly Meeting, where they were married in 1806. In 1833 Mary wed Josiah Bartlett, a farmer from Deering, the next town over, and she was disowned by the Quakers for having "married out." Mary and Josiah remained in Deering where they raised two daughters.
Mary stitched "P.H. Chase Instructress" onto her sampler; in fact this was her first cousin, Phebe Hoag Chase, born in March of 1810 to John and Betty (Dow) Chase, also Friends. Phebe married, in 1845, Dr. Enoch Greene who was raised and educated in Weare but later removed to New York State, where he served the field of public medicine admirably, as medical director of Sing Sing Prison and director of Ward's Island emigrant hospitals and nurseries. Phebe succumbed to an outbreak of cholera in 1849.
Worked in silk on linen and watercolor on paper, they both remain in excellent condition. The sampler has been conservation mounted; the fine cherry and maple cornerblock frame is original. 
This sampler is from our archives and has been sold.