Marcia A. Harlow, Plymouth, Massachusetts, 1822 Provenance: Collection of Betty Ring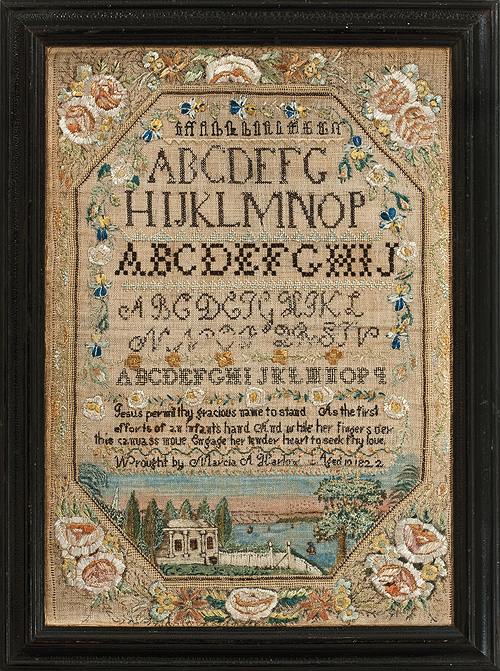 sold
A highly appealing group of samplers, made in Plymouth, Massachusetts between 1816 and 1845, features a center octagonal or rounded corner framework filled with alphabets, verse, and most importantly, excellent scenes of buildings, trees, and ships on the water. Needlework of the highest quality was combined with watercolor painted on the linen and the flowers that fill the corners spaces are beautifully worked. Betty Ring wrote extensively about these samplers in Girlhood Embroidery: American Samplers & Pictorial Needlework 1650-1850, vol I, in the section entitled "Samplers of Plymouth."
It is our pleasure to have offered one of the finest of these Plymouth samplers, worked by ten-year-old Marcia Ann Harlow in 1822. This has also been one of the best known samplers of the group, as it was in the personal collection of Betty Ring for many years. Published in American Needlework Treasures: Samplers and Silk Embroideries from the Collection of Betty Ring by Betty Ring (E P Dutton, New York, 1987) as figure 21, this was also exhibited at the Museum of American Folk Art that same year in the exhibition of the same name.
In American Needlework Treasures: Samplers and Silk Embroideries from the Collection of Betty Ring,it is notedthat this sampler, along with some of the other early Plymouth samplers, indicates the presence of Quaker influence, particularly in the bold alphabets and use of ligatures. These can be found at the top of the lettering on this sampler. Notable as well is that a related sampler made by Marcia's immediate older sister, Betsey Torrey Harlow, in 1818 in the Middleborough Historical Society.
The Harlow family was an early and prominent one in Plymouth. Genealogical Register of Plymouth Families by William T. Davis (Genealogical Publishing Co., 1899) and other sources document Marcia Ann Harlow, born 1812 to John and Elizabeth Harlow. She was one of eight children and in 1839, married Asaph Gray of Brewster, a town on Cape Cod. They lived initially in Brewster and had at least one child, a daughter born circa 1845. The family joined the Westward movement and by the 1860s lived in California. Asaph is described variously as a grocer, miner, merchant, head of a company that sold dynamite powder and eventually as the president of United Reese River Mining Company. They resided in Oakland for many years as evidenced by census records; their lives must have been interesting indeed.
The sampler was worked in silk and paint on linen. It is in very good condition with slight loss to some of the letters of the center alphabet; it has been conservation mounted and is in its original molded and painted frame.
Sampler size: 17¼" x 12"      Framed size: 20¼" x 15"
This sampler is from our archives and has been sold.