Harriet Armold, Reading, Pennsylvania, 1828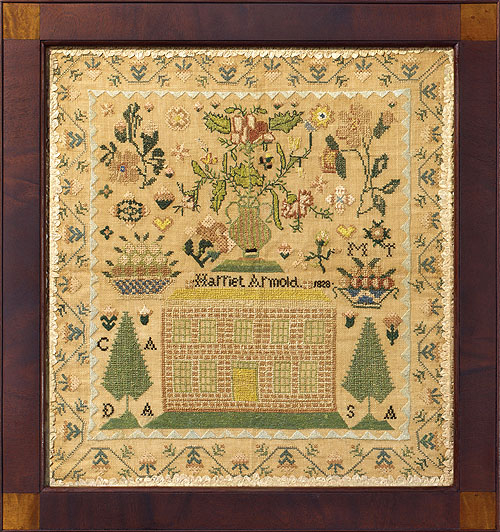 sold
Samplermakers working between 1827 and 1831 in Reading , Pennsylvania produced some of the most aesthetically appealing of all 19 th century American samplers. Well-documented by scholars since the 1960s, these were featured in as part of the 2006 exhibition of samplers at the Historical Society of Berks County, curated by Kathryn Leseuir. Theses pieces share distinctive characteristics and were worked under a teacher who is identified only by her initials, MT. This talented schoolmistress was able to instruct and inspire her students to achieve unusual success in the needle arts; the young girls created highly appealing pictorial compositions and used a sophisticated vocabulary of stitches. We have handled other examples in the past but are now pleased to offer a recent discovery which is the finest example of this group.
The classic Reading elements include the large, stately Federal brick house sitting on a bright green lawn flanked by tall, crisp pine trees, an extraordinary striped vase of flowers and spiky leaves, pairs of filled fruit baskets, beautifully formed queen's stitched elements and a fine strawberry border, also worked in the queen's stitch are considered Reading characteristics. Harriet's sampler is one of the very few to retain its original silk ribbon edging and its excellent coloration. Historical Needlework of Pennsylvania by Margaret B. Schiffer illustrates the sampler made by Harriet Weiser in 1830 on page 80, a similar example also made under the instruction of MT. The composition and proportions of the Armold sampler render it a more pleasing example.
Harriet Armold, a ten-year-old Pennsylvania German girl, was one of the twelve children of blacksmith, Daniel Armold and his wife Sarah (Spohn) Armold, both members of early Berks County families. Sarah's father, John Spohn, served in the Revolutionary War, forming one of the first companies out of Reading and commissioned as captain. He was taken as a prisoner at Fort Washington in 1776 for several months.
In 1837 Harriet married William Nagle, an engineer with the Philadelphia & Reading Railroad and they had six children. Daniel died in 1848 when his locomotive exploded, leaving Harriet with six children, ages 10 weeks to 10 years of age. Much family history regarding the Nagels has been published in several sources including county history volumes. Harriet did not marry again and remained in Reading , living with her children and later with a married daughter.
This sampler was worked in silk on linen and is in excellent condition. It has been conservation mounted and one small area of the silk ribbon is a later replacement, and it is in a fine mahogany and maple cornerblock frame.