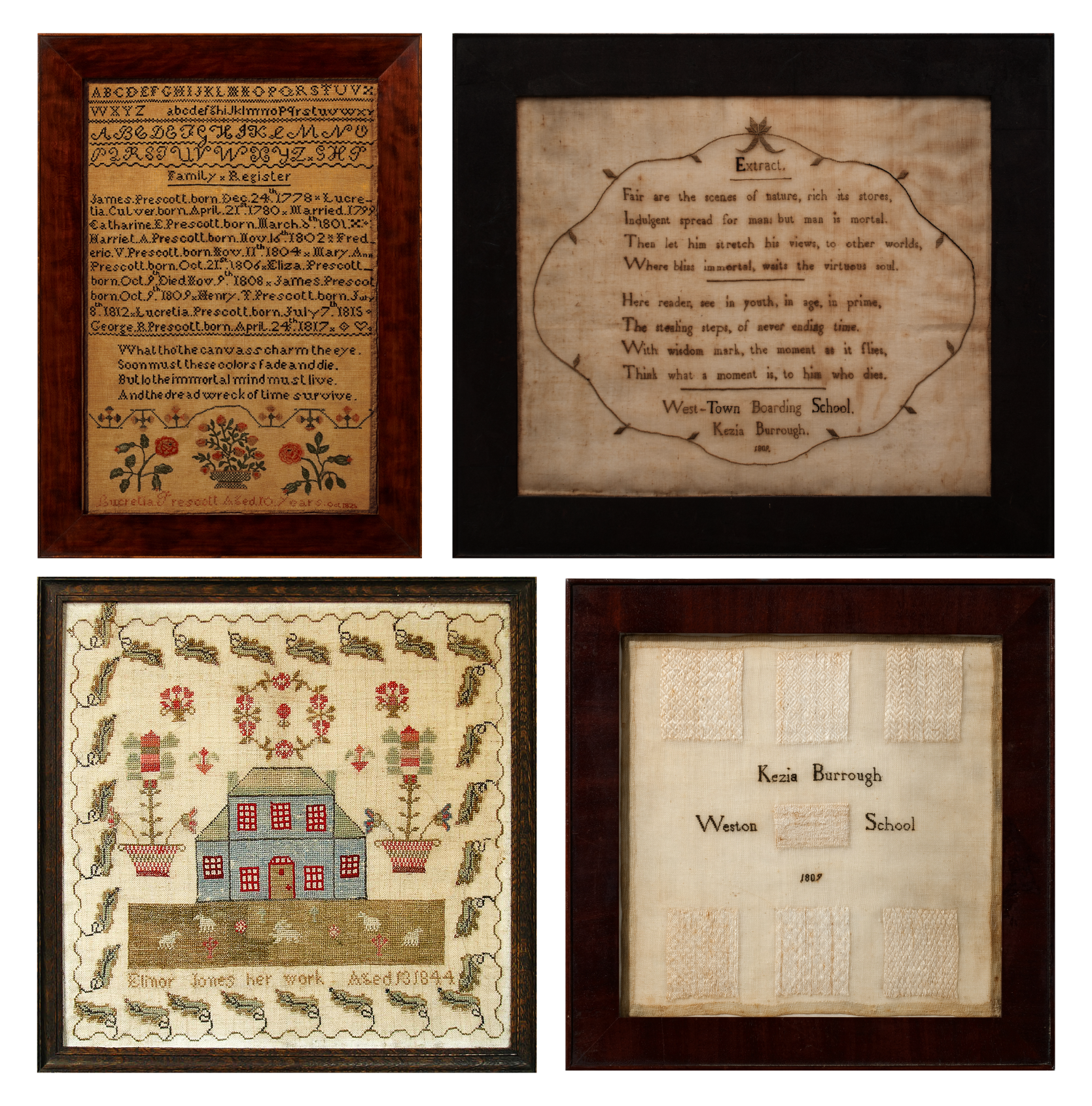 June 18th -- October 15th, 2022
Before adding a sampler to her collection, Sharon, CT resident Alexandra Peters researched the lives of the sampler makers and the world revealed by their needlework. The girls in this collection were touched by abolition, the Underground Railroad, and the anti-slavery movement. A few girls settled the Connecticut Western Reserve, others were educated at the three exceptional academies for girls in northwest Connecticut. Quaker girls created elegant darning samplers, and older girls stitched elaborate tales from classical history and literature. Some girls in England sewed world maps. Other girls in the United States documented their family histories, sisters worked companion samplers, and the women of Nathaniel Hawthorne's family subtly influenced his storytelling with their needlework. Writing with needles, these sampler creators left us a powerful legacy that opens a window into the early education of girls, who their families were, and how they documented their very existence. 
For more information visit Sharon Historical Society and Museum's website
Opening reception: June 18, 5:00 pm – 7:00 pm EST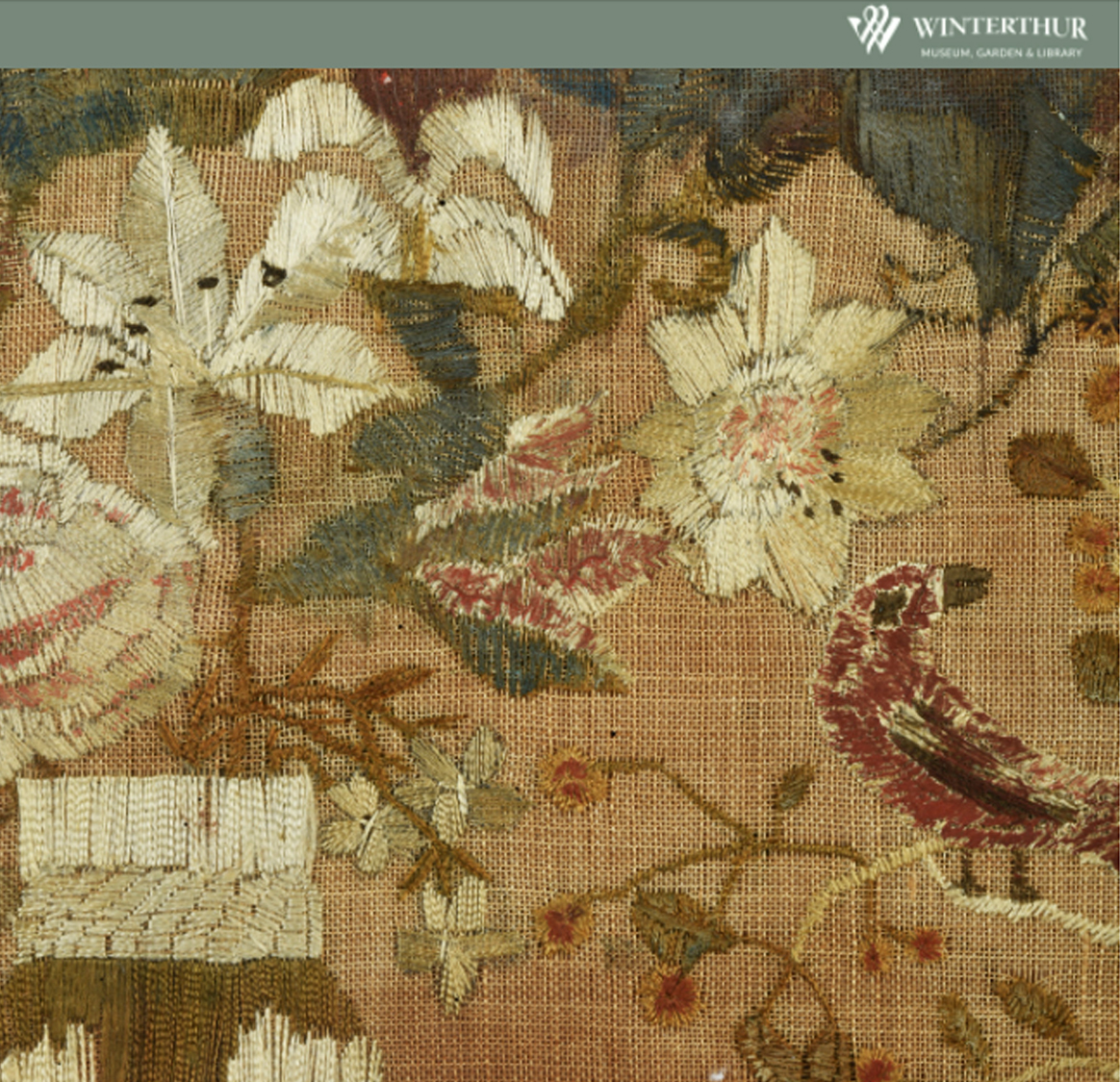 The Needle's I: Stitching Identity
October 6–7, 2022
Needleworkers have always used needle and thread to tell stories of family memory, and tradition as they stitched samplers or clothing.
Join Winterthur staff, visiting scholars, designers, and artists for a series of talks, workshops, and discussions that will explore the ways
stitchers past and present have employed their craft to express a sense of self.
For more information, visit Winterthur Museum's website
To register click here
NEW RESOURCES
 
New York Historical Society video lecture available on Youtube - entitled "Truth" Revealed – Rosena Disery's African Free School Sampler"
Presented by Margi Hofer, Museum Director and Vice President of the NYHS, it's a deep dive into Rosena Disery, a student at New York City's African Free School, and her highly significant 1820 sampler. Hofer includes a great amount of information about the school and also its students along with fascinating information about the lives of Rosena, her husband and family - highly successful caterers in NYC. The New York Historical Society also holds the African Free School's records and papers.
This sampler, and much information, is in the archives of our website. Put "rosena" in the search box upper right on any page of our site (of course you can use this for any other search). We are proud to have owned, researched, conserved and framed the sampler before NYHS acquired it, ten years ago.
Stitching Property: Architecture and Land on Schoolgirl Needlework
Announcing a virtual lecture by Winterthur Research Fellow and Boston University PH.D candidate Mariah Gruner on Thursday May 13, 5:00 ET entitled "Stitching Property, Picturing Feminine Authority: Depictions of Architecture and Land in Nineteenth Century Schoolgirl Needlework." In her presentation Mariah will explore possible meanings of depicting houses and terrain on schoolgirl samplers when, under the laws of coverture, most women could not own property. She interprets 19th century architectural samplers as sites for developing feminine visions of control (and even ownership) over the space of the house, not simply the home. She will also discuss ways to think about these property-oriented practices in spaces of settlement and enslavement and what meanings can be unfurled from free Black women's use of the form. In this latter context she will be discussing samplers by Ann Plato and Sarah Ann Major Harris, as well as a needlework picture marked only with "E.J." and "Natchez, Mississippi."
A Sampler from the Bennington Museum Blog Post
visit Bennington's website for more information on this sampler from 1835.
Sewing and Embroidery Lessons at the College of San Ignacio de Loyola, Vizcaínas
Check out a recorded Zoom presentation (in Spanish, password is: 0p%eR140) about school girl embroidery in Mexico City from the College of San Ignacio De Loyola, Vizcaínas, founded in 1767
Girlhood (It's Complicated)
National Museum of American History (NMAH) in Washington, DC.
The exhibition is one in many ways in which the various Smithsonian museums have chosen to honor the 100th anniversary of the ratification of the 19th amendment giving women the right to vote. 
The exhibition will be at the NMAH for two years, after which it will be a traveling exhibition and be on display at five to seven other museums in the country 2023-2025. https://americanhistory.si.edu/exhibitions/girlhood-its-complicated?utm…
"A Stitch in Time" - Blog Post
by Stacey Fraser
Lexington Historical Society, Massachusetts 
visit lexingtonhistory.org
"Threads of History: Swetland family samplers" - Blog Post
by Aimee Newell
Luzerne County Historical Society, Pennsylvania 
visit luzernehistory.org