Small Motif and Verse Sampler,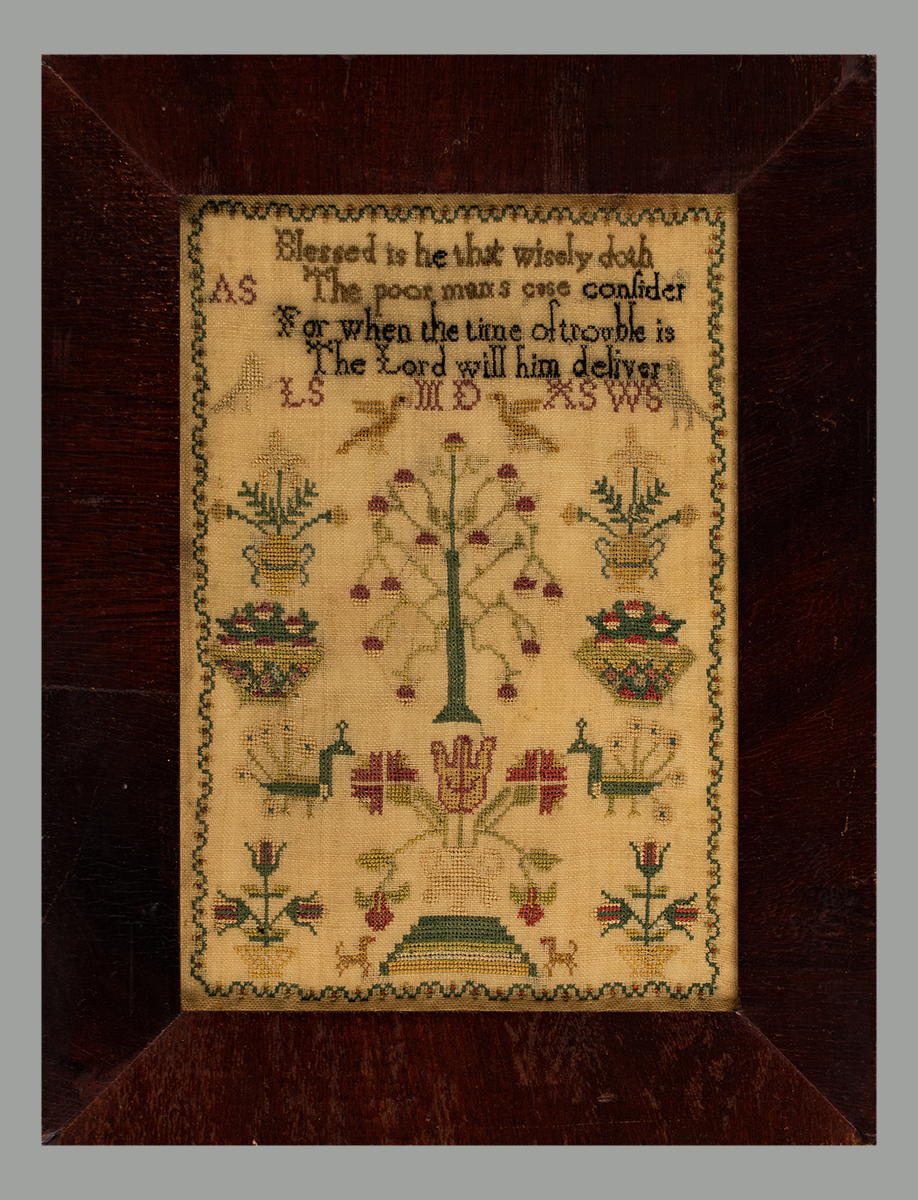 sampler size: 8" x 5½" •
framed size: 10¾" x 8¼" •
sold
A small gem of a sampler, this features many tightly worked motifs centered on a basket of flowers sitting on a stepped lawn, and a delightful fruit tree. Tiny dogs, many birds, peacocks, baskets of fruit and potted flowers fill the composition. 
The unusual verse advises charity towards those in need: "Blessed is he that wisely doth / The poor man's case consider / For when the time of trouble is / The Lord will him deliver." The source is The Scottish Psalter of 1650. We turned to antiquesamplers.org, highly recommended for all information about historic Scottish samplers, to learn more about the Scottish Psalter.
"The Church of Scotland is unique in many ways, just one is that "decisions concerning the conduct of public worship in the Church of Scotland are entirely at the discretion of the parish minister. As a result, a wide variety of musical resources are used. However, at various times in its history, the General Assembly of the Church of Scotland has commissioned volumes of psalms and hymns for use by congregations." (Wikipedia) The Scottish Psalter was first assembled in 1564 (with music); it evolved over time and was (slightly) combined with the Church of England version to arrive at the 1650 edition. This edition held fairly steady until a modification in 1929. Suffice it to say that the Scots do not take to changes readily."
There are five sets of initials on the sampler and our guess is that the maker was AS and the others are those of family members. A delicate border worked in a very small scale surrounds the sampler nicely. 
Worked in silk on wool, it is in excellent condition, conservation mounted into a 19th century, beveled mahogany frame.