Silk Embroidery, Folwell School,
"In Memory of an Affectionate Brother," Philadelphia, circa 1810  
Provenance: Susan B. Swan Collection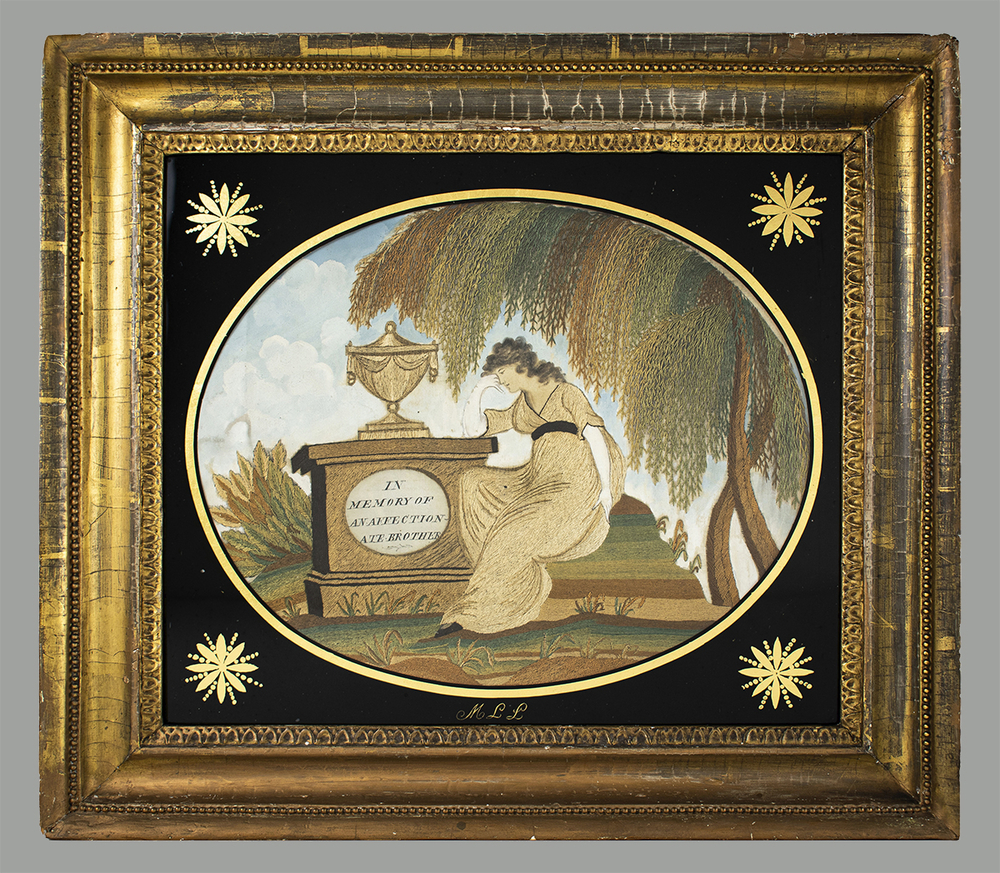 size of the oval: 10" x 12¾" •
framed size: 16½" x 18½" •
sold
Many fine silk embroideries were made by young ladies attending the Folwell School in Philadelphia, which was established in the last few years of the 18th century and run by Samuel and Elizabeth Folwell. The subject matters on these works include memorials, religious and allegorical stories, family scenes and illustrations from popular novels. They share identifiable characteristics, and the faces were painted by either Samuel Folwell, or, after his death in 1813, their son Godfrey. 
In Girlhood Embroidery (vol II, page 378), Betty Ring writes about the Folwell School, as follows:
"Pictorial embroidery on silk was popular in Philadelphia from the 1730s until the post-Revolutionary period, so it is not surprising that there was an early transition from the rococo style to neo-classicism in this largest of American cities with its keen interest in fashions from abroad. Yet it was not the newly arrived French or English drawing masters or embroiderers who initiated the style for lustrous urns and temples.  Instead it was a native-born craftsman who managed to fan the flames of fashion and promote his patterns and his wife's embroidery school until their output became the largest body of neoclassical silk embroidery to survive from Federal America."
This is an excellent Folwell School memorial, "In Memory of an Affectionate Brother" and initialed, MLL.. The eglomise mat and frame are original. 
The provenance of this silk embroidery is significant as it was in the personal collection of the late Susan B. Swan, the revered, long-time Curator of Textiles at Winterthur Museum. It has remained in the collection of one of her sons and is now available for sale.  
Here are others from Susan Swan's collection:  Mary Ann Clark, Sarah G. Hoopes, Anna Reed