Sarah Gordon Crosbie,
Glen-tarff School, Kirkcudbrightshire, Scotland, 1813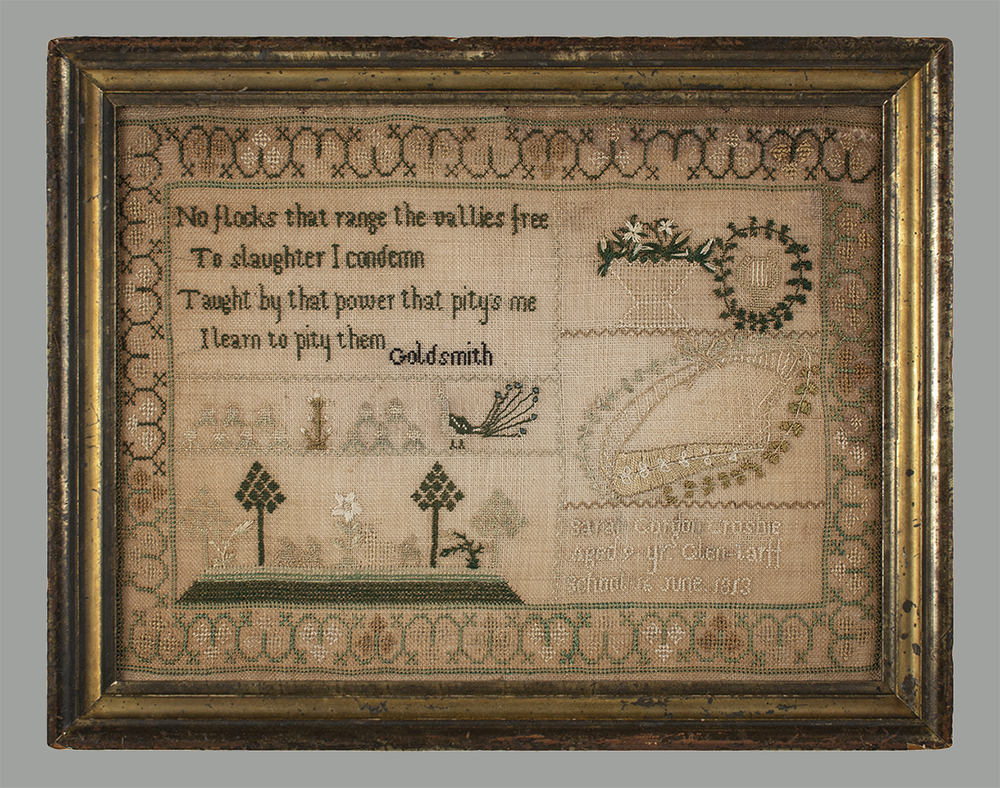 sampler size: 8¾" x 11¾" •
framed size: 11" x 14" •
sold
This is a delightful and unusual Scottish sampler signed, "Sarah Gordon Crosbie Aged 9 yrs Glen-tarff School 16 June 1813." Notably, prior to this sampler, this school hadn't been documented by scholars and researchers of Scottish samplers. Another unusual aspect of the sampler is the fact that two of the motifs that Sarah stitched captured rarely appear on samplers – a lyre and a harp. These may have represented a particular interest of Sarah's, or a focus offered by the school. 
The four-line poem reads, "No flocks that range the vallies free / To slaughter I condemn / Taught by that power that pity's me / I learn to pity them.'' This was written by the Irish physician and author, Oliver Goldsmith (1728-1774), published in The Vicar of Wakefield in 1766. Beneath this verse are two charming registers with strawberries, a peacock, stylized trees and three tiny rabbits, plants and flowers on a deep green lawn.
Sarah Gordon Crosbie was the daughter of Robert and Agnes (Halliday) Crosbie who were married circa 1800 in Parton, Kirkcudbrightshire. She was the second of their six children, born in 1803. In 1822, she married Samuel Blaind in Dumfries, and they had three children. 
The sampler was worked in silk on linen and is in very good condition, with some slight darkening to the linen. It has been conservation mounted and is in a 19th century gold leaf frame. See below for a photo taken prior to mounting.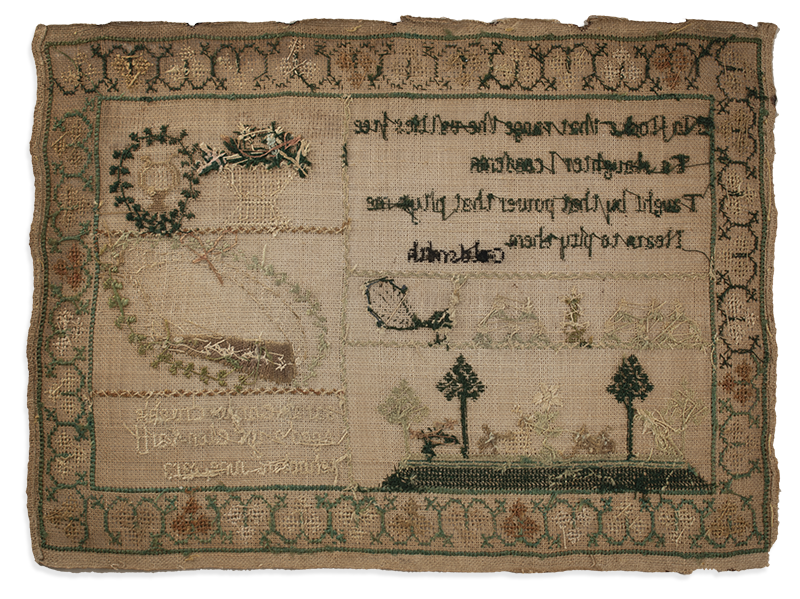 photo of reverse