Sarah Ann Fell
Buckingham, Bucks County, Pennsylvania,
circa 1830, attributed to Mrs. C. Evans Seminary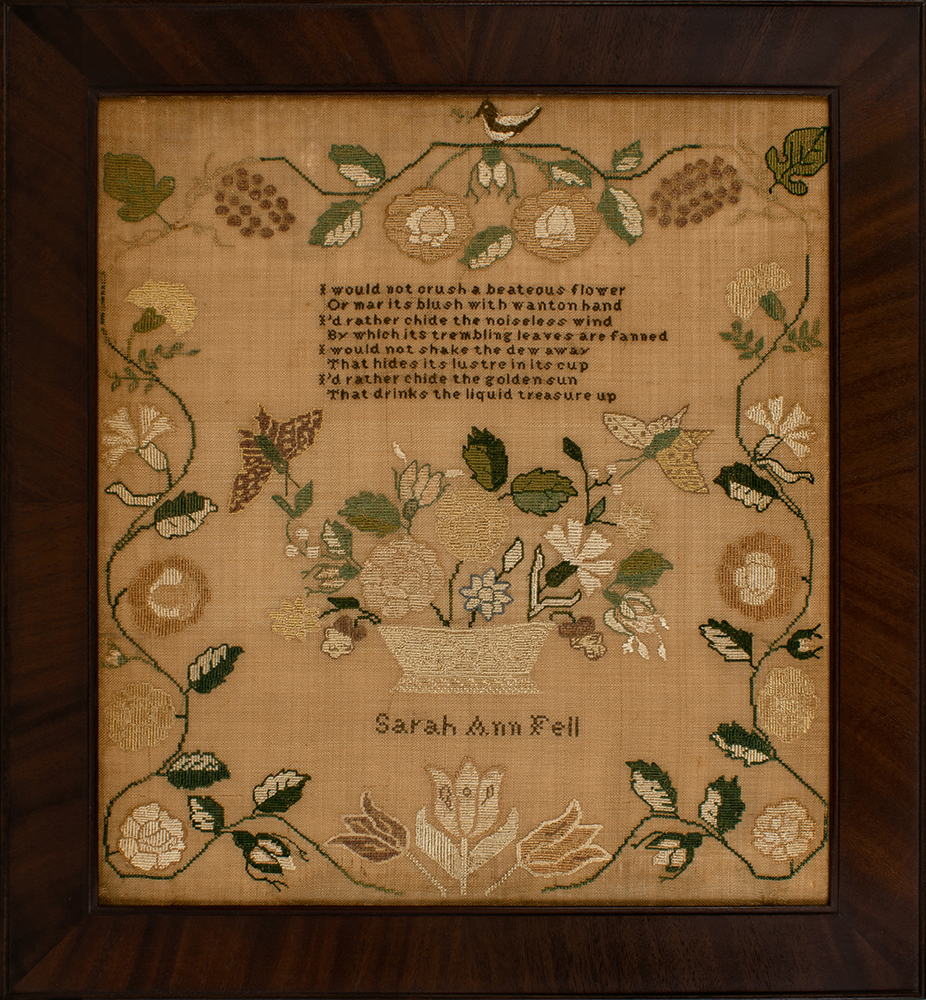 sampler size: 19½" x 17¼" •
framed size: 24" x 21¾" •
sold
A small group of exemplary antique samplers, attributed to a schoolteacher, Mrs. C. Evans, was made by schoolgirls from Bucks and Montgomery Counties outside of Philadelphia. The highly developed ones include a central basket of flowers, butterflies, birds and excellent borders and the samplers are skillfully worked throughout. The leaves are often two-tone with well-defined veins. This fine sampler, made by Sarah Ann Fell, fits squarely into this group and we're delighted to offer it. In addition to a praiseworthy depiction of her flower basket and butterflies, Sarah's border is more interesting than that found on most of the samplers in this group – a graceful vine winds its way around the sampler, with three tulips at the bottom and a bird perched at the top. Other flowers, veined leaves and grape bunches embellish it as well.
Sarah Ann Fell was one of five children and was born in 1812, the daughter of Dr. David Fell (1774-1856) and his wife, Phebe (Schofield) Fell (1773—1858) of Buckingham, Bucks County. They were Quakers and members of the Buckingham Meeting, where they were married in 1803. Dr. Fell attended the University of Pennsylvania and was a pioneer physician in Bucks County. Sarah attended Westtown School in, entering in November 1830. 
As an adult, Sarah became a notably successful schoolteacher, along with her older sister Edith, born in 1807. Sarah lived some of the time with her brother, Joseph, who is noted as a prominent and well-respected schoolteacher in Bucks County, and superintendent of schools. He was an active Quaker and staunch abolitionist, providing refuge as part of the Underground Railroad. Sarah removed to Columbiana County, Ohio late in her life and died there in 1872. 
Genealogy of the Fell Family in America, compiled by Sarah M. Fell (1891), provided much of the above information and traces the family back to Joseph Fell who was born in England in 1668 and emigrated to Pennsylvania, settling in Buckingham, where he died in 1748. 
We are grateful to scholar Barbara Hutson for her extensive research into this group of samplers and the genealogy of Sarah Ann Fell. 
The sampler was worked in silk on linen and is in excellent condition with one very minor darned area to the linen. It has been conservation mounted and is in a fine mahogany frame.