Rebakah Effinger,
Ridley Township, Delaware County, Pennsylvania, 1804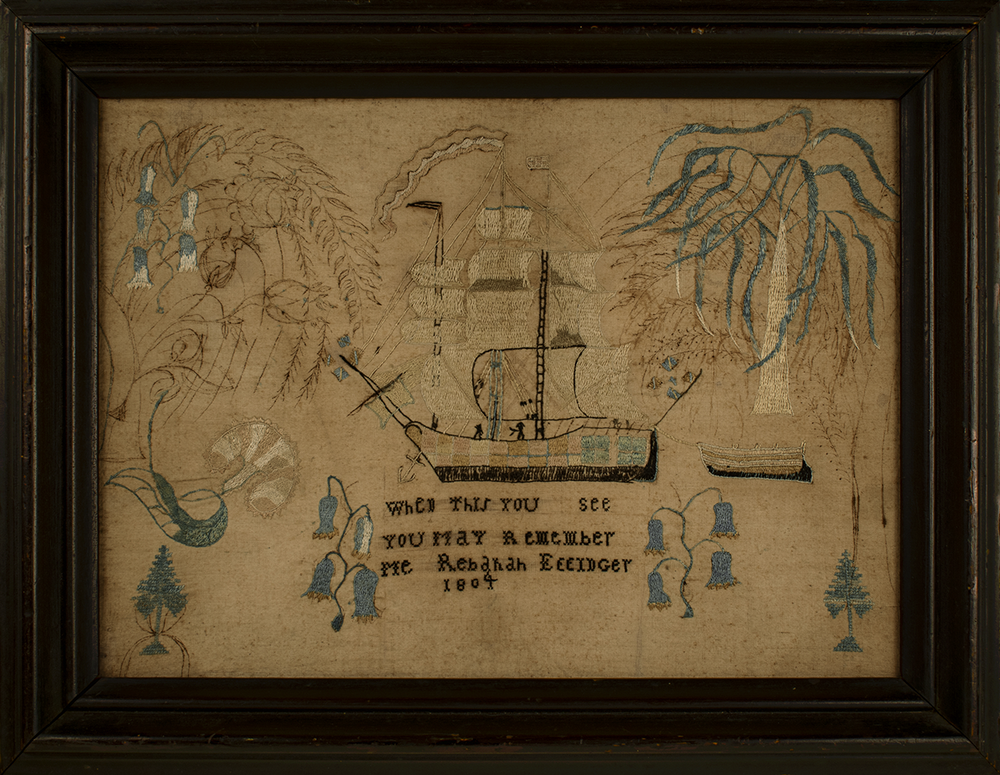 sampler size: 11½" x 16" •
framed size: 15" x 19½" •
sold
A very unusual and interesting sampler, this features a portrayal of a three-masted ship in full sail, set within organic trees and flowers. These side elements are unfinished with a few different intentions for further work inked onto the linen. The depiction of the ship includes many wonderful details – figures of sailors, a dinghy, anchor, banners flying, and a rope ladder. 
The inscription reads, "When this you see you may remember me Rebakah Effinger 1804." She formed several of her letters in such a way that we could not immediately read her name and we turned to Dr. Lynne Anderson, Director of the Sampler Archive for her assistance. She was able to sleuth through the lettering and that allowed us to identify and research the family. We can now indeed remember the maker, as suggested on the sampler itself.
Rebakah was born in 1792, the daughter of Henry Effinger, Jr (circa 1760-1798) and his wife, Rachel. The family lived in Ridley Township, Delaware County, Pennsylvania, a section of which is on the Delaware River, thus accounting for the subject matter of this sampler. Henry was a Loyalist and as a supporter of the Crown is listed in Biographical Sketches of Loyalists of the American Revolution. He was, "attainted of treason, surrendered himself, and was discharged." In June 1777, he took an oath of allegiance before justices of the peace, so he seems to come around. The family remained in Delaware County, and the house that they lived in, Eddystone, is mentioned in records of the history of the township.
In 1825, Rebakah married Dr. Phinehas Price (1789-1867), as his second wife. They had at least four children and lived in Delaware County for many years. Dr. Price wrote a book, A Narrative of the Life and Travels, Preaching & Suffering, With an Account of the Witnesses, Defence and Persecution of Phinehas Price, M.D.: from 1789 up to 1843 and we have ordered a copy of this which will accompany the sampler and file of research. Rebakah died in 1857 and is buried in Wilmington, Delaware. 
The sampler was worked in silk on linen and is in very good condition with some slight darkening to the linen. It has been conservation mounted and is in its original black painted frame.