Pictorial Sampler,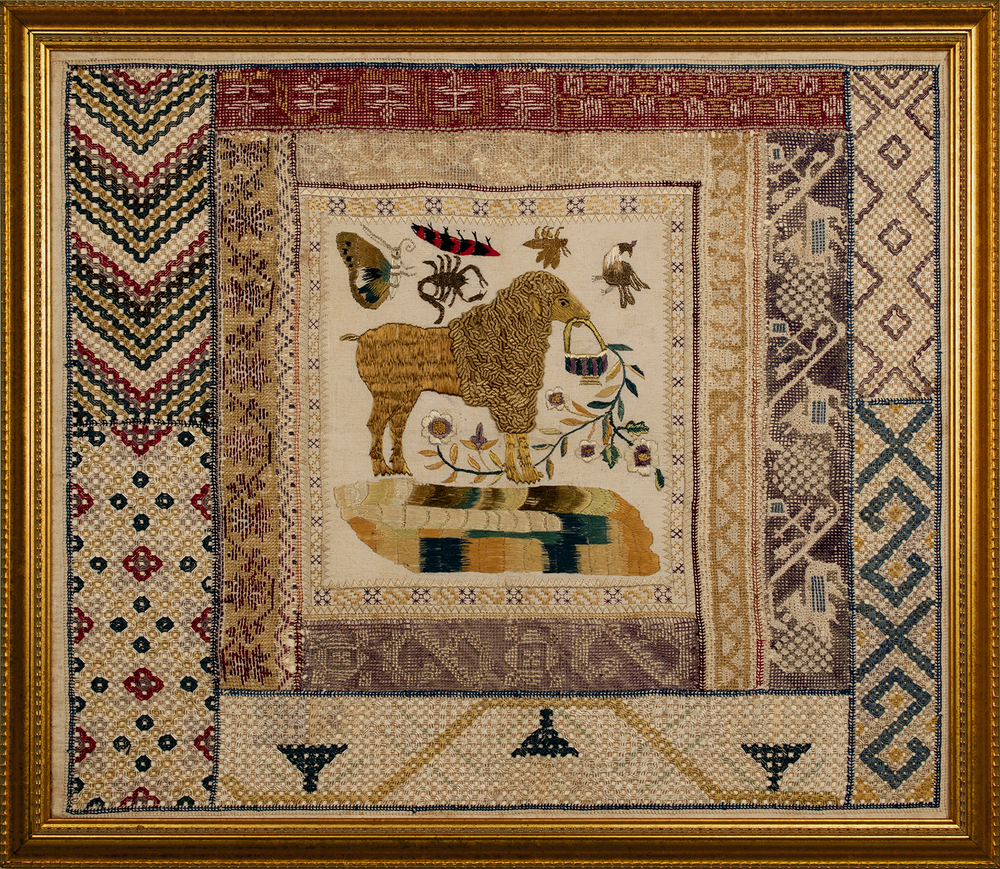 sampler size: 15½" x 18½" •
framed size: 17½" x 20½" •
sold
We are delighted to offer this excellent Mexican sampler with its centered image of a lamb with a basket of trailing flower vines in its mouth, on a beautiful, shaded lawn. The lamb is partially worked in the bullion stitch, creating a greatly appealing texture. Other images include a butterfly, scorpion, insects, exotic bird; a framework of many extraordinary bands of beautiful needlework patterns, some with their sources in early pattern books, complete this extraordinary sampler. A photo taken of the reverse of the sampler prior to mounting is highly instructive as to the technique and to aptitude of the samplermaker.
We turned to Mayela Flores Enríquez, PhD Candidate, Universidad Iberoamericana, Mexico City, a specialist in this area, and were rewarded with her informative response:
"This type of square Mexican sampler shows significant Spanish influence and was probably embroidered at a private school, not a convent school, by a wealthy girl from one of the main cities of Mexico's central region, probably Mexico City or Puebla. I consider it was created in an urban context.
Its repertoire is related to the Mexican Romanticism aesthetics developed during the 19th century, so all the images talk about an idealization and romanticization of life, women, and womanhood. The sampler shares characteristics with some in American museum collections which talk about Mexican sampler collectionism during the first half of the 20th Century.  The central image of the lamb is more related to a bucolic repertoire, also informed by foreign patterns and by Mexican Romanticism, than to a catholic tradition as it occurs with earlier examples." The stitches and techniques that were used are: Satin stitch, French knots, Bullion stitch, Drawn work, Cross stitch, Back stitch, Blanket stitch, Short and Long stitch. In Spanish some of the names for variations are filigrana, randas and calado. 
The sampler was worked in silk on linen and is in excellent condition. It has been conservation mounted in a gold frame.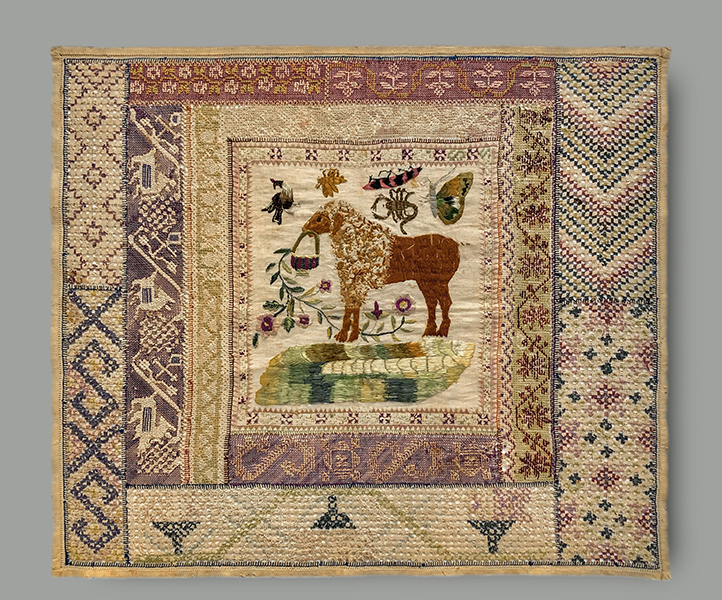 photo of reverse