Mary Bramhall,
Royal Infirmary, Sheffield, England, 1809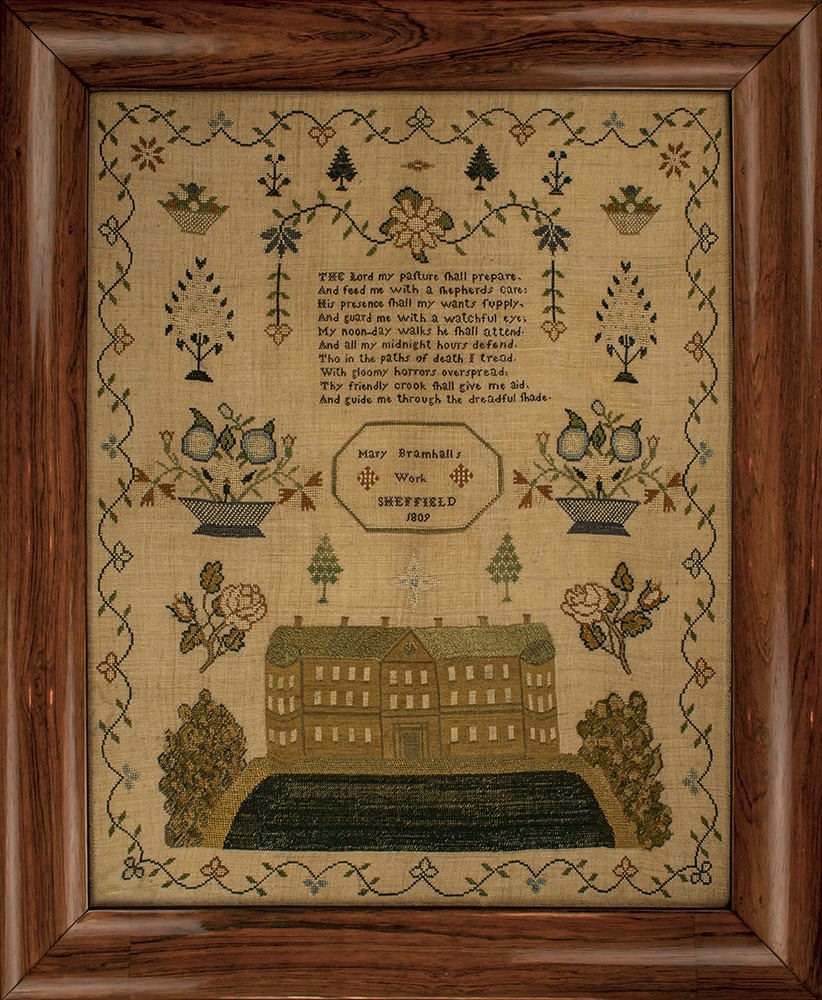 sampler size: 22" x 17¼" framed size: 26¾" x 22" •
2nd Saturday Sampler Special - now $2240! call or text 215-292-3568 •
sold
A large and beautifully made sampler, this includes an extremely fine and detailed depiction of the Sheffield Royal Infirmary. This hospital building was completed and opened in 1797 and was, no doubt, of great significance to the population of Sheffield. We have known of other important public buildings that were featured on schoolgirl needlework and we especially enjoy offering this type of sampler. 
The architect was John Rawsthorne (1761-1832) and here is a link to more information. Distinctive features of the building include the large half round side columns with windows, each topped by a semi-dome. Mary Bramhall used extremely fine tent stitches for the building and did an outstanding job with the perspective on these side towers. This building remains standing today and is a structure listed by Historic England. Now called Heritage House, it has been converted to offices.
In addition to the prominent architectural depiction sitting on a green hill, the sampler includes a very good assortment of classic sampler motifs - baskets of flowers, trees, flower sprays, baskets of fruit and a religious verse. Mary framed her inscription with a narrow elongated octagonal surround worked in three colors; the pair of queen's-stitched diamond elements inside of this is a further indication of her skill in the needle arts. The four-sided border of flowers on a graceful and rhythmic leafy vine provides a fitting framework to this excellent sampler.
Worked in silk and wool on linen, the sampler is in excellent condition. It has been conservation mounted and is in its fine original rosewood frame.