Mary Ann Cleveland,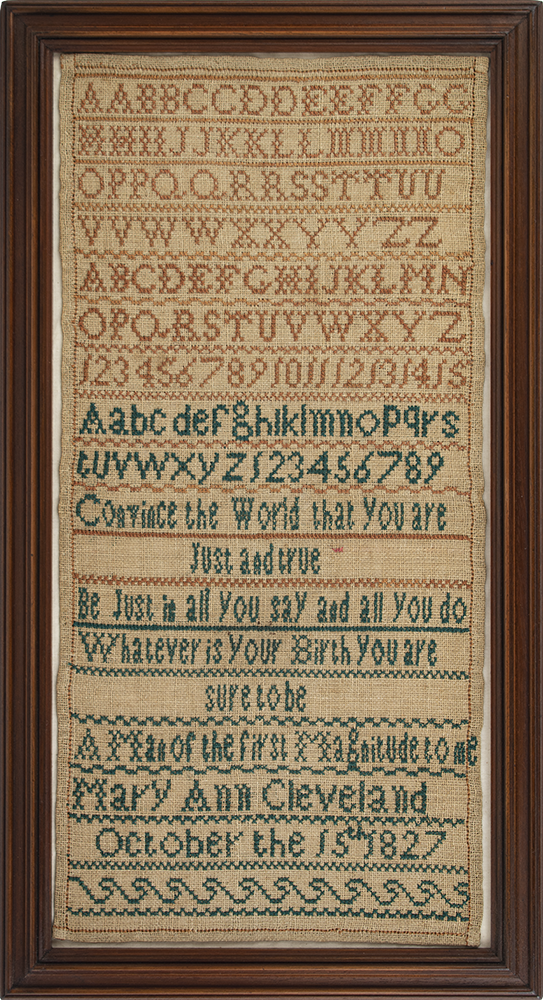 sampler size: 17" x 8¼" •
framed size: 19" x 10¼" •
sold
This relatively simple marking and poem sampler has the added appeal of a very good and unusual verse, "Convince the World that You are Just and true Be Just in all you say and all you do Whatever is your Birth you are sure to be A Man of the first Magnitude to me." This was written by a renowned English poet, George Stepney (1663-1707) and was widely published. While many poems about moral excellence appear on samplers, this particular one is uncommon. 
The samplermaker was most likely born in 1817 in Goshen, Litchfield County, Connecticut to William Hamilton and Mary (Colby) Cleveland. The Genealogy of the Cleveland and Cleaveland Families, by Edmund Janes Cleveland and Horace Gillette Cleveland (Case, Lockwood & Brainard, 1899), a comprehensive family history, indicates that there was only one girl named Mary Ann Cleveland born in the appropriate time period. The Cleveland family in America began with Moses Cleveland (c.1624-c.1701) of Ipswich, England, who sailed from London to Massachusetts in 1635. Mary Ann married Lucius Curtiss and they had 7 children. She died in 1858. 
The antique sampler was worked in silk on linen and is in excellent condition. It has been conservation mounted and is in a molded mahogany frame.
Call 215-292-3568 to purchase or with questions.