Martha G. March,
Sanbornton, New Hampshire, 1818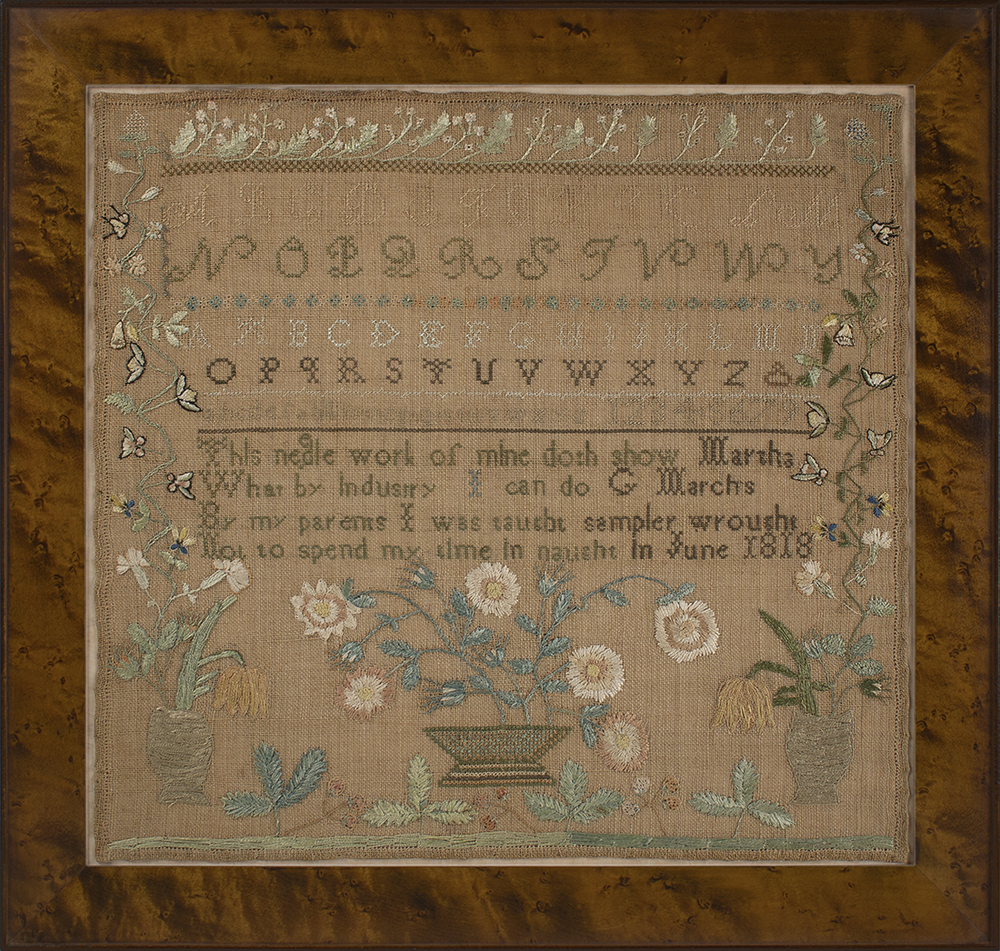 sampler size: 17" x 18" •
framed size: 20¾ x 21¾" •
sold
Many praiseworthy  samplers were made in southern New Hampshire and they tend to exhibit an appealing, free-form folk quality. Martha March's sampler was most likely made in Sanbornton, where the March family lived. Many of the finest New Hampshire samplers were made in this specific region and while Martha's sampler doesn't share the salient characteristics with the highly significant Bird and Basket Samplers of Canterbury, there are some elements that seem to be influenced by those samplers.
Along with alphabets, the sampler reads, "This needle work of mine doth show / What by Industry I can do / By my parents I was taught / Not to spend my time in naught" and signed, "Martha G March's sampler wrought in June 1818," the wording is divided onto the ends of the four lines of the verse. 
Born in 1806 to Jacob March (1760-1819) and his wife Hannah (Gerrish) March (1774-1855), Martha was the third of their four children. History of Sanbornton New Hampshire by Rev M. T. Runnels (Boston, Massachusetts, 1881), provided much information about the March family, which began with Hugh March (1620-1693), who settled in Newbury, Massachusetts. Martha's grandfather, Joshua March, removed to Sanbornton, where the family remained for generations. 
In 1823, Martha married Jesse Sanborn (1794-1843); the town was named for a member of this distinguished family.  The same town history book describes Jesse as a man who, "combined a high degree of intelligence with a most retentive memory and a marked ability, and disposition to communicate even to his latest days." Among other positions that he served, the book states that he was said to be an excellent schoolteacher. They had four daughters and Martha died in 1891. She is buried in Lane Cemetery with many family members. 
Worked in silk on linen, the sampler is in excellent condition. It has been conservation mounted and is in a fine figured maple frame. 
verso