Lavinia Clark Brown,
Salem, Essex County, Massachusetts, 1825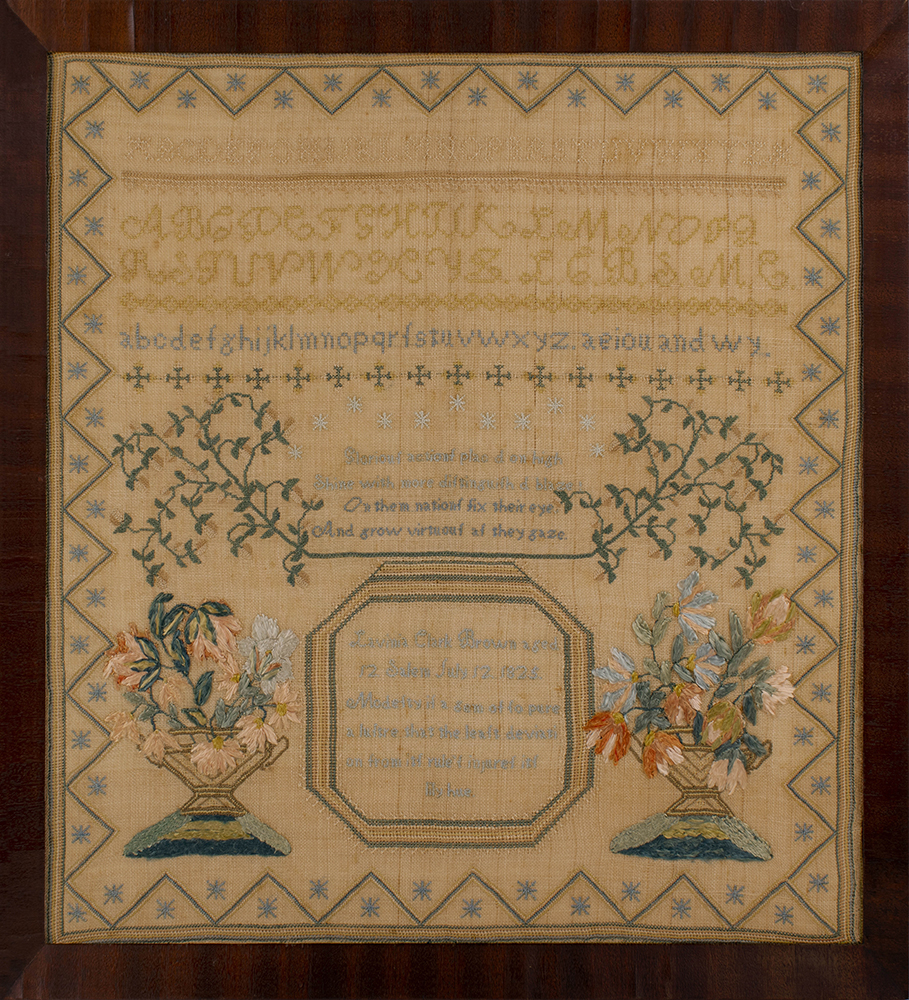 sampler size: 15¾" x 17¼" •
framed size: 17¼" x 19¼" •
sold
A beautifully worked antique sampler with two glorious baskets of flowers and fine needlework throughout, this is signed, "Lavinia Clark Brown aged 12 Salem July 12, 1825." We call attention to the fact that she completed the sampler on her 12th birthday! Along with the inscription inside the excellent and delicately stitched octagonal surround is the verse, "Modesty is a gem of so pure a lustre that the least deviation from its rule injures its lily hue."  Another verse, stitched under a little galaxy of stars, reads, "Glorious actions placed on high/ Shine more with distinguished blaze / On them nations fix their eye / And grow virtuous as they gaze."  
Notably, at the end of the large script alphabet, it reads, "L.C.B. & M.E.", Lavinia's initials and, most likely, those of her teacher. At the end of the alphabet below that is a listing of the vowels.  The border is enormously appealing - tightly world zigzags with carefully worked, slightly larger stars, framed with a border that echoes the octagonal surround. 
Lavinia was born on July 12, 1813, the daughter of John A. Brown of Salem, Massachusetts  and Lavinia (Clarke) Brown of Northampton, Massachusetts, who married in 1804. She was married in 1834 to Ezra Kendall Robinson (1809-1868) in Salem, Massachusetts. The 1860 census shows the family, with two children and Lavinia's mother, in Kennebec, Maine, where Ezra was a merchant. Lavinia died in 1873 and is buried in Philadelphia, in Laurel Hill Cemetery, along with her husband. 
The sampler is worked in silk on linen and is in excellent condition. It has been conservation mounted and is in its original mahogany veneer frame.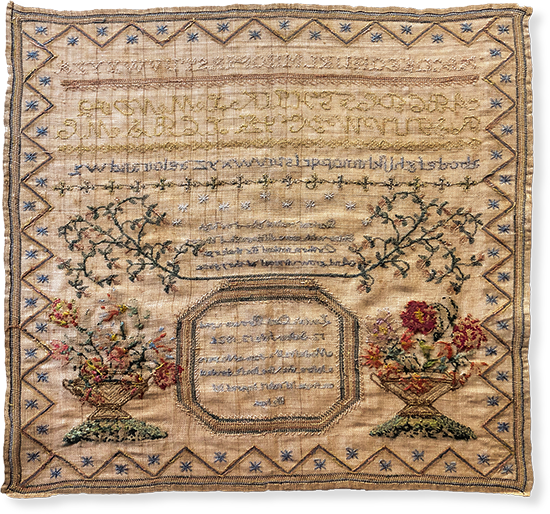 photo of reverse