Jane Tudor, Miss Nicholl's Seminary
Kidderminster, Worcester, England, 1838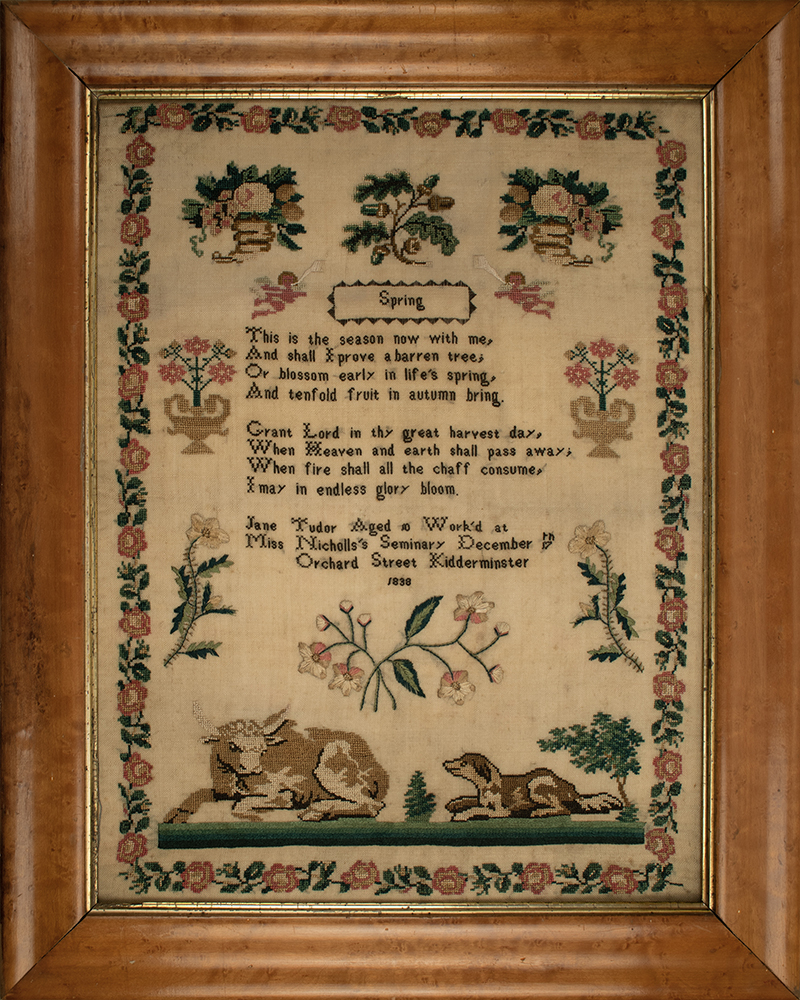 sampler size: 16½" x 12½" •
framed size: 20½" x 16½" •
sold
This is a beautifully made sampler with a verse entitled, "Spring," and an excellent, full inscription that reads, "Jane Tudor Aged 10 Work'd at / Miss Nicholls's Seminary December 17th / Orchard Street Kidderminster / 1838." The scene along the bottom depicts a large ox glowering at a mild-mannered dog, both on a brilliant green lawn. Branches of flower blossoms, two pots of flowers, a pair of cornucopias and a sprig from an oak tree decorate the sampler well. A pair of deep pink heralding angels flank the title of the poem which is encased in a sawtooth enclosure. A beautiful border provides an excellent framework for the sampler.
Our research revealed much information about Jane and also regarding her teacher, Mary Nicholls. Jane was baptized on December 29, 1828 at St. Georges Church in Kidderminster, Worcester, England; she was the youngest of the 5 children of John and Elizabeth Tudor. On her 24th birthday, December 29, 1852, Jane married John Gibson O'Leary of Alveley, a nearby village in Shropshire. The 1851 census recorded Jane staying as a visitor at the Squirrel Inn in Alveley - we wonder if she met John O'Leary then?
By 1871, the family was living in Birmingham. Interestingly, Jane had a job as "Superintendent of Establishment for Ablebodied Women," most likely at an institution, as noted in the 1871 census. The O'Learys had at least two children and Jane died in 1917. 
Back to Miss Nicholl's Seminary, as we were able to find some information about her, as well. Mary Nicholls was born in Chorley, Shropshire and operated her school in Kidderminster, indeed on Orchard Street, according to census records from 1851. Her younger sister, Isabella, worked for her. The verse on Jane's sampler is taken from a poem entitled, Spring, that was published in The Juvenile Magazine and Youth's Monthly Visitor, in May 1831.
A comprehensive file of research accompanies the sampler.
Worked in silk on wool, it is in excellent condition and conservation mounted into a maple frame with a gilt liner.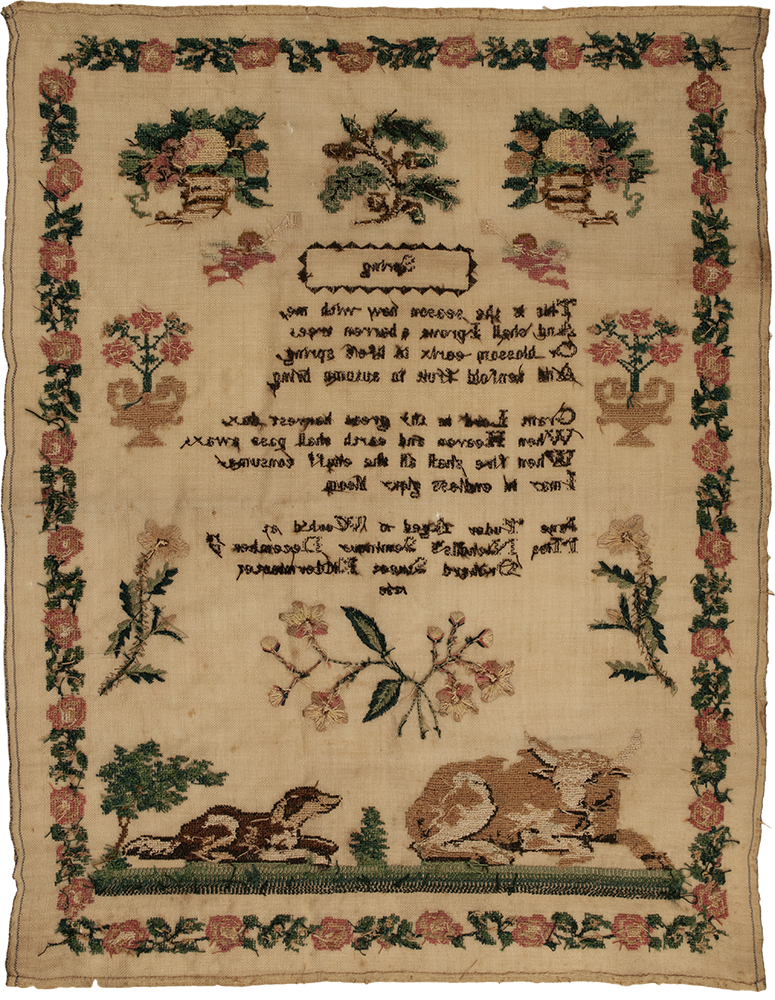 photo of reverse