Jane Shaw Pearson,
Philadelphia, Pennsylvania, 1833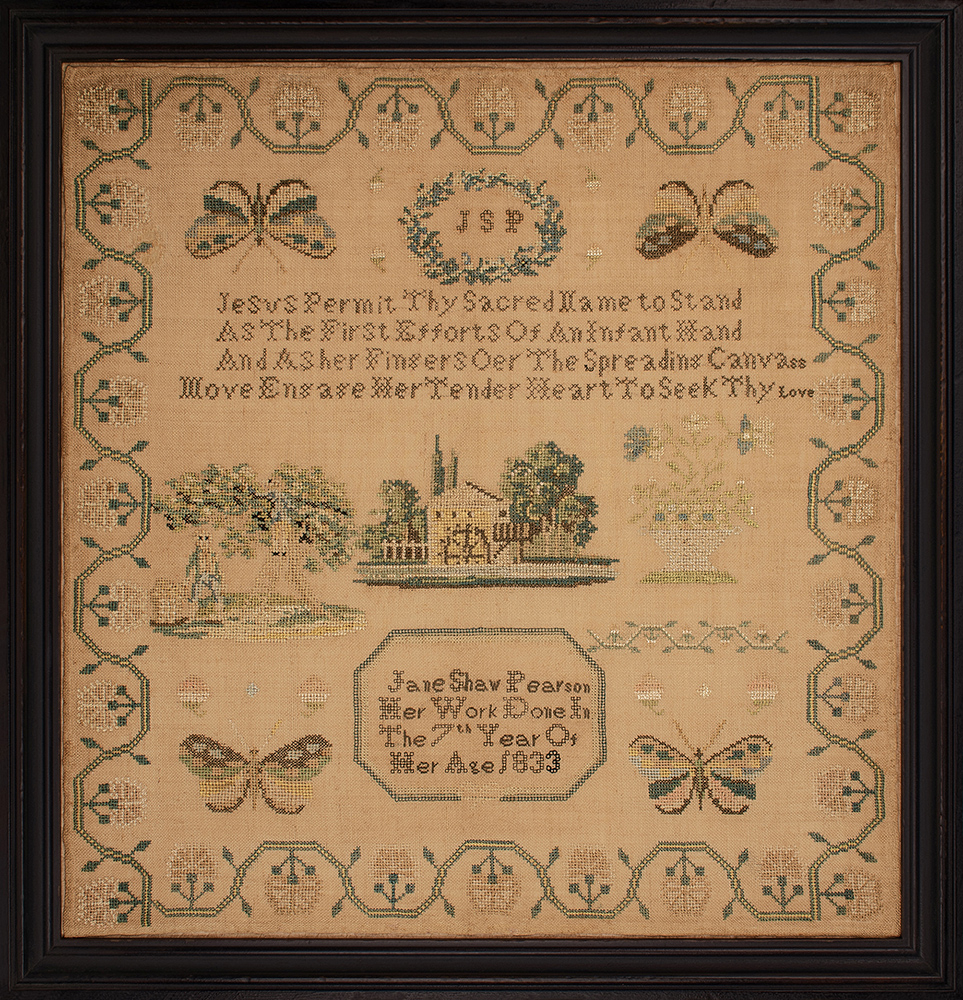 sampler size: 21¾" x 21" •
framed size: 24½" x 23¾" •
price:
$3400
This large, praiseworthy sampler offers much to admire and the maker, Jane Shaw Pearson, was only 6 years old - "in the 7th year of her age" - when she made it. The composition is centered on a small scene of a mill house with a large water wheel, rarely depicted on samplers. The religious verse above that scene is one found on a great number of samplers; it is an entreaty that relates directly to the stitching of a sampler ("as her fingers oer the spreading canvas move"). Four wonderful, oversized butterflies anchor the corners and Jane placed her initials inside a wreath near the top. The octagonal enclosure that contains her inscription is worked with great delicacy and has a white bowknot at the center of the bottom. The border is reminiscent of those found on Philadelphia samplers from the 18th century on.  
Jane was born in Philadelphia in 1826, the daughter of a ship joiner, James Shaw Pearson (1800-1862) and his wife, Rachel (Thomas) Pearson (1805-1862). Rachel's maternal grandfather, Capt. Benjamin Thomas (1763-1824), was a prominent Philadelphia with ties to Philadelphia Yearly Friends Meetings as well as St. Peter's Church where much of the Thomas family is buried. Jane married James Harden (1824-1883), a carpenter and they remained in Philadelphia. She died in 1886. 
The sampler was worked in silk on linen and is in excellent condition. It has been conservation mounted and is in a molded and black painted frame.