Jane M. Babcock,
Family Register, Hartford, Connecticut, 1840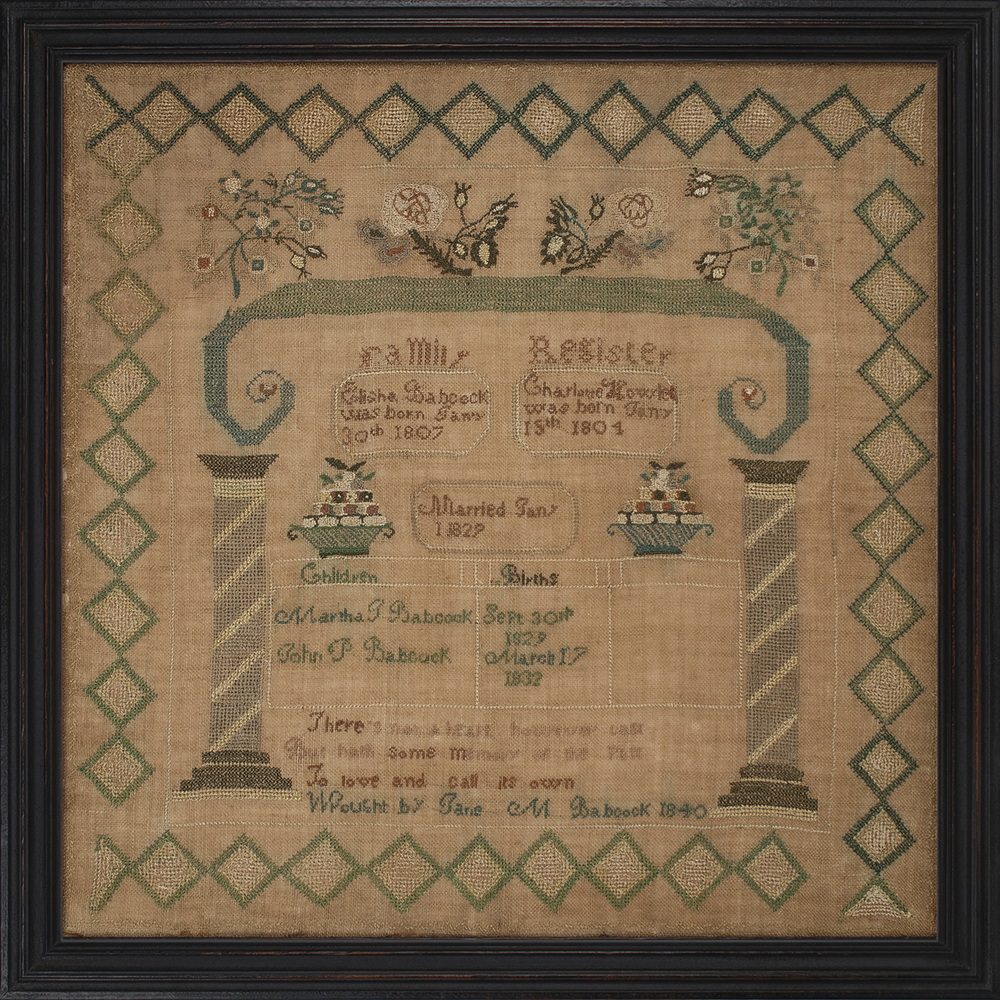 sampler size: 16¼" square •
framed size: 18½" square •
price:
$2600
A fine and classic Family Register sampler, this was made by Jane M. Babcock, daughter of Elisha and Charlotte (Howlett) Babcock. The neoclassical composition resembles many others from New England where this type of sampler was popular in the first decades of the 19th century – a pair of columns surmounted by an arch. Jane added a wonderful, whimsical note with the curlicue flourishes to her arch. Flowers and baskets of fruit provide further embellishment and the diamond border frames the composition perfectly. 
Jane stitched information about her parents' births, their marriage and the births of two of her siblings. Martha was her twin sister; Jane was also born on September 30th, 1829. The verse between the base of the columns reads, "There's not a heart however cast / But hath some memory of the past / To love and call its own." Jane may have forgotten to include a line between the first and second, "By grief and sorrow down," as this appears as part of that published poem. 
The Babcock family traces its roots back to John Babcock who was born in 1696 in Massachusetts and died in 1731 in Connecticut. Jane's parents, Elisha and Charlotte lived in Hartford, where Elisha was a butcher, according to the 1850 census. In 1849, Jane married Capt. Charles H. Vibberts (1825-1906). He was the grandson of Jesse Vibberts who, according to family history, became one of the heroes of the Revolutionary War and was one of Washington's bodyguards. Jane and Charles became the parents of at least three children. Jane died in August, 1900 and is buried along with many family members in Hockanum Cemetery in East Hartford. 
The sampler is worked in silk on linen and is in excellent condition. It has been conservation mounted and is in a molded and black painted frame.