Jacoba Cornelia Voet, Burgerweeshuis Orphanage
Amsterdam, Netherlands, 1879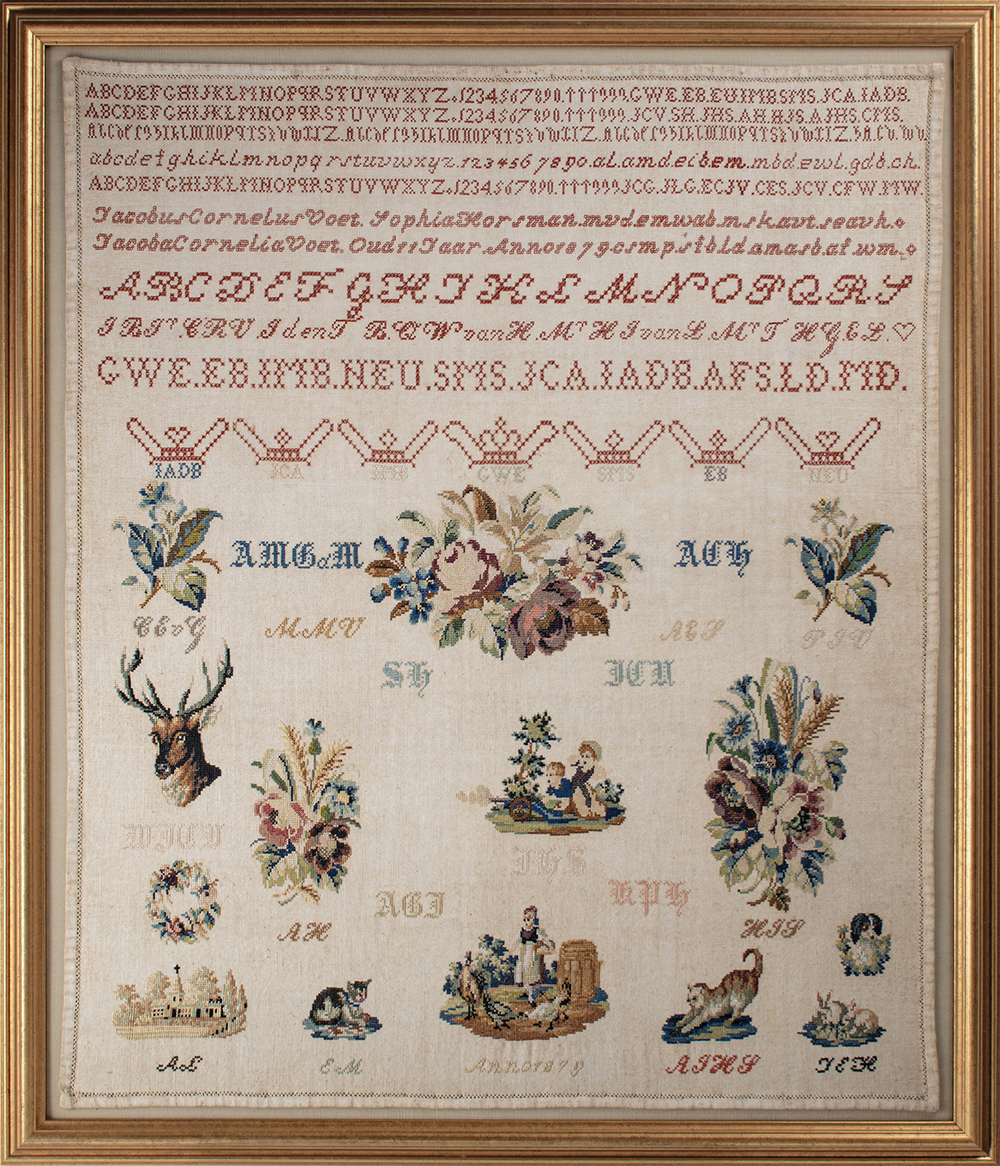 sampler size: 20½" x 17½" •
framed size: 23½" x 20" •
sold
This large and very finely stitched sampler is practically a story in its own right – it tells us a great deal about the samplermaker, Jacoba Cornelia Voet, and the historic Burgerweeshuis  [Public] Orphanage that housed and educated her, as well as the women who taught her these excellent needleworking skills. While we enjoy the social history, we also appreciate this sampler's aesthetics; visually and technically it offers much to admire.
The Burgerweeshuis Orphanage was founded in 1520 in Amsterdam, initially located across from Saint Lucien Monastery. In the 1580s it was relocated to Kalverstraat where it remained for 380 years. The number of orphans housed and educated there grew quickly in the early years; the population in the 1620s was about 900. 
As was the case in English orphanages and institutions, girls received instruction in needlework as part of their preparation for work as adults. The samplers made there indicate the extremely fine work that some girls produced while living at the Orphanage. Jacoba's lettering is very delicate, beginning with tiny alphabets and initials at the top. Almost impossibly fine four-sided stitches form all of the family information on the sixth and seventh lines. Eyelet stitches were used for the initials on the tenth row as well as the crowns below that. Tiny cross-stitches make up the many floral, animal and pictorial vignettes. The date, "Anno 1879" appears below the one in the center of the bottom row, as well worked into the family information. A very tight drawn-work border surrounds the sampler on four sides. 
Jacoba Cornelia Voet was born in Amsterdam on February 13, 1867, the daughter of Jacobus Cornelis Voet and Sophia Horsman. They were married in Amsterdam in 1863, listed in Netherlands Civil Marriage Index. Jacobus worked in an iron foundry and Sophia was a household servant. Tragically, Jacobus died a few months before his daughter was born and Sophia died in 1873. We know from other Dutch records that Jacoba lived a long life and died at age 76 in the Netherlands. 
While we don't know when she entered the Burgerweeshuis Orphanage, we can be certain from this sampler, made there when she was 11 years old, that she was an outstanding student of needlework. 
Another sampler made at the Burgerweeshuis Orphanage, by Maria Helena Bernhardi in 1883 and now in the Centraal Museum in Utrecht, is similar but less developed. Both Maria and Jacoba included the initials of the "linen mother," Gesina Willemina Elserman, who worked there for many years. Other initials on their samplers are those of the orphanage housemothers and some are identifiable – N. E. Urbans, S. M. Schrik, J. C. Amens and I. A. DeBruyn. Some of the other initials may have been their fellow orphans and classmates. Maria's sampler is published in Over merklappen gesproken by M. G. A. Schipper-van Lottum (Amsterdam, 1980). 
We find it notable that the samplers known to have been made there (we know of three) all include very specific information about the deceased parents of the samplermakers. Perhaps this practice was a comforting remembrance of sorts.
The Burgerweeshuis Orphanage remained in operation at that location until 1960 when it was moved to modern quarters. The Kalverstraat building was renovated and opened in 1975 as the Amsterdam Museum. Parts of it remain as they were when the orphans lived there. 
The sampler was worked in silk on linen and is in excellent condition. It has been conservation mounted and is in a modern gold frame.

(Detail of motifs)

(Detail of lettering)