Isabella Chrisman,
Wilson County, Tennessee, 1847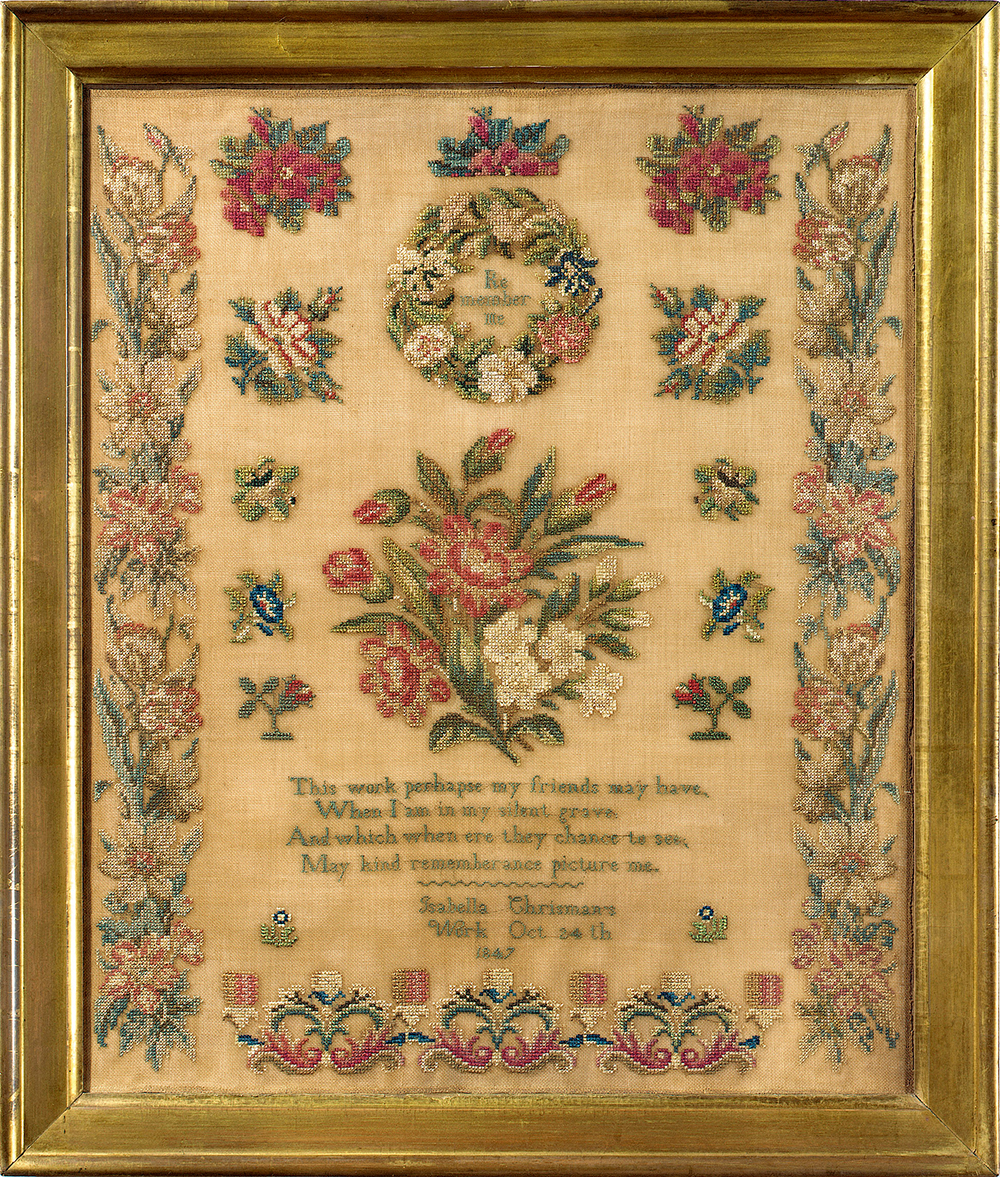 sampler size: 23" x 19" •
framed size: 27" x 23" •
sold
This large and very beautifully worked antique sampler was made by Isabella Chrisman in 1847; she was likely attending the Abbe Female Institute in Lebanon, Wilson County at the time. The composition centers on a fine floral bouquet set underneath a wreath enclosing the phrase, "Remember Me," with many small floral motifs, a pair of handsome side borders and an unusual, stylized band across the bottom. A classic sampler verse above the inscription reads, "This work perhaps my friends may have / When I am in my silent grave / And which when ere they chance to see / May kind remembrance picture me." All of the needlework was accomplished in extremely fine stitches.
Isabella Francis Chrisman was born on May 19, 1832 in Murfreesboro, Rutherford County, Tennessee. Her father has yet to be identified, however later census records indicate that he was born in Virginia. Her mother was Susan (Cornell) Chrisman (1812-1884) and her parents were married circa 1831. Isabella was their first child and her younger sister, Sophronia, was born in 1834. After the early death of Isabella's father, Susan remarried Jesse Hancock Sparks of Wilson County and the family was living in Rock Springs, near Watertown when the sampler was made. The researchers behind the Tennessee Sampler Survey feel that she was attending the Abbe Female Institute, the successor to the Lebanon and Campbell Female Academies in the same town.
This sampler is published by the Tennessee Sampler Survey(https://www.tennesseesamplers.com/viewsampler.php?samp_id=160).
On October 5, 1851, Isabella married William B. King, a retailer and son of Reverend John King of Lauderdale County, Alabama. Isabella and William removed to Arkansas, then Nevada and ultimately California; they had eight children. In the 1860 census, the family is listed in Fairfax County, California with four children. In the 1870 census, the family is listed with six children in Siskiyo County, California. By 1880, they were living in Lake City, Modoc County, California where William is listed as a farmer.
In 1884, William King killed a man in a saloon fight and was sentenced to San Quentin Prison where he died of pneumonia in 1890. Isabella remarried a widower and successful fruit farmer, George Wimer, in 1893 and they lived in Humboldt County, California. Isabella died at age 74 on February 9, 1907 and is buried in Lake City Cemetery, Modoc County, California.
The sampler was worked in silk on linen and is in excellent condition. It has been conservation mounted and is its fine, original gold-leaf frame.