Hannah L. Paulin,
Cumberland County, New Jersey, 1839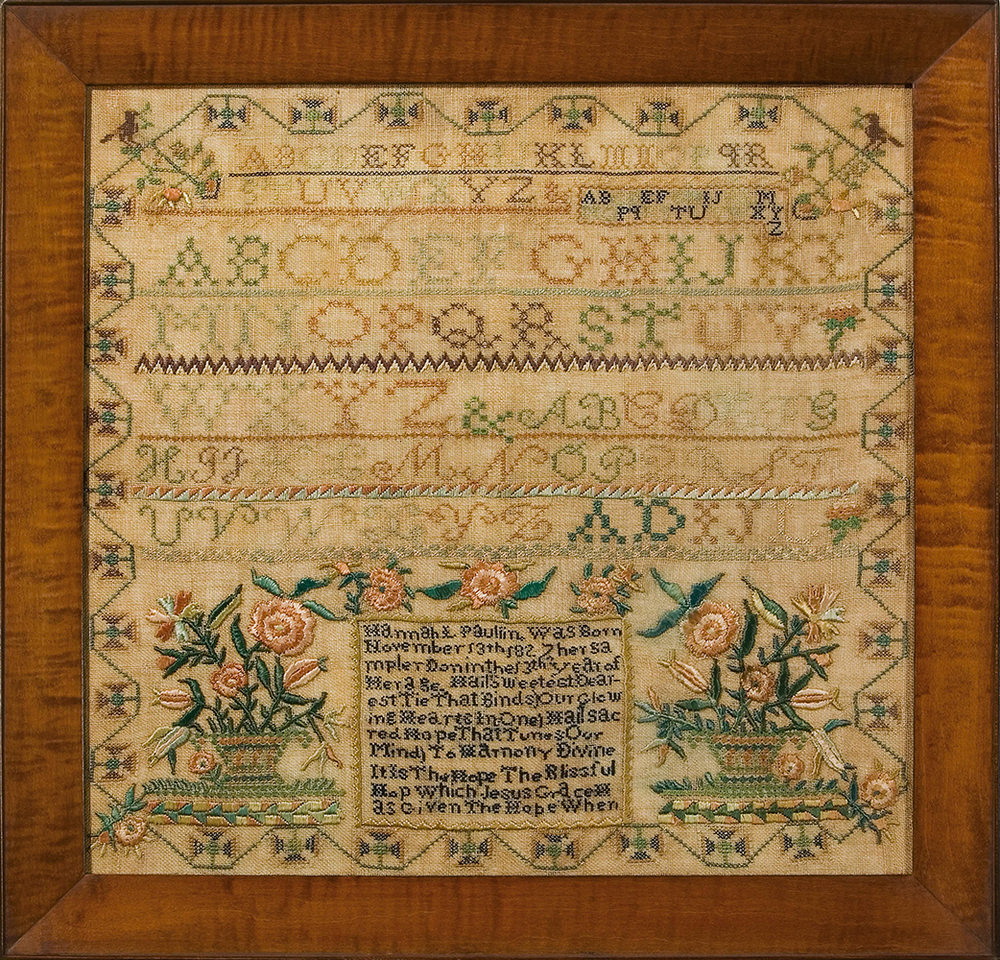 sampler size: 16½" x 17¼" •
framed size: 20¼" x 21" •
sold
As stitched onto her excellent sampler, Hannah was born on November 13, 1827. She was the one of the six children of Lemuel and Sarah (Husted) Paulin, who married in 1819 and lived in Cohansey Township, Cumberland County, located in southern New Jersey, where Lemuel was a blacksmith. Hannah was living with her parents in 1850 and indicated that she was a "tailoress." The Paulin family began with the arrival of Henry Pawlin (later Paulin) who settled just north of Philadelphia circa 1681. 
In 1853, Hannah married Harrison Perry, of Bridgeton, Cumberland County. They remained in the area and became the parents of nine children. Harrison was a successful farmer and both Harrison and Hannah were active members of their community. Information about the family was published in Biographical Review: Leading Citizens of Cumberland County New Jersey (1896).
Hannah's fine sampler belongs to an outstanding group made from the end of the 18th century through the early 1840s in this area of Cohansey and Fairfield Townships of Cumberland County. Characteristics of this group include elaborately worked baskets of flowers, compartmentalized alphabets and inscriptions. The needlework itself on these samplers is defined by a strong vocabulary of stitches accomplished with great skill. For example, the flowers worked by Hannah are actually padded and worked dimensionally. 
Several samplers from this group are included in Hail Specimen of Female Art! New Jersey Schoolgirl Needlework, 1726-1860, from the Morven Museum & Garden.
Worked in silk on linen, the sampler is in excellent condition. It has been conservation mounted and is in a beveled, figured maple frame with a cherry bead.