Hannah Adams,
Arlington, Massachusetts, 1806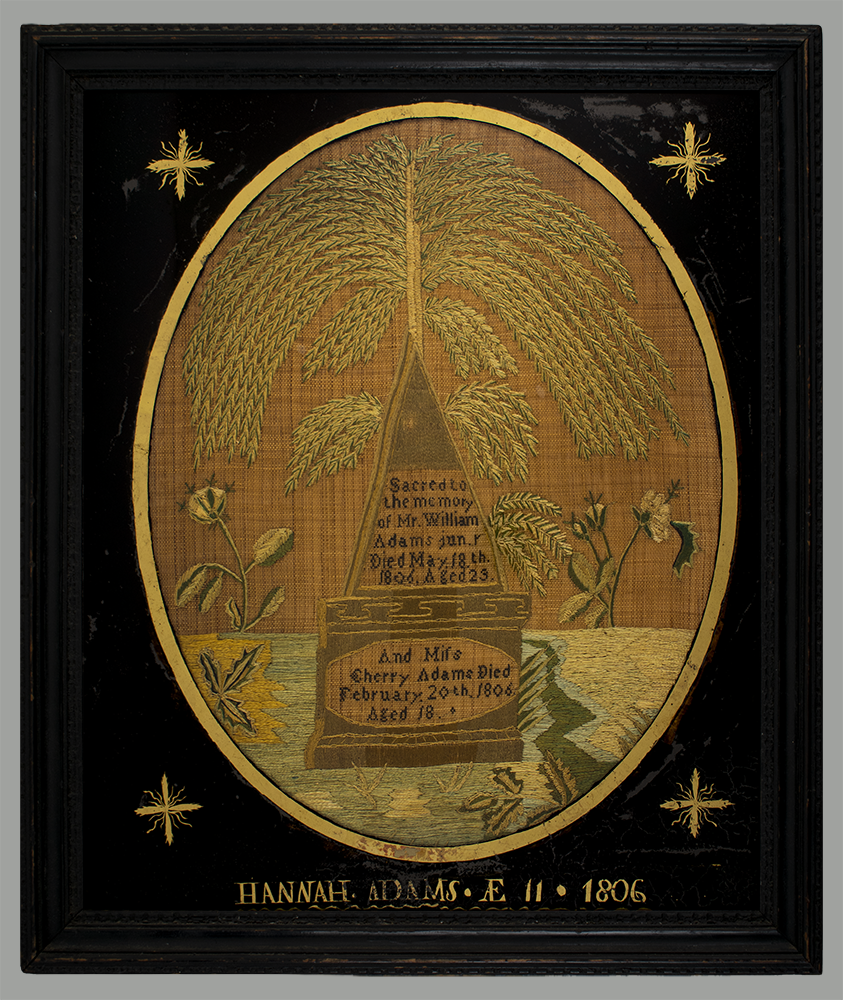 sampler size: oval is 13¾" x 11" •
framed size: 18" x 15½" •
sold
Schoolgirls in the early 19th century created many beautiful and poignant memorials to family members. This was a fashionable form of needlework and must also have been of comfort to their families. Hannah Adams, age 11 in 1806, memorialized her to older siblings, William Adams, Junior, age 23 and cherry Adams, aged 18, each of whom died in 1806 the same year that she made the sampler. Worked in an oval format and surrounded by its fine, original eglomise glass with an inscription worked in gold leaf, it features a large and graceful weeping willow tree, the classic iconography of mourning.
Interestingly, the actual gravesites in the Old Burying Ground, Arlington, Massachusetts, are very different from this stitched memorial. It's likely that Hannah's teacher recommended this design, a handsome neoclassical tomb. 
Hannah, along with her brother, William, and sister Cherry, were the children of William and Hannah (Stone) Adams; Hannah was born on July 25, 1795. The family lived in Arlington and Cambridge, and is well documented in A Genealogical History of Henry Adams of Braintree, Mass and his Descendants; Also John Adams of Cambridge, Mass., 1632-1897, by Andrew N. Adams, published by the Tuttle Company, 1898. In 1815, Hannah married Benjamin Cutter (1792-1819). She died young as well, on October 15, 1819.
President John Adams and Hannah Adams share the emigrant ancestor, Henry Adams, who was in Braintree, Massachusetts by 1633. A complete and very interesting research file accompanies this sampler.
The sampler was worked in silk on linen and is in excellent condition; it has been conservation mounted. Quite fortunately, the eglomise glass and the carved and painted frame are both original to the sampler.