Errica Fredrica Lunstrom,
Linkoping, Ostergotlands County, Sweden, 1828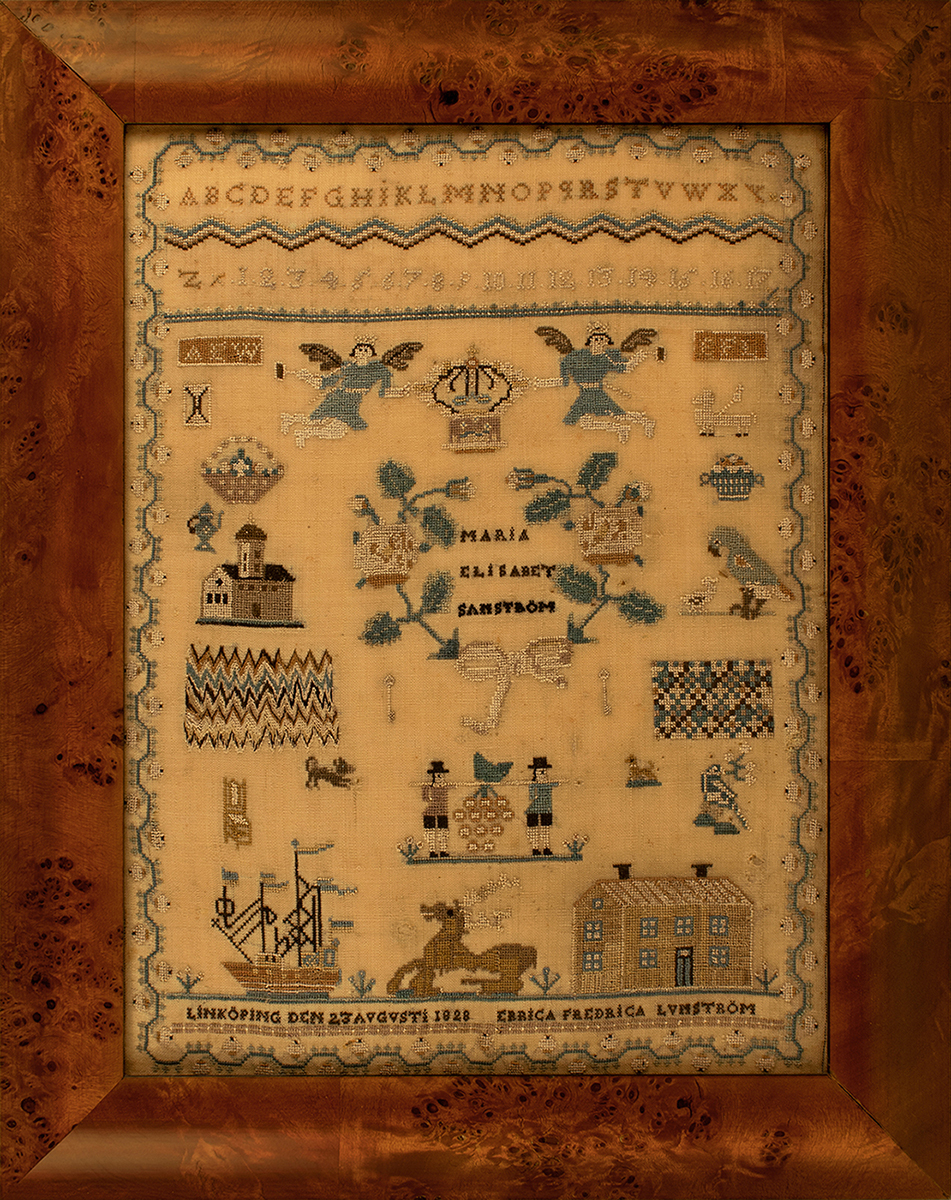 sampler size: 16" x 12" •
framed size: 20½" x 16¼" •
sold
Samplers made in northern European countries, specifically Holland, Denmark, Sweden and Norway, can include many highly appealing, wonderful pictorial motifs, arranged in excellent compositions. In our experience, far fewer samplers were made in Sweden than in Holland or Denmark, and we are delighted to offer this very fine and well documented Swedish sampler. It was made in 1828 by ten-year-old Errica Frederica Lunstrom. The maker signed and dated it, and stitched the name of her town, her initials, EFL, those of her mother, ALW, and the name, Maria Elisabet Sanstrom, likely that of her teacher. 
Remarkably, much is known about the samplermaker. A curator at the Ostergotlands Museum in Linkoping, and a research librarian at the same, have provided the following information. Errica was born January 18, 1818 in Linkoping, a town south of Stockholm by about 118 miles. Her mother, Anna Lisa Westergren, was unmarried. When baptized, Errica seems to have been given the surname of her father. For some time until about 1830, Errica lived as a foster child with a shoemaker's widow who must have sent her to the school where she worked this sampler. From 1832 on Errica was living again with her mother and they lived and worked in various towns, including Stockholm. 
Errica's sampler shares characteristics with another Swedish sampler, made by Johanna Aberg in 1829, in the collection of the Nordiska Museet, Sweden's largest cultural history museum. Both "marduks" (the Swedish word for sampler) include the Spies of Canaan, large crown, fully worked Irish stitch rectangle, family initials in smaller rectangles, and the identical border. While Errica's  sampler offers overall greater appeal with its house, recumbent deer, sailing ship, little church and pair of angles, the two girls very likely attended school together. 
The sampler was worked in silk on wool and is in excellent condition, with some very small holes to the wool, now stabilized. It has been conservation mounted and is in a new figured burl frame.