Emily Sikes,
Suffield, Hartford County, Connecticut, circa 1821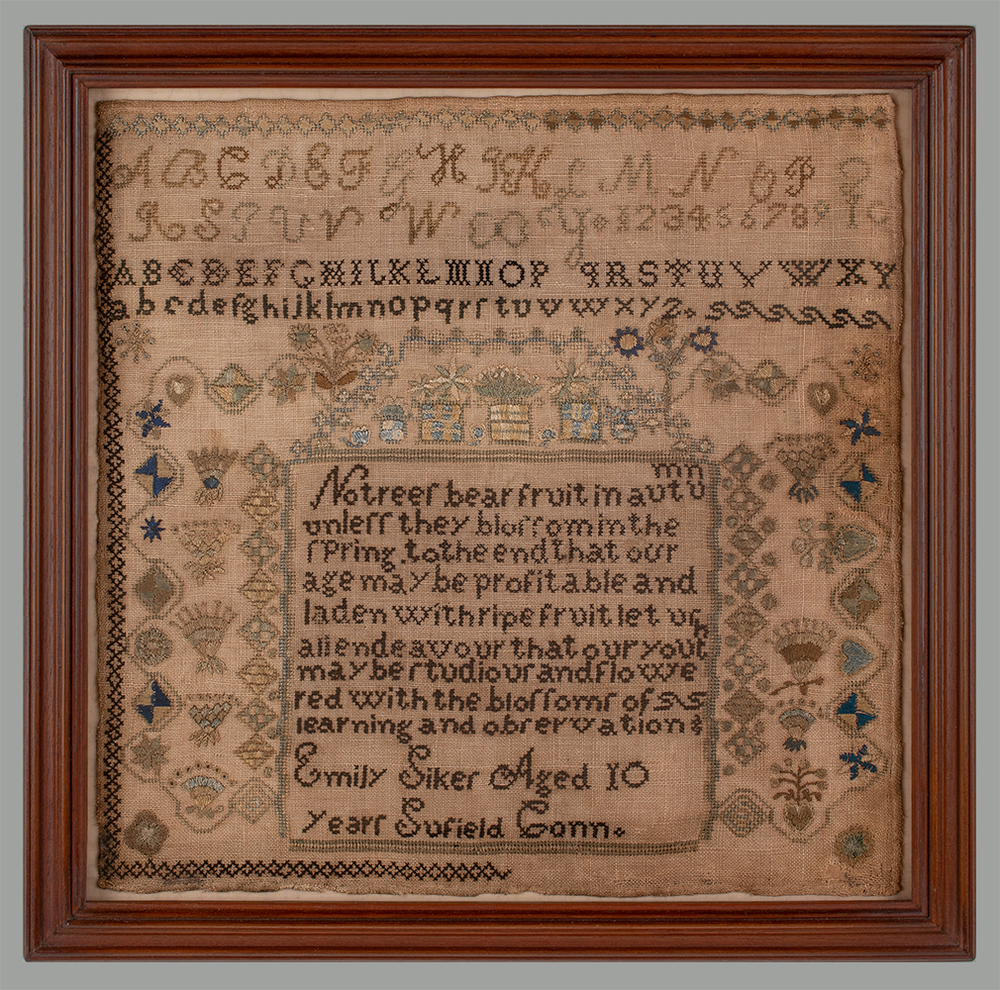 sampler size: 13" square framed size: 14¾" square •
price:
$2800
This is a delightful sampler with an unusual, folky personality. The alphabets and prose are embellished by a wonderful assortment of motifs and unusual elements, unlike those seen on most samplers. 
The prose on the sampler, which makes liberal use of the early form of the letter "s", offers much appeal as it reads, "No trees bear fruit in autumn unless they blossom in the spring to that end that our age may be profitable and laden with ripe fruit let us all endeavor that our youth may be studious and flowered with the blossoms of learning and observation." It was published in The Art of Reading Containing a Number of Useful Rules, Exemplified by a Variety of Selected & Original Pieces, Narrative, Didactive, Argumentative, Poetical, Descriptive, Pathetic, Humourous, and Entertaining, Together with Dialogues, Speeches, Orations, Addresses, & Harangues: Calculated to Improve the Scholar in Reading and Speaking with Propriety and Elegance, and to Impress the Minds of Youth with Sentiments of Virtue and Religion : Designed for the Use of Schools and Families, by Daniel Staniford, (1814).
Born in 1811, Emily Sikes was the daughter of Daniel and Eunice (King) Sikes of Suffield, in Hartford County, Connecticut. The Sikes family in America began with Richard Sikes (1598-1676) about whom much is published in Richard Sikes and His Descendants, the First Seven Generations, compiled by Arthur M. Sikes, Jr. 
In 1857, Emily married, as his second wife, a farmer, Zachariah Dickinson (1795-1880), of Springfield, Massachusetts. They lived in Suffield and Emily died in 1877. 
Worked in silk on linen, the sampler is in very good condition, with two very small holes to the linen at the lower right corner. It has been conservation mounted and is in a molded mahogany frame.