Emily J. Clapp,
Sharon, Norfolk County, Massachusetts, 1830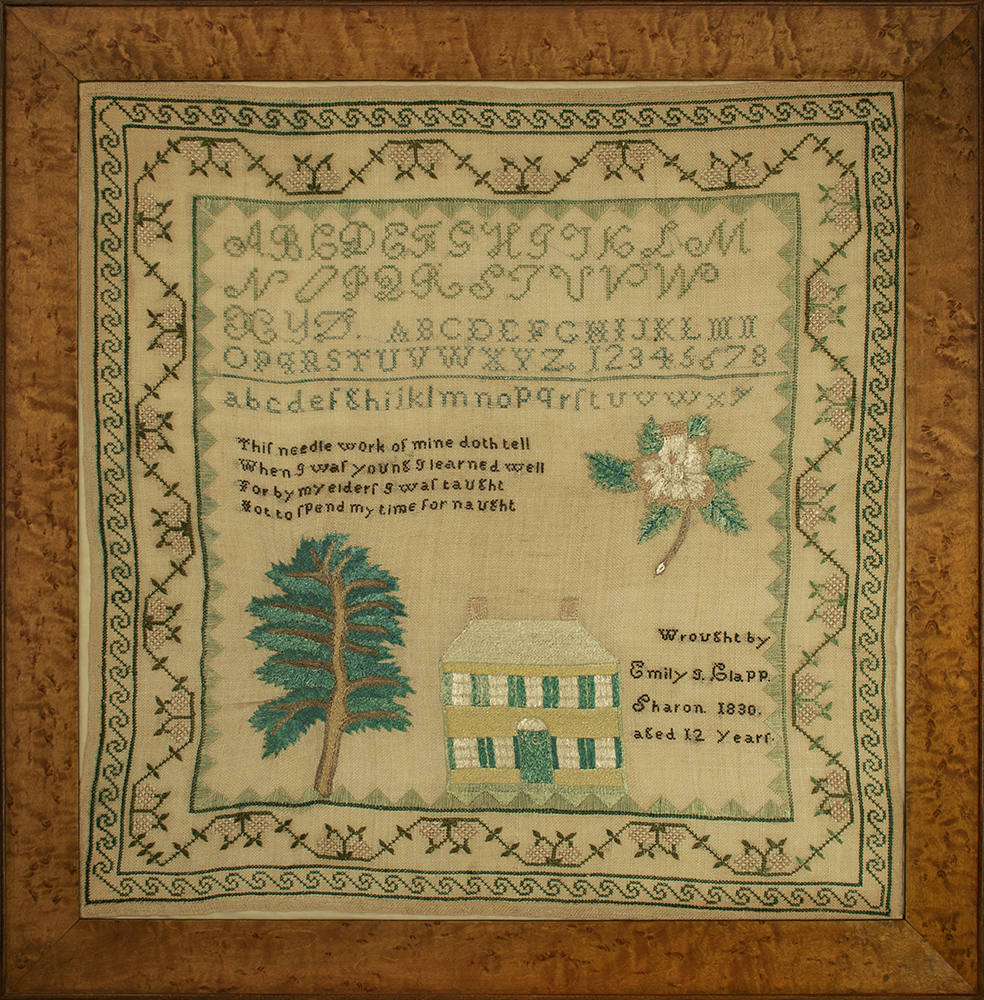 sampler size: 18" square •
framed size: 21¼" square •
price:
$3900
This is a handsome sampler featuring a fine scene of a large, pale yellow Federal, double-chimney house and a richly worked tree. A large flowering branch provides further embellishment and a series of borders frame the composition well. It was made by Emily J. Clapp, age 12 in 1830, living in Sharon, Massachusetts, a town about 20 miles south of Boston. She included a verse that is a particular favorite of ours,
This needle work of mine doth tell / When I was young I learned well / For by my elders I was taught / Not to spend my time for naught.
Emily's family history is published in Record of the Clapp Family in America, by Ebenezer Clapp (Boston, 1876) tracing the ancestry to Thomas Clapp (1597-1684) born in Dorchester, England, arrived in Massachusetts in 1633, settling initially in Dorchester, Massachusetts but removing within a few years to Weymouth. Within another generation the family removed to Dedham. Five generations later, Emily Jane Clapp was born in 1818 to Samuel and Abigail (Paul) Clapp, who were married in Dedham in 1795 and then resided in Sharon. Emily was the 12th of their 14 children. In 1842, she married William Tilden of Marshfield. They didn't have children, but, interestingly, they adopted a daughter of Emily's older brother, Warren Clapp, Sarah Clapp. Sarah changed her name to Elzina Tilden. Emily died in 1885. 
The sampler was worked in silk on linen and is in excellent condition. It has been conservation mounted and is in a fine, figured maple frame.