Emeline A. Smith,
Leominster, Massachusetts, 1828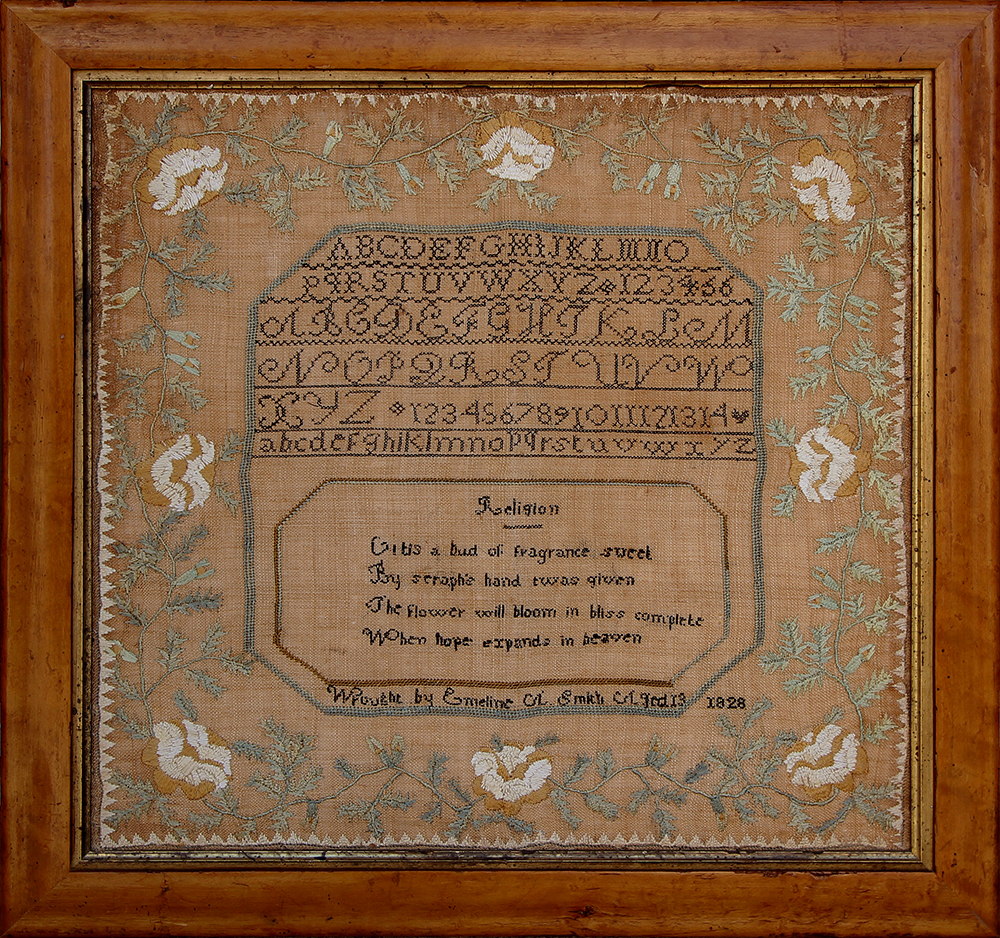 samper size: 16" x 16½" •
framed size: 19½" x 20" •
sold
An interesting and cohesive group of antique samplers was made in Leominster, Worcester County, Massachusetts, in the first decades of the 19th century. The shared characteristics include a cut-cornered center framework filled with alphabets and verse, and an outer border of large blossom on a leafy vine. Emeline A. Smith, age 13 in 1828, worked this fine example, a newly discovered addition to this desirable group. Emeline's verse, entitled, "Religion," was published in New York in an 1820 book, The Ladies' Literary Cabinet Being a Repository of Miscellaneous Literary Productions in Prose and Verse, edited by S. Woodworth.
While the family history of Emeline is not as clear as that of some of our girls, it seems that she was born circa 1815 in Leominster and was later living in Boston, where she married Albert Dalrymple in 1838, as documented by the Massachusetts Vital Records. They had two sons, Walter and Albert. Walter's death record of September 26, 1900 states that his mother, Emeline Smith, was born in Leominster and this is indeed consistent with the nature of the sampler. The family resided in Boston and Emeline died in 1870.
The sampler is worked in silk on linen and is in excellent condition. It has been conservation mounted into a maple frame with a gilt inner liner.