Elizabeth Zieber,
Reading, Berks County, Pennsylvania, 1802 and 1803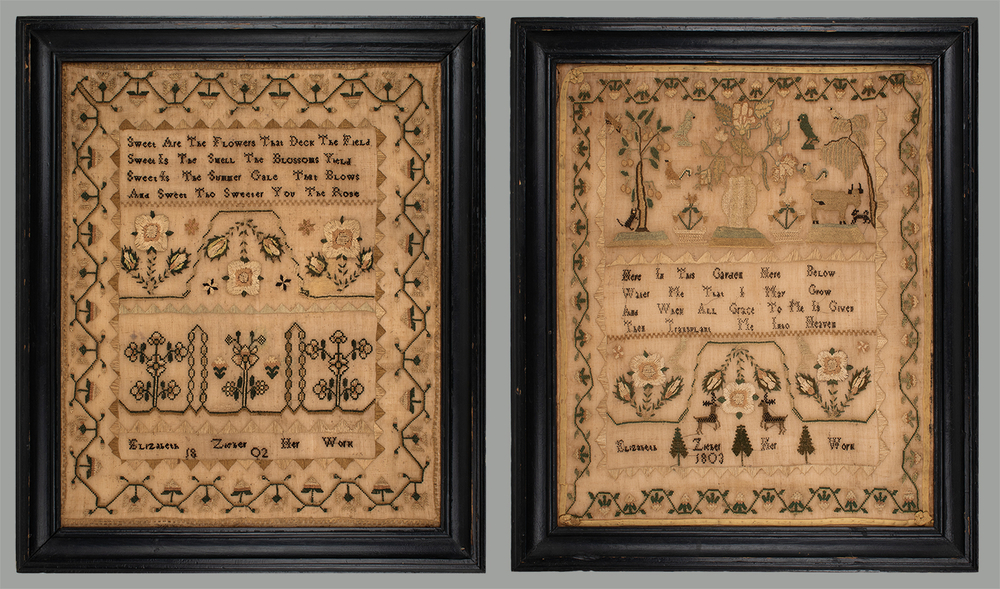 1802 sampler size: 16¾" x 14" •
1802 framed size: 20" x 17" •
1803 sampler size: 16¾" x 14" •
1803 framed size: 20 x 17" •
sold
This is an extraordinary opportunity – two outstanding samplers worked by the same samplermaker, Elizabeth Zieber, in 1802 and 1803. How fortunate that the samplers have remained together for 220 years.
Both of the samplers exhibit characteristics of an important group made in Reading, Pennsylvania in the late 18th and early 19th centuries. After the Revolutionary War ended there was a desire among the Pennsylvania German community in Reading for their daughters to learn "English style" sampler making. Most of the early teachers were from Philadelphia, starting with Quaker Barbara Parks, who ran a school with her husband Benjamin in their home. Most of their students were English speaking, but few were Quaker. Two samplers made in 1784, that by Esther Keim (whose sampler is in the Berks History Center) and Jane Dundas most likely attended the school run by the Parks. While the design was simple, it shows a strong Philadelphia influence.
Beginning in 1786, a much more elaborate style of Reading sampler appeared and continued almost unchanged through 1810. These samplers again show a strong Philadelphia influence, with patterns such as an arcaded rose tree, satin stitch flower blossom with two buds in an arcade, strawberry border and interior sawtooth borders remain consistent. Elizabeth Zieber's 1802 sampler is a new discovery in this group. One possible teacher is Madame Moore (as she was called by her students), who ran a school for girls at the southeast corner of Fourth and Cherry Streets. Maria Elizabeth Moore was listed as living in Reading on the 1810 Federal Census.
Not surprisingly, Elizabeth's second sampler is more advanced, with an intricate and highly appealing pictorial register; animals and birds animate the scene which includes trees and a center urn of flowers. The band of large flower blossoms and buds was used on both samplers. The upper register relates to the patterns used by Mary Zeller in Philadelphia, circa 1790-1805. It is highly probable that one of Zeller's students relocated to Reading early in the very early nineteenth century and began teaching. Elizabeth's sampler is the earliest example of patterns that were popular in Reading through to the 1830's. Numerous teachers used the same motifs and similar layouts, including Catharine Roland and "MT" in the 1830's. 
Elizabeth used different verses on the samplers, each of which appears frequently on other Reading samplers. "Sweet Are The Flowers That Deck The Field / Sweet Is The Smell The Blossoms Yield / Sweet Is The Summer Gale That Blows / And Sweet Tho Sweeter You The Rose," was written by British poet, Edward Moore. The other verse, "Here in this garden here below/ Water me that I may grow / And when all grace to me is given / Then transplant me into heaven", has as yet remained anonymous.
Born in 1790, Elizabeth was the daughter of John Philip Zieber (1737-1825), a hatter, and his wife Catherine (Shultz) Zieber (1762-1809). John Philip Zieber served in the Revolutionary War in Capt. Goblin's Company, 6th Battalion, Berks County Militia. The Zieber family resided on Penn Street, between Queen (now Fourth) and Callowhill (now Fifth) Streets. This block and Penn Street between Callowhill and Prince (now Sixth) Streets were the best locations in Reading. Also located on these blocks were the Court House and the market buildings. Zieber's neighbors included future governor, Joseph Hiester, President Judge of the Berks County Courts and Joseph Hiester's son in law, John Spayd, and prominent clock and musical instrument makers and attorneys.
The Zieber family in Pennsylvania began with Johannes Zieber (1712-1759) who was born in Palatine, Germany and emigrated sometime before 1733, when he married Margaret Dubois in Philadelphia. 
Elizabeth married Jacob Disler, a saddler. She died in 1844 and is buried in Charles Evans Cemetery in Reading, along with her parents and two of her brothers.
Both of the samplers were worked in silk on linen and remain in excellent condition. The 1803 sampler has its original silk ribbon with tiny silk rosettes in the corners. They have been conservation mounted and are in their fine original molded and black painted frames.