Elizabeth West,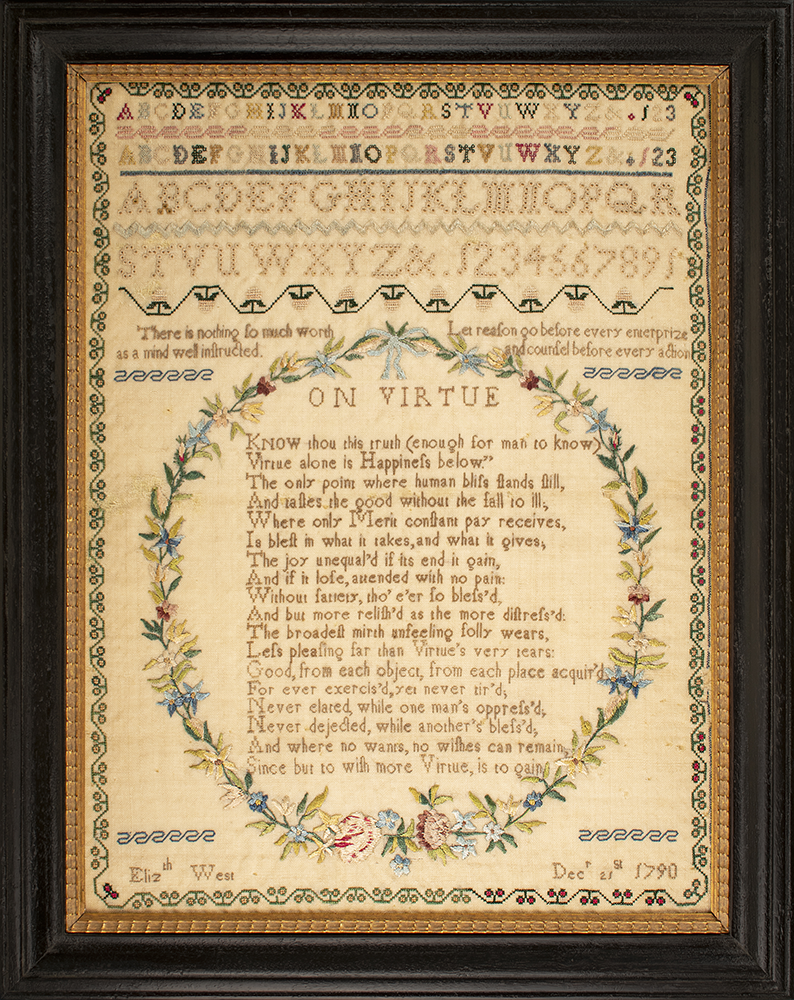 sampler size: 16¼" x 12¼" •
framed size: 19½" x 15½" •
sold
A classic and beautifully made sampler, this features a lengthy poem written by Alexander Pope, "On Virtue," [see below]. This is contained within an outstanding oval enclosure of lustrous, delicate flowers on a leafy vine, with a blue silk bowknot at the top.
Two excellent quotes from Ecclesiastics, King James Bible, fill space on either side near the top of this enclosure and read, "There is nothing so much worth as a mind well instructed." and "Let reason go before every enterprise and counsel before every action." The alphabets are beautifully worked as well, the largest being carefully accomplished in the eyelet stitch.
The sampler is worked in silk on wool and is in excellent condition, with some tiny holes and securing of the wool in a few very minor areas. It has been conservation mounted and is in a fine period frame.
ON VIRTUE
KNOW thou this truth (enough for man to know)
Virtue alone is Happiness below."
The only point where human bliss stands still
And tastes the good without the fall to ill,
Where only Merit constant pay receives,
Is blest in what it takes, and what it gives,
The joy unequal'd if its end it gain,
And if it lose, amended with no pain:
Without satiety, tho' e'er so bless'd,
And but more relist'd as the more distress'd:
The broadest mirth unfeeling folly wears,
Less pleasing far than Virtue's very tears:
Good, from each object, from each place acquir'd
For ever exercis'd, yet never tir'd;
Never elated, while one man's oppress'd;
Never dejected, while another's bless'd;
And where no wants, no wishes can remain;
Since but to wish more Virtue, is to gain