Eliza McMannus,
Female Association School, New York, 1813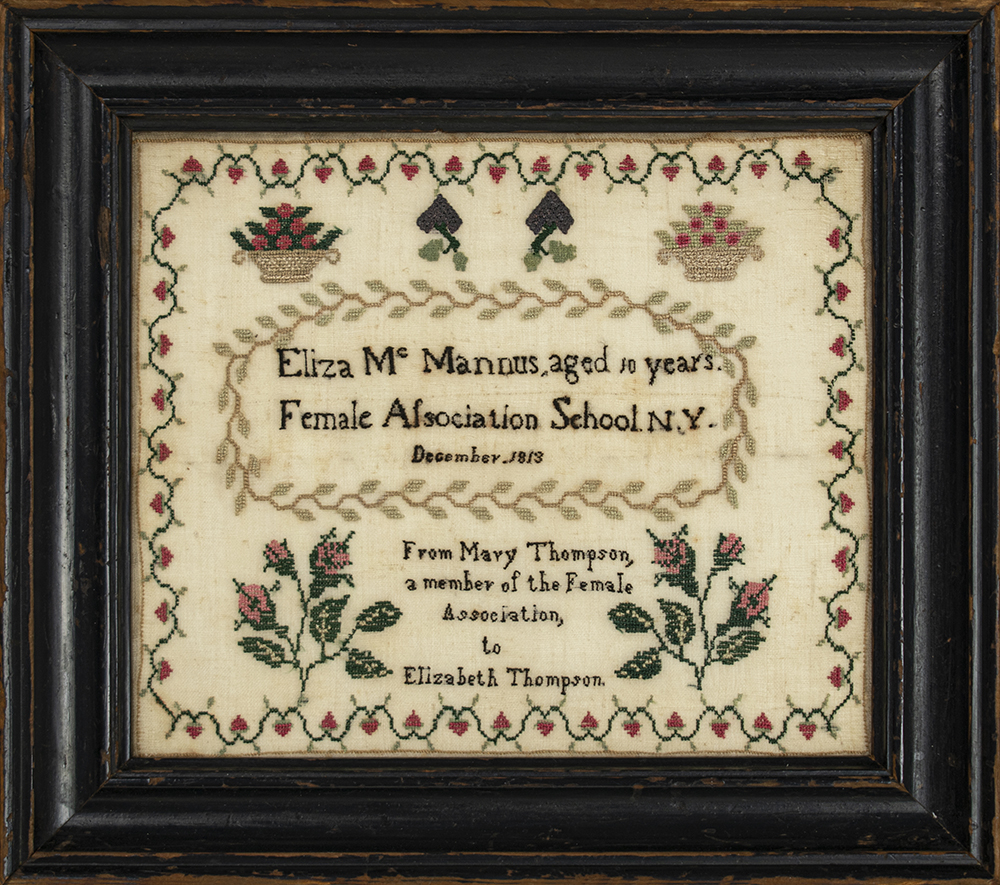 sampler size: 7¼" x 8¼" •
framed size: 10" x 14¼" •
price:
$16,000
Among the most significant and aesthetically appealing of all Quaker samplers are those made at the Female Association Schools of New York; the first of these schools was established in 1813. These are extraordinary samplers - very small and extremely finely stitched, made as presentation pieces, generally for the philanthropic Quaker ladies who contributed to the funding and administration of the schools. The schools educated poor, female children, regardless of race or religion.
We are privileged to offer this outstanding example, a beautifully composed sampler and one of the earliest and certainly one of the very finest of the group, which totals only eleven samplers. Others made at the Female Association Schools are in the collections of The Metropolitan Museum, New York Historical Society and Cooper Hewitt, Smithsonian. Not all of these are in excellent condition, quite fortunately, this one is pristine. 
Made by Eliza McMannus and dated 1813, this was in the renowned collection of Joan Stephens for many years. Eliza worked her sampler for Mary Thompson to give as a gift to Elizabeth Thompson. Mary Thompson was an important and active member of the Female Association and one of the early supporters of the schools. Another Female Association School sampler, with the same precise date, December 1813, was made by Charlotte Gardner and is at The Met Museum. 
The sampler was worked in silk on linen and is in excellent condition. It has been conservation mounted and is in an early 19th century molded and black painted frame.