Eliza Hills,
Londonderry, New Hampshire, 1820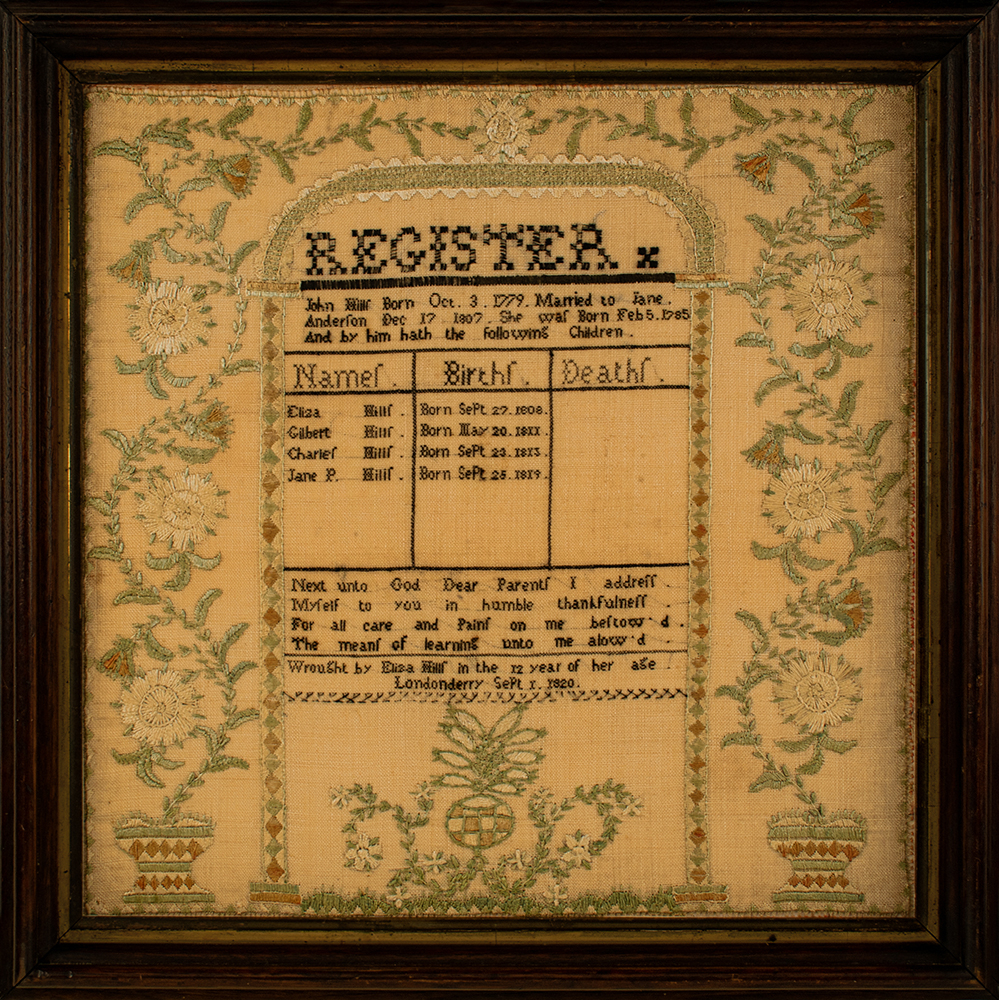 sampler size: 17" square •
framed size: 20.5" square •
sold
An excellent family register sampler, this is signed "Wrought by Eliza Hills in the 12 year of her age Londonderry Sept 1, 1820." It features two columns topped by an arch, flanked by outstanding floral borders that are growing out of splendid urns. The geometric diamond shapes in the columns and urns provide a fine counterpoint to the graceful swirls of the flowers on leafy vines; the quality of the needlework is exceptional throughout. 
The maker was Eliza Hills, born on September 27, 1808, the oldest child of John and Jane (Anderson) Hills, who were married on December 17, 1807, as stitched on the sampler. The family lived in Londonderry, a town in southern New Hampshire. The family's ancestor who emigrated to America was Joseph Hills who arrived in 1638 and settled in Massachusetts. Much information about the family is published in Genealogical Data Relating to the Ancestry and Descendants of William Hills the English Immigrant to New England in 1632 and of Joseph Hills the English Immigrant to New England in 1638 compiled by William Sanford Hills, Alfred Mudge and Son, Boston, 1902. 
Eliza married Benjamin Franklin Wilson, a shoemaker, and they lived in Windham where they had four children. She died in 1863 and is buried in Cemetery on the Plains in Windham.  
Eliza likely made her sampler at Pinkerton Academy, a school in nearby Litchfield, New Hampshire that opened in 1817. Several Family Register samplers that form an excellent and cohesive group are published in "Industry and Virtue Joined" Schoolgirl Needlework of Northern New England by Tara Vose Raiselis and Leslie L. Rounds (Saco Museum, 2015). These samplers date between 1814 and 1828 and share the salient characteristics that appear on Eliza Hills' sampler. Ms. Rounds has stated that it is very likely that Eliza attended the same school and stitched the name of her hometown, Londonderry, on her sampler.
Eliza stitched a very appealing verse on her sampler that shows her appreciation of her parents:
Next unto God dear parents I address
Myself to you in humble thankfulness
For all care and pains on me bestow'd
The means of learning unto me alow'd
Worked in silk on linen, it is in excellent condition. It has been conservation mounted and is in a late 19th century frame. This sampler was, for many years, in the noted collection of Marty and Dan Campanelli.