Cornelia Ann Hutchinson,
Hamilton Square, Mercer County, New Jersey, 1838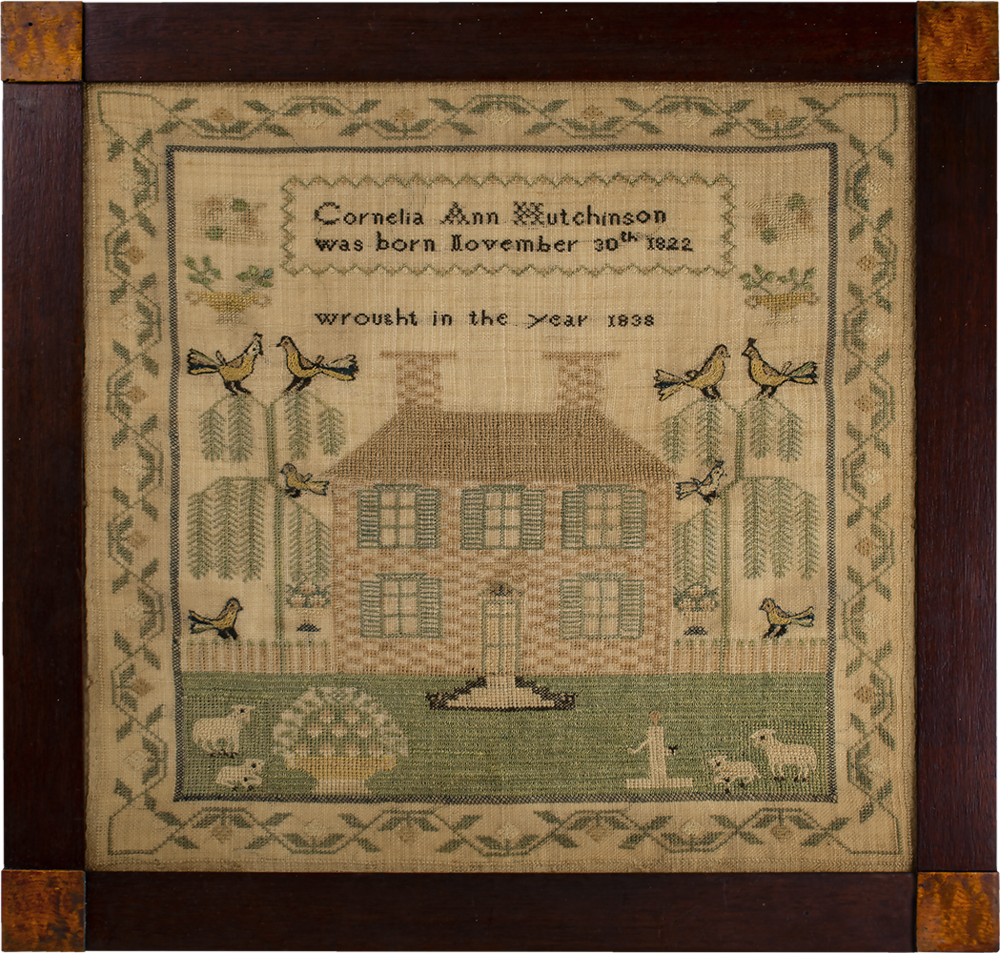 sampler size: 17" x 17¾" •
framed size: 20½" x 21¼" •
sold
An outstanding house and lawn scene is prominently featured on this fine sampler made by Cornelia Ann Hutchinson of Hamilton Square, New Jersey, located about 10 miles south of Princeton. The double-chimney brick house with its low-hipped roof and green shutters sits between a delightful pair of willow trees populated by large birds. Four sheep, a very large basket of fruit and, unusually, a well with a hand pump sit on the front lawn. Overall, this is a beautifully made sampler with pleasing proportions. 
As she stitched on her sampler, Cornelia Ann Hutchinson was born on November 30, 1822. She was the daughter of James Isaac and Sarah (Tindall) Hutchinson. Genealogical and Personal Memorial of Mercer County New Jersey by Francis Bazley Lee (The Lewis Publishing Company, 1907) provides us with much information about the family. James Isaac Hutchinson (1797-1886) was a miller by occupation, who played a prominent role in the public affairs of the township, especially in regard to educational matters. He was a member of the township committee and the school board for many years. He served in the NJ Militia in the War of 1812. The Hutchinson family is considered one of the old and honored families of New Jersey, according to this book.
In 1845, Cornelia married George S. Cubberley (1811 to 1884). From the same published source, we learned that the Cubberley family is "renowned in Mercer County for its numbers and influence, the name of Cubberley being synonymous with good citizenship."  Cornelia was his second wife and they had five children. She died in 1911 and is buried along with many family members in the Hamilton Square Baptist Church Cemetery.
The sampler was worked in silk on linen and is in excellent condition. It has been conservation mounted and is in its fine original mahogany and maple cornerblock frame.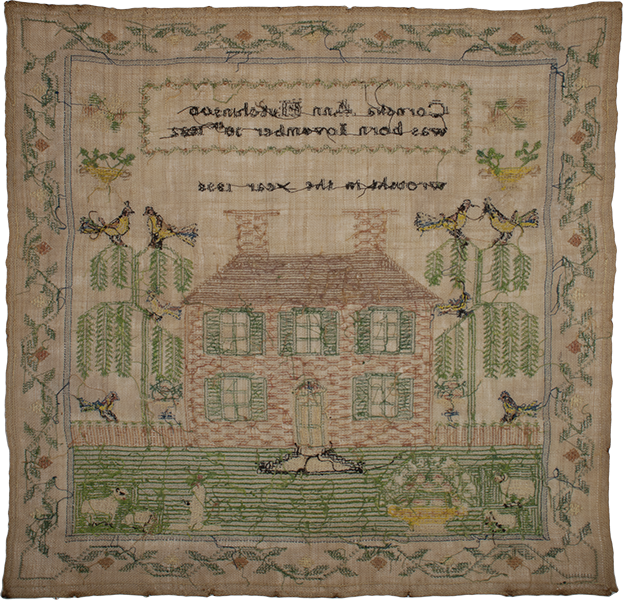 photo of reverse