Catharine Ritter,
Reading, Pennsylvania, 1833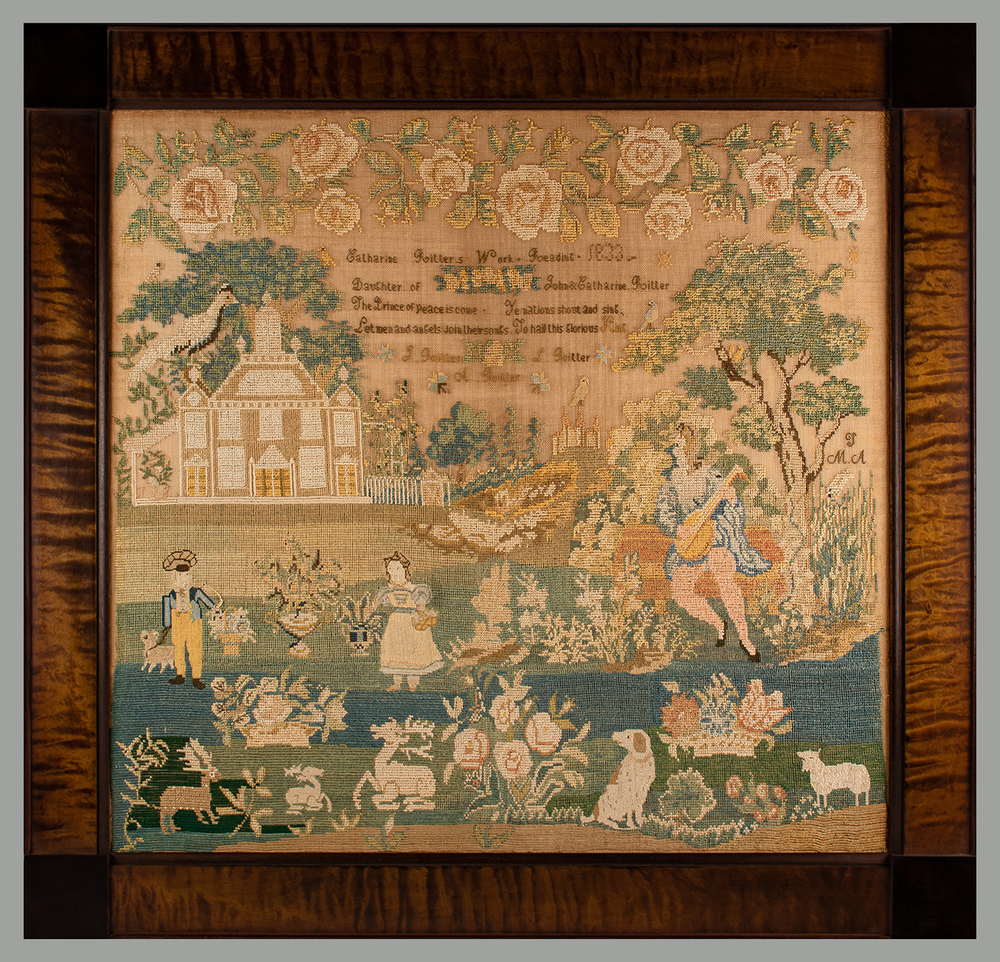 sampler size: 24½" x 25¼" •
framed size: 30½" x 31¾" •
price:
$16,000
A very small and highly significant group of samplers was made in Reading, Berks County, Pennsylvania between 1833 and 1837. We are delighted to offer this splendid sampler by Catharine Ritter in 1833, a relatively new discovery and important addition to this outstanding group. The samplers are all quite large and the pictorial scenes are fully worked with excellent figures, many animals, large birds and trees, and, with the exception of one of the samplers, a depiction of the same fantastic building with greenhouses-like appendages on either side. We particularly like the lineup of five animals that Catharine stitched along the bottom, the dog and deer focused on the scene above. 
The Ritter sampler most closely resembles, in composition and overall character, another sampler from this group, made by Rebecca Van Reed Gresamer in 1835 and in the collection of the American Museum in Bath, England. Both the Ritter and Gresamer samplers include four lines of the hymn authored by John Needham and published in 1768 as Hymns Devotional and Moral: On Various Subjects Collected Chiefly from the Holy Scriptures. 
Catherine Ritter fortunately included the names of her parents as part of her inscription, as well as information about some of her siblings further below. She was born in 1823 to John and Catharine (Frailey) Ritter of Berks County. John Ritter served as a US congressman from 1843 to 1847 and then became the editor and publisher of an important German newspaper in Reading, Pennsylvania.
The Ritter family in Pennsylvania began with George Ritter (1685-1761) who emigrated from Heidelberg, Germany, and settled in Berks County. Much information about the family is published in Historical and Biographical Annals of Berks County Pennsylvania, by Morton N. L. Montgomery, (J. H. Beers and Co., 1909). To quote, John Ritter was "respected by all… his integrity was well known and the news he printed as absolutely unimpeachable." Information about him is also available here.
Catharine died young, in 1837, and is buried at the Charles Evans Cemetery along with many family members.
The sampler was worked in silk on linen and is in excellent condition. Notably, the samplermakers used tiny beads to form the necklace on the young woman and the buttons of the waistcoat of the young man and the beads are still on Catharine's sampler. It has been conservation mounted and is in a maple frame with mahogany corner-blocks and beads.