Amanda Malvina Trewig,
Montgomery County, Pennsylvania, 1831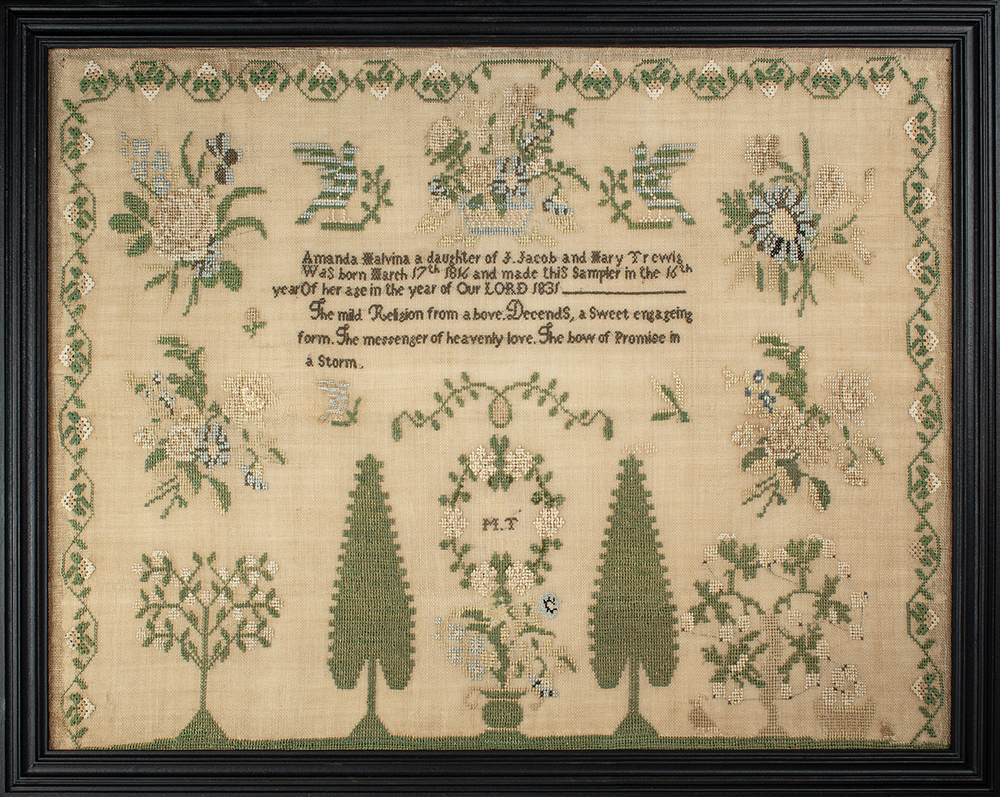 sampler size: 16¾" x 21½" •
framed size: 19" x 24" •
price:
$2800
A large, beautifully stitched sampler, this is inscribed, "Amanda Malvina a daughter of J. Jacob and Mary Trewig Was born March 17th 1816 and made this Sampler in the 16th year Of her age in the year of Our LORD 1831." The composition is excellent and the sampler offers much to admire. 
Tall, stylized evergreen trees flank a pot of flowers that is surmounted by a wreath containing the initials MT, likely indicating her mother. Other trees, bunches of flowers and a fine pair of striped birds provide wonderful decoration. An excellent border of queen's-stitched strawberries frames the sampler well and provides proof of Amanda's talents in the needle arts. The verse, "The mild Religion from above  / Descends, a Sweet engaging form  / The messenger of heavenly love  / The bow of Promise in a Storm," was written by English poet, James Montgomery (1771-1854). 
The Trewig family was a prominent one in Montgomery County, Pennsylvania. Amanda's great-great-grandfather, the first ancestor in America, was George Andreas Trewig who was born in Germany and emigrated to Pennsylvania in 1753.  The family settled in Montgomery County, near Hatfield. His grandson, Amanda's grandfather, was Andrew Trewig, an innkeeper. The village of Trewigtown was named after him. 
Amanda, as she stitched on her sampler, was born on March 17, 1816; she was the daughter of John Jacob and Mary (Owen) Trewig.  She married Jonathan Mattis (1811-1893) and they removed to Richmond, Wayne County, Indiana for a period of time, where Jonathan was a coachmaker and served, in 1844, as councilman, according to the History of Wayne County, Indiana (Chicago, 1884). 
By 1860, they were living back in Hatfield, Montgomery County, Pennsylvania with their six children, and Jonathan was a farmer and, later, a tinsmith. Amanda died at age 84, in 1901. She is buried in Montgomery Baptist Church Cemetery in Colmar, near Hatfield. 
The sampler was worked in silk on linen and is in excellent condition. It has been conservation mounted and is in a molded and black painted frame.