Abigail Plumer,
Bethel, Oxford County,
Maine, 1823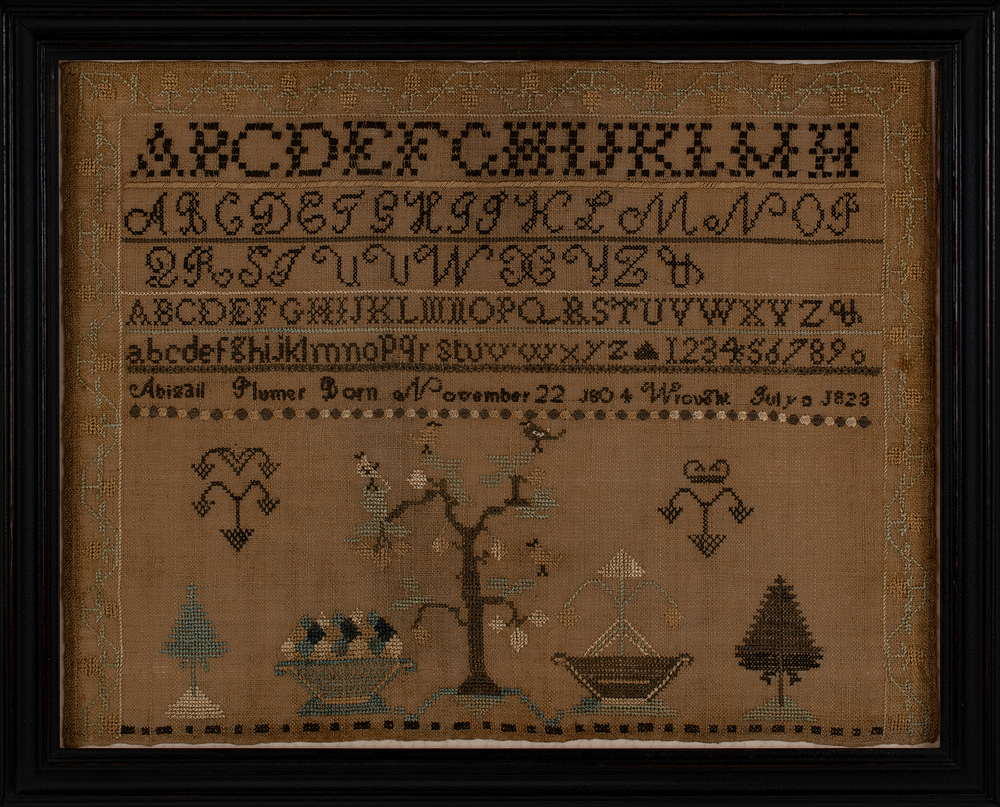 sampler size: 13¼" x 16¾ •
framed size: 15½" x 19¼ •
sold
A small group of samplers made in Bethel, a town in Maine about 60 miles west of Augusta, share characteristics that indicate that they were made by girls attending the same school. One of the unusual elements is the delightful little geometric tri-part motif that appears on this sampler made by Abigail Plumer. She also included a wonderful tree with several birds on it flanked by baskets and evergreen trees and stitched her birthdate, another characteristic of some of the samplers made in Bethel.
Abigail was the daughter of Josiah and Sarah (Lovejoy) Plumer; she was the third of their nine children. She was born on November 22, 1804 and was 19 when she made this sampler. In 1826, she married a farmer, Caleb Rowe (1797-1877) whose family was also from Bethel, where his maternal great-grandfather was a pioneer settler. They had 11 children and Abigail died in 1891.
Published information about Abigail and her family came from History of Bethel, formerly Sudbury, Canada, Oxford County, Maine 1768-1890 with a Brief Sketch of Hanover and Family Statistics by William B. Latham (Augusta, ME, 1891), Biographical Review: This Volume Contains Biographical Sketches Of Leading Citizens Of Oxford And Franklin Counties, Maine (Boston, 1897) and other sources.
The sampler was worked in silk on linen and is in excellent condition. It has been conservation mounted and is in a molded and black painted frame.