Cornelia Stryker Rocky Hill, Somerset Co., New Jersey , 1823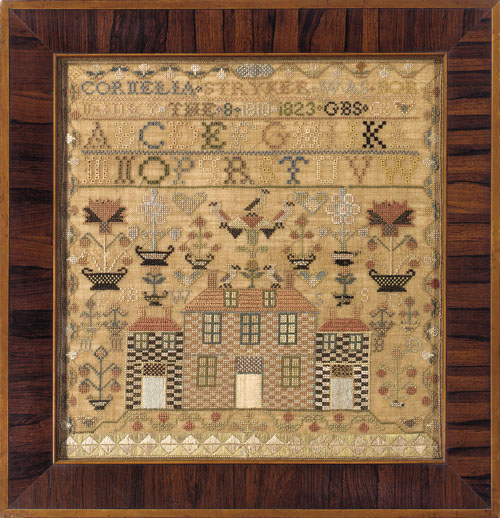 sold
The finest early 19th century American samplers are those that embody the strength and spirit of early folk art. Attributes can include bold depictions of architecture and use of color, pattern and contrast in a manner that is still fresh today. A handful of samplers worked under the instruction of Mary Bellamy of northern New Jersey are considered to be amongst the most exciting of this type and Cornelia Stryker's sampler is the finest known example of this school.
Born in 1810 to a family with deep roots in the Dutch American community of New Jersey, Cornelia was the daughter of Gerardus Beekman Stryker and his wife Catherine Conover Stryker, whose initials appear on the sampler. Her great grandfather, Abraham Stryker (1715-1777), a deacon of the Dutch Reform Church and a patriot, acquired land at Rocky Hill and the family remained on this land until the early 20th century. Cornelia married Jeremiah Van Deventer, of the nearby town of Boundbrook in 1831. Jeremiah went on to become president of the First National Bank of Plainfield and the family built an important mid 19th century home in North Plainfield, the Vermeule Mansion, which serves today as a museum and historic site of Somerset County. The Van Deventers had one child, a daughter Caroline Rogers Van Deventer Brunson and Cornelia died in 1898.
The sampler was completed with an interesting vocabulary of stitches including cross-stitch, chain stitch, eyelet stitch and satin stitch. Cornelia's sampler closely resembles one made by Amy Eliza Herbert's sampler, circa 1825, in the collection of the DAR Museum in Washington. Another known example of this group, worked by Sarah Van Cleef, states that the teacher was Mary Bellamy and further research is being conducted into the specific identity of this creative and talented teacher.
Worked in silk on linen, the sampler is in excellent condition and has been conservation mounted into a 19th century mahogany frame.