Museum of Fine Arts, Boston
The Roberts Family Gallery
April 2, 2011, through August 20, 2011
 
Curator, Pamela Parmal
 
| | | |
| --- | --- | --- |
| |   | |
| Ann Peartree, American, born in Boston (1722-1744); Embroidered picture, Massachusetts, Boston, 1739; Plain weave linen embroidered with wool Gift of Elsie T. Friedman, 59.22 |   | possibly Katherine Green, American, born in Boston, (1731-1777); Embroidered picture, Massachusetts, Boston, about 1745; Plain weave linen embroidered with wool and silk; Gift of Maxim Karolik, 44.750 |
The embroideries of colonial Boston girls and women have long been treasured family possessions and are now much sought after by collectors. The charm and craftsmanship of the Adam and Eve samplers, pastoral pictures with leaping stags and galloping hunters, as well as crewelwork bed hangings and delicately embroidered baby caps bring to mind a warm domesticity; however, as a group they also reveal much about the lives of Boston women and their role within colonial society. This is the second in a series of three exhibitions that focus on the embroideries of colonial Boston–samplers, needlework pictures and domestic textiles–revealing the role of embroidery in the education of women, in their domestic lives, and as an important source of household income.
Pictorial Embroideries
As the wealth of Bostonians increased during the eighteenth century, many families had the resources that allowed their daughters to take classes in the genteel accomplishments of music, dancing, and advanced needlework. In their needlework classes, girls completed complex samplers, and then moved on to embroidered pictures, overmantels, and coats of arms that became cherished family possessions.  The second rotation will feature these advanced schoolgirl embroideries.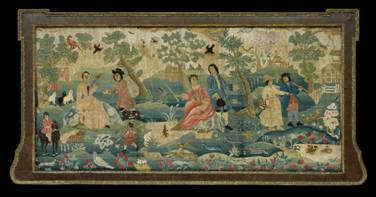 Eunice Bourne, American, born in Barnstable (1732-about 1775); Overmantel, Massachusetts (Boston), about 1748;
Plain weave linen embroidered with silk and wool; Seth K. Sweetser Fund, 21.2233
English schoolgirls embroidered pictures during the seventeenth and into the eighteenth century and, while a few pictures worked by New England girls are known from this earlier period, they became more widely popular by the middle of the eighteenth century. Some Boston merchants imported pre-drawn canvases from London, while several enterprising Boston teachers, embroiderers, and artists began drawing their own pictures competing with the British imports. Susannah Condy advertised the sale of canvases drawn by herself and cheaper than those from London in 1742. Other artistic hands can be identified and will be featured in the exhibition. One canvas is even signed by Bostonian Sarah Moorhead, the wife of Rev. John Moorhead, who taught drawing, japanning, and painting on glass.
| | | |
| --- | --- | --- |
| |   | |
| John Singleton Copley, American (1738-1815) Portrait of schoolmistress Elizabeth Murray, Massachusetts, Boston, 1769; Oil on canvas Gift of Joseph W. R. Rogers and Mary C.  Rogers, 42.463   |   | Sarah Henshaw, American, born in Boston (1736-1822); Henshaw and Bill Coat of Arms, Massachusetts, Boston, about 1748; Silk satin embroidered with silk and metallic thread; Lent John A. and Judith C. Herdeg        |
While canvaswork pictures and coats of arms predominated during the middle of the century, embroidery on silk became more fashionable during later half. Silk embroideries often incorporated metallic yarns making these glowing and glittering pictures more emblematic of a family's wealth and social position. Elizabeth Murray, a Boston schoolteacher and milliner, whose portrait by John Singleton Copley will be featured in the show, is associated with one of the earliest group of silk embroideries from Boston and several worked by her student Sarah Henshaw, will be included in the show. Murray's protégés Janet Day and the Cummings sisters continued the tradition and exceptional work by their students survives including the silk overmantel by Sarah Derby of Salem on loan from the Winterthur Museum.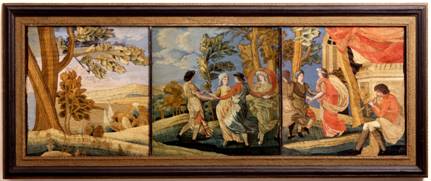 Sarah Derby, American, born in Salem (1747-1774); Overmantel, Massachusetts, Boston, about 1765;
Silk plain weave embroidered with silk, gouache; Winterthur Museum, Bequest of Henry Francis Dupont