Pictorial and Alphabet Sampler,
Chester County, Pennsylvania, 1794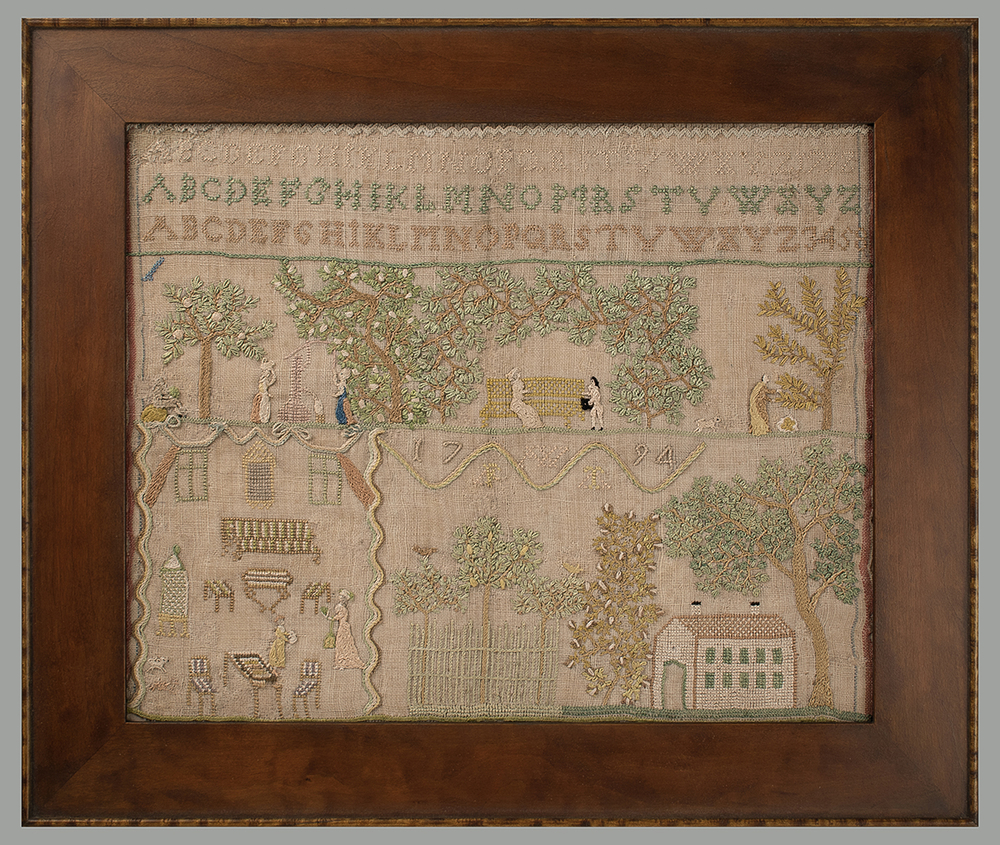 sampler size: 9¾" x 12" •
framed size: 13" x 15½ •
sold
A praiseworthy little sampler with a distinct folky nature, this is closely related to two other known examples, each attributed to a Chester County, Pennsylvania origin. All three samplers have unusual vitality and intriguing folk images. One of these was exhibited in a landmark exhibition in 1974 at the Whitney Museum of Art, entitled "The Flowering of American Folk Art."  That sampler was then owned by legendary sampler collector, Theodore H. Kapnek, and was acknowledged to have been one of the stand-outs within his large collection. 
This sampler, dated 1794, depicts a large house, many leafy and fruiting trees, a lady seated on a garden bench, a tall fence with trees and little birds and two women drawing water from a well. Other little figures and animals provide further animation and other vignettes include tables and chairs. Three uppercase alphabets and a narrow zig-zag border finish the top of the sampler. 
Worked in silk on wool, the sampler is in very good condition with some areas of darning to the wool. The needlework is in excellent condition. It has been conservation mounted and is in a cherry frame with a figured maple bead.