Louisa Clark,
Bourn, Lincolnshire, England, 1828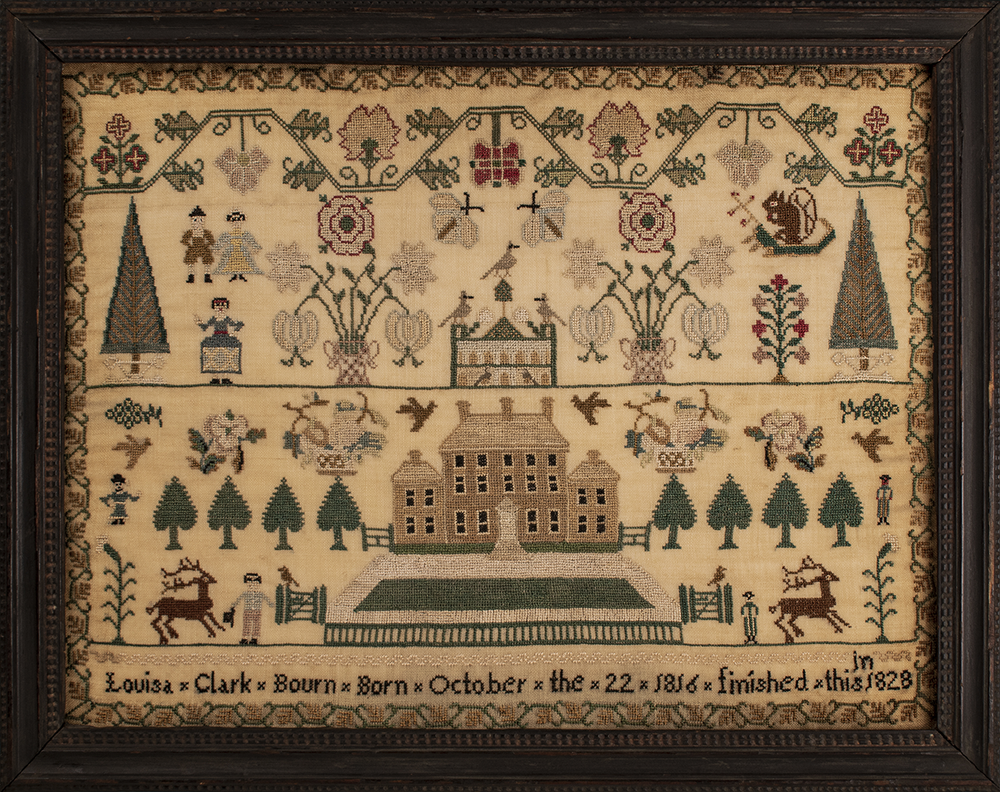 sampler size: 11¼" x 15" •
framed size: 13½" x 17¼" •
sold
This is a praiseworthy, pictorial sampler with a strong central scene of a large manor house, lawn, fence and gates, with many trees and potted plants. The many birds, butterflies, deer, squirrel and several costumed people animate the sampler wonderfully and all of the needlework is beautifully accomplished. Interestingly, the large horizontal band filling space along the top of the sampler is a pattern that had been used by needleworkers for over a century. This is a sampler that rewards close inspection.
It is signed, "Louisa Clark Bourn Born October the 22 1816," and we must believe that Louisa enjoyed this bit of whimsy to the phrasing. Bourn is an ancient market town with origins noted in the 10th century. Louisa was the daughter of John and Margaret Clark, baptized there on November 10, 1816. The census records of 1841 and 1851 show Louisa living with her parents and working as a dressmaker – not surprisingly given the skills evidenced on her sampler. 
Worked in silk on linen, the sampler is in excellent condition. It has been conservation mounted and is in its fine, original carved and painted frame.