Henrietta J. Rhodes,
Lynn, Essex County, Massachusetts, circa 1824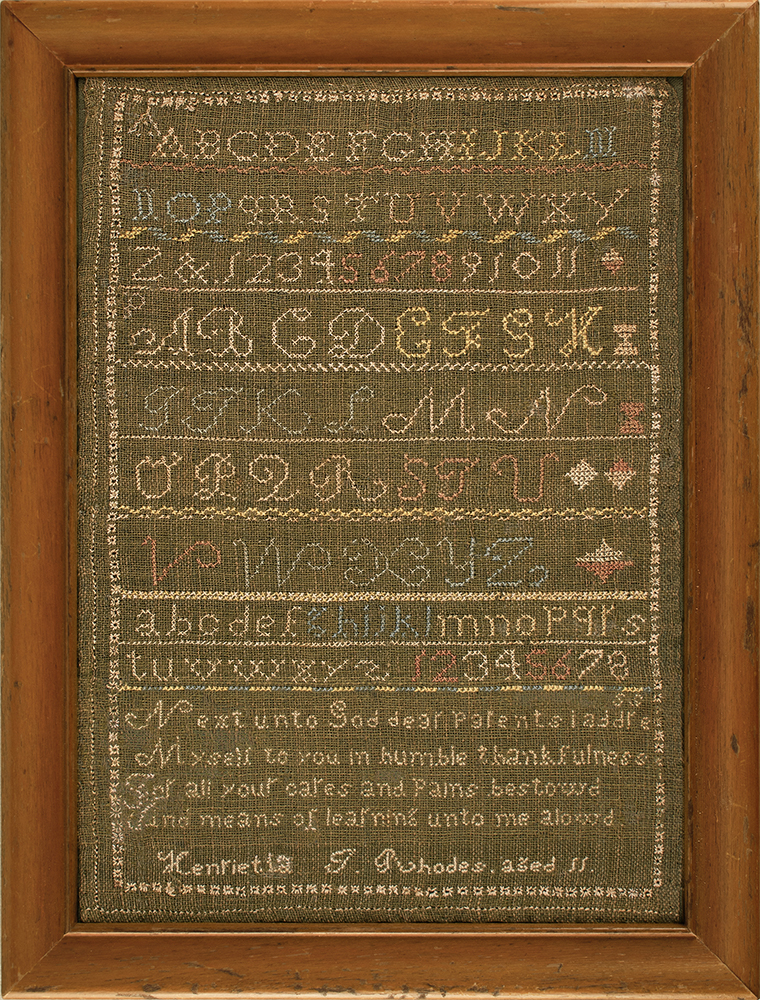 sampler size: 11¾" x 8¼" •
framed size: 13¾" x 10¼" •
sold
A delightful little linsey-woolsey sampler, this features a favorite verse, "Next unto God dear parents I address / Myself to you in humble thankfulness / For all your cares and pains bestow'd / And means of learning unto me alowd." The samplermaker was 11-year-old Henrietta J. Rhodes, the daughter of Amos and his second wife, Mary (Johnson) Rhodes. Henrietta was born in 1813, the 4th of Amos' children. According to History of Lynn, Essex County, Massachusetts, Vol II by John Newhall (The Nichols Press, 1897), Amos was a prominent mill owner and businessman, living on Federal Street. Her paternal grandfather was Deacon Ephraim Rhodes (1715-1788), who is buried in the Revolutionary War Cemetery in nearby Saugus, Massachusetts. The Rhodes family lineage goes back to Henry Rhodes (1608-1675) who was born in England and emigrated to America in 1643, settling in Lynn, a coastal village that was settled by Europeans in 1629.
Also notable is the fact that Amos and his son Amos Rhodes, Jr (1785-1870), Henrietta's older half-brother, were greatly involved in the founding of Lynn Academy, an academic private school educating both boys and girls, which opened in April of 1805. Henrietta's father was a generous financial contributor and trustee, and her half-brother was preceptor of the school in 1817 after he graduated from Harvard College. Given this family involvement, it's likely that Henrietta attended Lynn Academy and may have made this sampler while a student there. 
Henrietta remained single and lived in Lynn her entire life. She died in 1893 and is buried in Pine Grove Cemetery. 
The alphabets, verse and little line-end elements are nicely surrounded with a border of eyelet stitches. Worked in silk on linsey-woolsey, the sampler is in excellent condition. It has been conservation mounted and is in a late 19th century frame.